Stand up for facts and support PolitiFact.
Now is your chance to go on the record as supporting trusted, factual information by joining PolitiFact's Truth Squad. Contributions or gifts to PolitiFact, which is part of the 501(c)(3) nonprofit Poynter Institute, are tax deductible.
I would like to contribute
Says Andrew Gillum "oversaw a 52 percent increase in murder."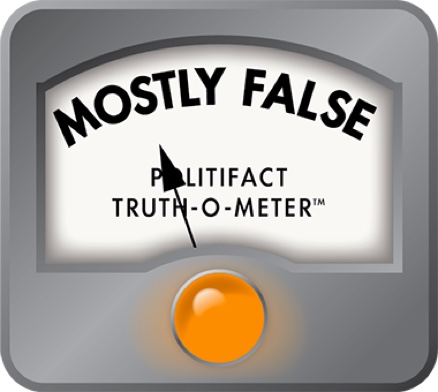 Florida PAC levels scary and misleading claim about Tallahassee's murder rate under Andrew Gillum
Set to the creepy voice of Gollum from The Lord of the Rings, a Facebook video blames Tallahassee Mayor Andrew Gillum for a murder spike in his city.
"Andrew Gillum," says the narrator of the video, produced by the conservative Florida Strong PAC. "He is a failed mayor ..."
The ad then levels a series of charges about his record, including that he "oversaw a 52 percent increase in murder."
(Yes, the PAC was having some fun with the fact that Gillum's name is similar to Gollum while bringing up violent crime.)
Gillum and Republican Ron DeSantis have been arguing over the city's record on crime for months.
Did Gillum oversee a 52 percent increase in city murders? There's a way to get to that number, but it isn't very honest.
The PAC cherry-picked data that made the city sound like a growing hotbed for murder. In reality, the number of murders during Gillum's tenure as mayor has swung little, ranging from 11 to 17 deaths in four years. Further, the ad goes too far to pin the responsibility on Gillum. Tallahassee has a weak mayor form of government, which means Gillum is just one vote on the commission.
Tallahassee's murder rate
Florida Strong PAC chairman Stafford Jones told PolitiFact that he gleaned the information about the city's murder rate from a Republican Party of Florida Facebook post.
The party drew data from Tallahassee Reports, a website critical of city government run by former city commission candidate Steve Stewart. Tallahassee Reports looked at data reported by the city's police department to the state for the annual FBI reports.
The data covers Gillum's political tenure; he was elected to the city commission in 2003 and became mayor in late 2014.
The website found that from 2002 to 2009 the average murder rate per 100,000 citizens in Tallahassee was 4.6. Then, from 2010 to 2017, the average murder rate increased to 7 murders per 100,000 citizens.
The increase equals 52 percent.
But if we look at the sheer number of murders we see that the number of murders ranges from a low of four deaths in 2003 to a high of 17 in 2017. If we look just at Gillum's mayoral tenure, the range was between 11 and 17 murders.
We sent the Tallahassee Reports data to Brian Stults, a criminologist at Florida State University.
"There is nothing wrong with the math, nor anything inherently wrong with the approach," he said. "It just cherry-picks a single number that happens to be the most volatile in most places."
He said small numbers must be viewed with caution and that it requires taking a broader look at trends.
"In both periods, the risk of being murdered is very, very low," Stults said. "Small random fluctuations from year to year can lead to dramatic changes in the murder rate that are not as substantial as they may seem."
Stults created his own spreadsheet using FDLE data showing crime and crime rate data in Tallahassee. He, too, found spikes in the murder rate, though he noted that the size of the increase depended upon the methodology used.
DeSantis has cited an even higher figure when he tweeted that "the murder rate increased 83 percent."  That's a reference to an increase in murders in Leon County from 12 in 2016 to 22 in 2017.
A mayor isn't to blame
Several criminology experts said that the data about the murder rate in isolation doesn't tell us much about murders, or more broadly, crime about the city.
Experts also generally warn against blaming a mayor for the crime rate (or the inverse, giving a mayor credit for a drop in crime). Crime is influenced by local characteristics beyond a mayor's control, such as poverty rates and the concentration of the youth population.
A murder rate alone doesn't account for shifts in the demographic makeup of the population that may affect the murder rate, said Florida State University criminologist William D. Bales.
"Blaming changes in the murder rate, or any other type of crime, over time in a community on one single person is fallacious," he said.
The number of murders alone doesn't tell us anything about how many suspects murdered strangers compared to acquaintances or people they know well, University of Florida professor Jodi Lane said. Generally, people are more likely to be killed by someone they know, which is much more difficult for a politician to affect.
Stults said that that while citizens are often quite concerned about the murder rate since it is such a serious form of victimization, the likelihood of being murdered in Tallahassee is extremely low.
Our ruling
A video by Florida Strong says Gillum "oversaw a 52 percent increase in murder."
This attack is hollow.
The attack stems from data showing that the murder rate increased from 4.6 per 100,000 residents between 2002-09 — when Gillum was on the city commission — to 7 per 100,000 residents between 2010-17, when Gillum was on the commission and then became mayor. The math works out to 52 percent.
Highlighting this number with no context is a scare tactic. The annual numbers of murders are small, where any increase can lead to a large rate spike. By stating that Gillum "oversaw" that murder increase suggests that he is to blame when in fact he is one of a handful of votes on the commission. Crime is influenced by factors beyond a mayor's control.
We rate this statement Mostly False.
Florida Strong, Facebook video about Andrew Gillum, Oct. 17, 2018
YouTube, Clip of Gollum, Accessed Oct. 17, 2018
Florida Division of Elections, Florida Strong donations, 2016-2018
Tallahassee Reports, "Andrew Gillum, Tallahassee City Commission Ignored Pleas from Police; Murder Rate Increased 52%," and data, Sept. 4, 2018
Republican Party of Florida, Facebook post, Oct. 17, 2018
Republican Party of Florida, Tweet, Sept. 11, 2018
Florida Department of Law Enforcement, UCR data, County and municipal offense data, 2000-2007
Florida Department of Law Enforcement UCR data, County and municipal offense data (page 39), 2017
Florida Department of Law Enforcement, Uniform crime reports statewide county report, 2017
City of Tallahassee, Fiscal year 2010 approved budget
New Times, "FPL and Republican PACs Are Funding Misleading Anti-Gillum Facebook Ads," Oct. 17, 2018
Tallahassee Democrat, "TPD touts drop in crime in 2018,"
Tallahassee Democrat, "TPD swears in 15 new officers," Jan. 19, 2016
Tallahassee Democrat, "TPD touts drop in crime rate for first half of year," Sept. 12, 2018
Tallahassee Democrat, "Crime rate down, but Leon tops state; 'Not a time to celebrate': Positive momentum, but capital still struggles as No. 1 for 4th year straight," May 23, 2018
PolitiFact, "Andrew Gillum says crime dropping in Tallahassee," Oct. 8, 2018
PolitiFact, "Ron DeSantis says Tallahassee Mayor Andrew Gillum presided over the highest crime in Florida," Oct. 8, 2018
Interview, Stafford Jones, Florida Strong PAC, Oct. 18, 2018
Interview, Stephen Lawson, Ron DeSantis campaign spokesman, Oct. 19, 2018
Interview, Alison Faris, city of Tallahassee spokeswoman, Oct. 19, 2018
Interview, Brian Stults, Florida State University associate professor of criminology, Oct. 19, 2018
Interview, Jodi Lane, University of Florida Research Foundation Professor Department of Sociology and Criminology & Law, Oct. 18, 2018
Interview, William D. Bales Florida State University Professor College of Criminology and Criminal Justice, Oct. 18, 2018
Browse the Truth-O-Meter
More by Amy Sherman
Support independent fact-checking.
Become a member!
In a world of wild talk and fake news, help us stand up for the facts.