Stand up for facts and support PolitiFact.
Now is your chance to go on the record as supporting trusted, factual information by joining PolitiFact's Truth Squad. Contributions or gifts to PolitiFact, which is part of the 501(c)(3) nonprofit Poynter Institute, are tax deductible.
I would like to contribute
"Most Americans don't own stocks."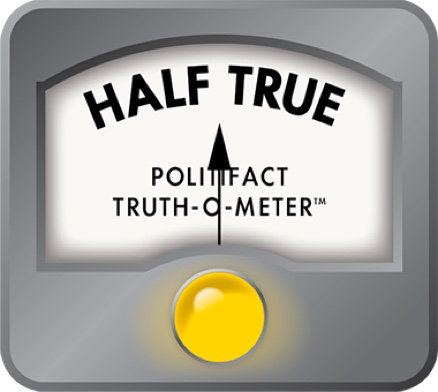 What percentage of Americans own stocks?
The Dow Jones Industrial Average has risen by 32 percent since President Donald Trump took office. But are Americans overall benefiting?
U.S. Rep. Ro Khanna. D-Calif., suggested that they are not in a Facebook post spotted by a PolitiFact reader.
Khanna's post featured the headline, "Most Americans don't own stocks." He repeated that point in his message, which accompanied a bar graph:
"FACT: Most Americans don't own any stocks. Instead of celebrating whenever the Dow Jones goes up, we need to focus on bringing investment and good jobs to the areas of this country that haven't been part of the economic recovery."
The accompanying graph details the "distribution of stock ownership by wealth percentile," specifically 84 percent for the "top 10 percent," 9.3 percent for the "next 10 percent" and 6.7 percent for the "bottom 80 percent."
The data in the graph stems from a peer-reviewed academic paper. However, when we took a closer look, we found the data in the graph doesn't directly support the claim that "most Americans don't own stocks." In fact, the actual data on that question shows that a small majority of Americans do have a stake in the stock market.
Stock value vs. stock reach
The data in the graph comes from a paper published in November 2017 by New York University professor Edward N. Wolff.
One of the paper's findings was that "despite the fact that almost half of all households owned stock shares either directly or indirectly through mutual funds, trusts, or various pension accounts, the richest 10 percent of households controlled 84 percent of the total value of these stocks in 2016."
This line by Wolff presents a key contrast that Khanna's post glosses over: While about half of households own stocks in one way or another, the richest Americans hold the lion's share of the value.
Khanna uses a bar graph that highlights the imbalance in the value of stock holdings, but his headline claim is about the reach of stock ownership throughout the population. Those are two different things.
When we contacted Wolff, he agreed that Khanna's headline was "wrong."
So what does the data show on the reach of stock ownership? It's a bit wider than Khanna suggests.
Even if you don't own or trade individual stocks, there's a decent chance you have a 401(k) account or an Individual Retirement Account or belong to a pension fund that is invested in stocks.
"Many individuals have an indirect interest in the stock market by means of their claims on pension funds that own stocks and use these stock positions to fund pension payments," said Hendrik Bessembinder, a professor at Arizona State University's W.P. Carey School of Business.
A once-every-three-years study by the Federal Reserve Board found that in 2016, 51.9 percent of families owned stocks, either directly or as part of a fund.
And in 2017, Gallup found that 54 percent of respondents owned stocks either directly or as part of a fund.
Those findings show a majority owning stocks — a modest majority, but still a majority.
In an email interview, Khanna told PolitiFact that he still feels the "essence of the post" is accurate but added that "a better headline would have been, "Most Americans Don't Have a Real Stake in the Stock Market."
Khanna has a point that a household's affluence does help determine how vested they are in the stock market.
The Federal Reserve Board study found that about one-third of families in the lower half of the income scale had stock holdings. In the next 40 percent of the income scale, about 70 percent of households held stocks, while households in the top 10 percent of the income scale had stock ownership rates above 90 percent.
Here's a chart from the Fed's report, showing how stock ownership rates vary depending on income level.
Gallup, meanwhile, found that certain subgroups were notably less likely to own stocks, including those without a college education, younger Americans, unmarried Americans, African-Americans, and Hispanics.
Our ruling
Khanna wrote that "most Americans don't own stocks."
To be precise, a narrow majority of Americans does own stocks, according to credible recent studies. But Khanna has a point that Americans of modest incomes are significantly less invested in the stock market than wealthier Americans are. Other large groups, including minorities and those without a college education, also lag in stock ownership, meaning that the stock rally is largely passing them by.
We rate the statement Half True.
Ro Khanna, Facebook post, Sept. 12, 2018
Yahoo! Finance, historical data on the Dow Jones Industrial Average, accessed Sept. 18, 2018
Edward N. Wolff, "Household Wealth Trends in the United States, 1962 to 2016: Has Middle Class Wealth Recovered?" November 2017
Federal Reserve Bulletin, "Changes in U.S. Family Finances from 2013 to 2016: Evidence from the Survey of Consumer Finances," September 2017
Gallup, "U.S. Stock Ownership Down Among All but Older, Higher-Income," May 24, 2017
Time magazine, "The Richest 10% of Americans Now Own 84% of All Stocks," Dec. 19, 2017
Email interview with Edward Wolff, economics professor at New York University, Sept. 18, 2018
Email interview with Hendrik Bessembinder, professor at Arizona State University's W.P. Carey School of Business, Sept. 18, 2018
Email interview with Ro Khanna, Sept. 18, 2018
Browse the Truth-O-Meter
More by Louis Jacobson
Support independent fact-checking.
Become a member!
In a world of wild talk and fake news, help us stand up for the facts.