Get PolitiFact in your inbox.
Says "Claire McCaskill receives the second-most contributions from insurance companies in the entire Senate."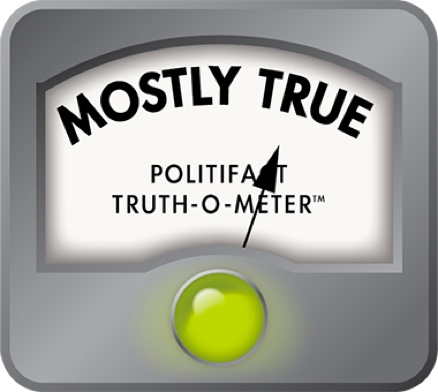 Fact-checking a Josh Hawley video that highlights insurers' donations to Claire McCaskill
In Missouri's high-profile U.S. Senate race, voters are seeing dueling ads from the two candidates.
The first volley came when incumbent Democratic Sen. Claire McCaskill released an ad (embedded here) that challenged her Republican opponent, state attorney general Josh Hawley, over health care.
In the ad, McCaskill discusses her own struggle with breast cancer and warns that a lawsuit Hawley has signed onto threatens provisions within the Affordable Care Act that enable people with pre-existing conditions to get health insurance.
Then, on Sept. 19, Hawley's campaign took a portion of that ad and threw it back on McCaskill.
The Hawley camp released a 15-second video that begins with McCaskill talking to the camera, saying, "The insurance companies already have too many senators on their side."
A narrator responds: "What a hypocrite. Claire McCaskill receives the second-most contributions from insurance companies in the entire Senate."
We found the Hawley campaign has a point about McCaskill's support from insurers, but it requires some caveats so voters have the full picture.
A look at the data
The visual in the video showing McCaskill at No. 2 on the contribution list comes from this page in the OpenSecrets.org database, a widely cited money-in-politics resource published by the Center for Responsive Politics.
It shows the top recipients of donations from the insurance sector among senators in the 2017-18 campaign cycle.
By the time we looked at the OpenSecrets page, it had been updated with new data that pushed McCaskill down by one slot to third. We won't quibble with a third-place ranking as opposed to a second-place ranking; the underlying claim is that McCaskill ranks high among all senators.
Some caveats
However, a closer look at the methodology that went into creating the list in question brings up a couple of important points to note.
• The OpenSecrets data for donations doesn't just include health insurers; it includes all insurers, including life, property and car insurance companies.
The Hawley camp argues that the video uses McCaskill's exact language — "the insurance companies" — and that she did not specify health insurance companies. However, we believe anyone who sees the first three-quarters of McCaskill's ad would clearly believe she was referring to health insurers, because that's what the entire ad is about.
• Because the 2018 list represents a snapshot in time, it doesn't support the notion that McCaskill leads "the entire Senate" in donations from the industry.
Generally speaking, senators take in significantly more money from donors during the one-out-of-three election cycles in which they are up for reelection, as McCaskill is now.
This essentially shrinks the pool of incumbents actively raising money for an election. Yes, there are 100 senators, but there are only 35 seats up for election this November, and 32 incumbents running. Why does that matter? Of the top 10 senators on the OpenSecrets list, all are up for re-election except one, Sen. Mike Crapo, R-Idaho.
In addition, McCaskill's contributions from insurance companies have varied depending on what time period you look at.
If you look at the 2014 and 2016 campaign cycles, McCaskill didn't rank in the top 20 either time. Even in her prior reelection cycle, 2012, McCaskill ranked 19th among senators, and if you add in non-incumbents running for the Senate that cycle, she fell out of the top 20 entirely.
Meanwhile, McCaskill's haul so far cycle — $295,338 — is a fraction of what four Republicans received in the 2016 cycle (Sens. Marco Rubio of Florida, Ted Cruz of Texas, Rob Portman of Ohio, and Pat Toomey of Pennsylvania) and what Senate Majority Leader Mitch McConnell, R-Ky., received from the industry in the 2014 cycle.
• Much of the money used to determine the 2018 rankings doesn't come from "insurance companies."
Donors on the OpenSecrets list don't only include political action committees but also individual donors who have listed an employer. So a donation from a low-level employee or their spouse would count in this tally as coming from "the industry."
Are there more revealing figures?
If you look at related campaign-finance data, both sides can claim some vindication.
When we asked the Center for Responsive Politics if they could drill down further to look only at health insurers' donations, they told us that from 2013 to 2018, McCaskill received a combined $413,528 from donors related to the "accident and health insurers" category as well a separate category, health maintenance organizations. By contrast, Hawley, who was not a federal candidate for much of that time span, received just $5,400.
On the other hand, if you look at the percentage of donations McCaskill received from the "insurance category," it's pretty modest.
She has received $295,338 from all insurance sources in the 2018 campaign cycle, but she's raised in excess of $20 million from all sources as of this writing. So insurance-related donations account for just 1.4 percent of her contributions, casting doubt on Hawley's implication that she's controlled by the industry.
Our ruling
Hawley said that "Claire McCaskill receives the second-most contributions from insurance companies in the entire Senate."
This isn't a perfect reflection of her standing among senators in terms of health insurance contributions. This ranking is based all types of insurers, not just health insurers. But with current contributions, she ranks third among current senators for insurance-related donations during the 2018 campaign cycle.
We rate the statement Mostly True.
Josh Hawley, 15-second video, Sept. 19, 2018
Center for Responsive Politics, top 20 senators' donations from insurance sector, 2012, 2014, 2016, 2018
Center for Responsive Politics, Claire McCaskill main index page, accessed Sept. 21, 2018
St. Louis Post Dispatch, "So who's really on the side of insurance companies — Hawley or McCaskill?" Sept. 19, 2018
Interviews with Brendan Quinn and Douglas Weber, Center for Responsive Politics, Sept. 21, 2018
Email interview with Meira Bernstein, spokeswoman for Claire McCaskill, Sept. 21, 2018
Email interview with Kelli Ford, spokeswoman for Josh Hawley, Sept. 21, 2018
Browse the Truth-O-Meter
More by Louis Jacobson
Support independent fact-checking.
Become a member!
In a world of wild talk and fake news, help us stand up for the facts.