Stand up for facts and support PolitiFact.
Now is your chance to go on the record as supporting trusted, factual information by joining PolitiFact's Truth Squad. Contributions or gifts to PolitiFact, which is part of the 501(c)(3) nonprofit Poynter Institute, are tax deductible.
I would like to contribute
Says drinking a "6-ounce glass of tonic water each night before bed" will help alleviate restless legs syndrome.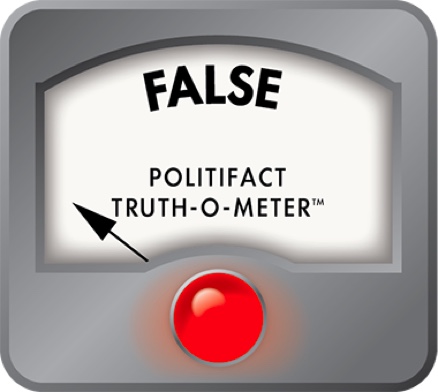 No, drinking tonic water isn't a proven method to alleviate restless legs syndrome
A Facebook post that's been shared over 55,000 times claims that a little trick before bed each night may cure your restless legs syndrome. 
The post reads: 
"Restless Legs Syndrome: Drink a 6-ounce glass of tonic water each night before bed until symptoms go away. Tonic water contains quinine, which stops repeated muscle contractions -Paul Lyons, MD."
It was flagged as part of Facebook's efforts to combat false news and misinformation on its News Feed. (Read more about our partnership with Facebook.)
While medical experts say it's probably not harmful to consume a small cup of tonic water each night, it's not scientifically proven to help cure or alleviate restless legs syndrome, a condition that causes an uncontrollable urge to move your legs, usually at night or while lying down.
Prevention Magazine, a healthy lifestyle magazine published by the Hearst Corporation, is listed as the source of the post. We found a 2016 article from the magazine titled "14 Natural Ways To Deal With Restless Legs Syndrome." (We also came across a 2008 story by ABC News that mirrors the post's wording.)
About halfway through the Prevention Magazine article, the tonic water method is mentioned:
"... The FDA has banned the sale of quinine because it reportedly caused some serious side effects (though rare), but it's still available in one form, Qualaquin, for the treatment of malaria, and it's still available in very small amounts in tonic water. So even though studies show it doesn't work, and even though tonic water contains only a token amount of quinine—an 8-ounce glass of tonic water has about 20 mg, compared with the 200 to 300 mg dose you'd need to quiet leg cramps—some patients swear by it." 
It continues to cite a medical consultant from the Restless Legs Syndrome Foundation who said that although it may not be supported by science, a home remedy that couldn't hurt and could help is worth a try.
But while the low amount of quinine found in tonic water is not considered harmful, the Food and Drug Administration has warned that the research for the use of quinine products for leg cramps or similar conditions is out-of-date, and that "there has been significant concern regarding its unfavorable risk/benefit ratio." 
Most medical professionals also say people shouldn't rely on the tonic water tactic.
Dr. Mark Buchfuhrer, a restless legs syndrome expert and member of the RLS Foundation's scientific and medical advisory board, told PolitiFact that quinine has no benefit for treating the disorder.
"The typical dose of Quinine for leg cramps is more than 200-300 mg. A 6 ounce glass of tonic water contains less than 15 mg of quinine. One would have to drink close to a gallon of tonic water to get the therapeutic effect for leg cramps," Buchfuhrer wrote in an email. "It is one of these 'Urban Legends' that may possibly be true for one leg condition then gets spread to other conditions that may affect the legs ...There are likely many patients who believe that both treatments are effective for RLS but they likely work through the strong placebo effect."
While clinical evidence shows that quinine helps leg cramps, Buchfuhrer said, few decent medical studies back that up. He recommended other treatments such as regular exercise, avoiding exacerbating drugs like antihistamines, antidepressants; increasing iron levels if they are low, and avoiding alcohol.
Doctors Hope Ricciotti and Hye-Chun Hur also wrote for Harvard Medical School about the lack of science behind the tonic water method and list other ways people can alleviate RLS symptoms: 
"Drinking a few ounces of tonic water shouldn't be harmful, but it isn't likely to prevent your leg cramps." 
They instead recommend "making sure to get enough fluids, avoiding caffeinated and alcoholic beverages, stretching during the day or before bed, and, when a cramp starts, standing on the affected leg, applying ice or heat and gently massaging the affected muscle."
Our ruling
A Facebook post claims that drinking a 6-ounce glass of tonic water each night before bed can help alleviate symptoms of Restless Legs Syndrome.
It's not considered harmful to consume a glass of tonic water, but the home remedy is not scientifically proven to help with RLS. Medical experts usually don't recommend the treatment and instead suggest the people take other action to relieve symptoms, including talking to their doctors.
We rate this post False.
Facebook post, Sept. 18, 2018
Healthline, Quinine in Tonic Water: What Is It and Is It Safe?, Accessed Oct. 18, 2019
Mayo Clinic, Restless Legs Syndrome, Accessed Oct. 21, 2019
Harvard Health, Will tonic water prevent nighttime leg cramps?, Aug. 20, 2019
ABC News, Head-to-Toe Healthy, March 5, 2008
Prevention, 14 Natural Ways To Deal With Restless Legs Syndrome, Jan. 21, 2016
Food and Drug Administration, Questions and Answers about FDA's Enforcement Action Against Unapproved Quinine Products, Accessed Oct. 18, 2019
Email interview, Dr. Mark Buchfuhrer member of RLS Foundation scientific and medical advisory board, Oct. 18-19, 2019
Browse the Truth-O-Meter
More by Samantha Putterman
Support independent fact-checking.
Become a member!
In a world of wild talk and fake news, help us stand up for the facts.