Stand up for the facts!
Our only agenda is to publish the truth so you can be an informed participant in democracy.
We need your help.
I would like to contribute
"The Democrats are pushing for an implanted microchip in humans, and everyone to be vaccinated."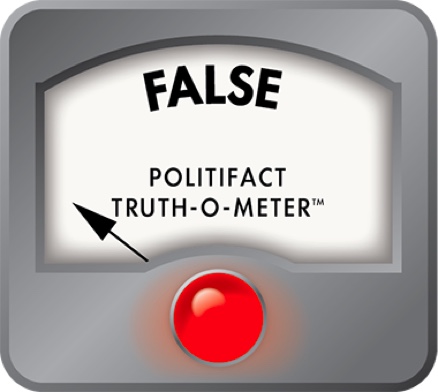 No, Democrats aren't pushing microchips to fight coronavirus
If Your Time is short
• There's no evidence that implanted microchips are being contemplated in a serious way to fight the coronavirus. This notion appears to stem from an incorrect interpretation of comments made by philanthropist Bill Gates.
• Democrats are not "pushing" for mandatory vaccinations, because state government already has the power to compel vaccination. All 50 states use the authority, with some exemptions permitted.
• Some Democrats and some Republicans oppose efforts to limit mandatory-vaccination exemptions based on religious or personal beliefs.
Is the coronavirus pandemic going to force Americans to undergo microchip implants? What about mandatory vaccinations? That's what a Facebook post says.
"The Democrats are pushing for an implanted microchip in humans, and everyone to be vaccinated." says a Facebook post with text on a plain background. "These are words of war to me!" 
It was flagged as part of Facebook's efforts to combat false news and misinformation on its News Feed. (Read more about our partnership with Facebook.)
The claim is unsupported.
Microchips
We found no evidence of proposals or legislation, Democratic or otherwise, to promote implanting microchips to counter the coronavirus. 
Not that this would even make sense as a solution to coronavirus.
Even the smallest microchips "are rather large, such that none would ever fit into a vaccine needle — these are very small-bore needles," Wilbur Chen, an infectious-disease scientist at the University of Maryland's Center for Vaccine Development and Global Health, previously told PolitiFact.
Other fact-checkers have traced the assertion in the Facebook post to an inaccurate interpretation of comments made by Bill Gates, the Microsoft co-founder and philanthropist who has focused his efforts on global health.
On March 18, Gates took part in a forum on Reddit in which he was asked, "What changes are we going to have to make to how businesses operate to maintain our economy while providing social distancing?"
Gates responded, "The question of which businesses should keep going is tricky. Certainly, food supply and the health system. We still need water, electricity and the internet. Supply chains for critical things need to be maintained. Countries are still figuring out what to keep running. Eventually we will have some digital certificates to show who has recovered or been tested recently or when we have a vaccine who has received it."
The website Biohackinfo.com soon posted a story on Gates' comments headlined, "Bill Gates will use microchip implants to fight coronavirus." It included the line that by "'digital certificates,' Gates was referring to implantable 'QUANTUM-DOT TATTOOS.'"
This misinterpretation was amplified on April 13, when Roger Stone, a longtime ally of President Donald Trump, told radio host Joe Piscopo, "Whether Bill Gates played some role in the creation and spread of this virus is open for vigorous debate. I have conservative friends who say it's ridiculous, and others say absolutely." But, Stone added, Gates "and other globalists are using it for mandatory vaccinations and microchipping people so we know if they've been tested. Over my dead body. Mandatory vaccinations? No way, Jose!"
This conversation was spread further by coverage in the New York Post and the Russian news service RT, according to BuzzFeed. 
None of this is correct. 
"Digital certificates" are electronic information used to securely communicate over the internet, and Gates never mentioned microchips. The Bill and Melinda Gates Foundation told FactCheck.org that Gates was referring to digital certificates as part of an effort to create a system of home-based, self-administered testing for COVID-19 that would involve a secure connection with health officials.
Meanwhile, unrelated research funded by the Gates Foundation proposed recording  vaccination history on a patient's skin using an invisible dye that could be read by a smartphone and last up to five years.
Kevin McHugh, a Rice University bioengineering professor who worked on the study, told Reuters, "The quantum dot dye technology is not a microchip or human-implantable capsule, and to my knowledge there are no plans to use this for coronavirus."
There are legitimate concerns about privacy in some of the contact-tracing methods being considered to prevent the spread of coronavirus, experts say. However, "the fear of insertion of tracking chips and other things like that into our bodies has been a longstanding bogeyman," said Mark Fenster, a law professor at the University of Florida who has written extensively about conspiracy theories. "There is a lot of tracking that goes on, but the suggestion that it's being used in this manner and this way seems absurd."
Mandatory vaccinations
This part of the claim isn't as far-fetched. Many Democrats and some Republicans do support narrowing exemptions to mandatory vaccinations based on personal beliefs.
States have had the authority to require vaccinations for more than a century, and they use that authority all the time, with certain exceptions allowed.
In the 1905 case Jacobson vs. Massachusetts, the Supreme Court ruled 7-2 that a mandatory-vaccination law was a legitimate exercise of state power to protect public health and safety.
Since that decision, every state has instituted a variety of vaccine requirements, usually for school-age children. All but five states have exceptions for non-medical reasons. Some are for religious exemptions, some are for "personal beliefs," and some are for both. (The National Conference of State Legislatures has the full list.)
In the past several years, certain states, led in many cases by Democratic lawmakers but often with some bipartisan support, have moved to limit the religious- or personal-belief exemptions to vaccinations. This came amid concerns about outbreaks of measles and other diseases that were believed to stem from growing opposition to vaccination.
Ultimately, several states narrowed exemptions in 2019, including California, Maine, New York and Washington. They did so over the opposition of groups on the right and left who are skeptical of the value of vaccinations, a perspective the medical community strongly opposes. (Read our analysis of complaints about the safety of vaccines.)
The precedent set by Jacobson vs. Massachusetts continues to be cited, three academic experts at Boston University — Wendy K. Mariner, George J. Annas, and Leonard H. Glantz — have written in the American Journal of Public Health.
"A law that authorizes mandatory vaccination during an epidemic of a lethal disease, with refusal punishable by a monetary penalty, like the one at issue in Jacobson, would undoubtedly be found constitutional under the low constitutional test of 'rationality review,'" the co-authors wrote, as long as regulators determined the vaccine was safe and effective.
Even without an ongoing epidemic, they added, such a requirement "would probably be upheld" as long as the disease was still spreading to some degree and as long as the vaccine was safe. 
The federal government could theoretically impose stronger mandates, but it has not done so, Richard Hughes IV, a vaccine specialist at Avalere Health, wrote in the journal Health Affairs. The federal government could do this through a law pre-empting state policies or by using federal funding as leverage against the states, Hughes wrote. But Mariner said she's doubtful about this scenario, and there is no evidence of legislation of this type for now.
Our ruling
A Facebook post says, "The Democrats are pushing for an implanted microchip in humans, and everyone to be vaccinated."
On microchips, there's no evidence that implanted microchips are being contemplated in a serious way to fight the coronavirus. This appears to stem from a warped translation of comments by Gates.
As for mandatory vaccinations, the idea that Democrats are pushing for this power is exaggerated, because the Supreme Court long ago decided that the government has that power. This authority is now used in all 50 states. A minority that includes some Democrats and some Republicans oppose efforts to limit religious or personal exemptions.
We rate the statement False.
Facebook post, April 10, 2020
Bill Gates, comments on Reddit, March 18, 2020
biohackinfo.com, "Bill Gates will use microchip implants to fight coronavirus," March 19, 2020
New York Post, "Roger Stone: Bill Gates may have created coronavirus to microchip people," April 13, 2020
National Conference of State Legislatures, "States With Religious and Philosophical Exemptions From School Immunization Requirements," Jan. 3, 2020
Politico, "Republicans reject Democratic attempts to tighten vaccine laws," April 16, 2019
American Journal of Public Health, "Jacobson v Massachusetts: It's Not Your Great-Great-Grandfather's Public Health Law," April 2005
Health Affairs, "Vaccine Exemptions And The Federal Government's Role," March 21, 2019
CalMatters, "Five things to know now about California's new vaccine law," Sept. 15, 2019
BuzzFeed, "Here's A Timeline Of How A Bill Gates Reddit AMA Turned Into A Coronavirus Vaccine Conspiracy," April 18, 2020
FactCheck.org, "Conspiracy Theory Misinterprets Goals of Gates Foundation," April 14, 2020
Reuters, "False claim: Bill Gates planning to use microchip implants to fight coronavirus," March 31, 2020
PolitiFact, "5 facts about vaccines," Nov. 1, 2019
PolitiFact, "No, the US isn't developing a vaccine or 'antivirus' with a chip to track people," April 3, 2020
Email interview with Wendy K. Mariner, professor of health law, ethics and human rights at Boston University, April 22, 2020
Browse the Truth-O-Meter
More by Louis Jacobson
Support independent fact-checking.
Become a member!
In a world of wild talk and fake news, help us stand up for the facts.