Stand up for the facts!
Our only agenda is to publish the truth so you can be an informed participant in democracy.
We need your help.
I would like to contribute
"We are currently using only around 20% of our testing capacity."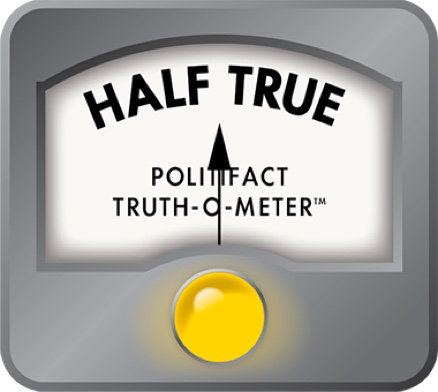 Wisconsin is weeks from using anywhere near the listed coronavirus testing capacity
If Your Time is short
Vos and Fitzgerald cited capacity while criticizing Evers for waiting on more testing to re-open Wisconsin, implying the state could be doing 5x more tests now. That's wrong.

Half that listed capacity is from a new lab that is several weeks from being able to actually receive that volume of tests.

While testing is far more available than it once was, the state doesn't yet have the collection materials and infrastructure to use the other half of the listed capacity on an ongoing basis.
Gov. Tony Evers has said expanded testing capacity is one of the benchmarks needed to begin a phased re-opening of Wisconsin in the wake of the coronavirus pandemic.
Testing has been a key chokepoint in Wisconsin and nationwide, with some people initially unable to get tested despite serious symptoms and officials scrambling to increase access.
Republicans in the state Legislature — who are suing to block an extension of Evers' "Safer at Home" order — honed in on this piece of the plan. An April 20, 2020 joint statement from Assembly Speaker Robin Vos and Senate Majority Leader Scott Fitzgerald listed a series of criticisms, including this one: 
"The governor also wants to postpone reopening until we increase testing when we are currently using only around 20% of our testing capacity."
Is Wisconsin really only using 20% of its testing capacity? The claim implies the state could be conducting five times more tests if it chose.
It's a key question since the testing volume is one of the key areas of improvement Gov. Tony Evers has said we need before Wisconsin can take steps toward re-opening. It's part of a general outline he presented in his Badger Bounce Back plan April 20. It set a goal of 12,000 tests per day.
We found testing is a lot more complicated than how this claim presents it.
How testing works
Let's start with the basics of what goes into a coronavirus test.
There are two elements to the test — the part done at the clinic or testing site by a health care worker, and what is done at the lab.
Here's the breakdown from Dr. Alana Sterkel, assistant director of the Communicable Disease Division of the Wisconsin State Laboratory of Hygiene at the University of Wisconsin-Madison. She's one of the people coordinating testing and distribution of collection supplies statewide.
The in-office portion — commonly called a collection kit — includes a nasal swab and a vial of transport liquid, which stabilizes and preserves the sample in transit to the lab. These are the exact materials that have been used for years to test for other respiratory viruses, such as the flu.
Collecting the sample also means the health care worker and patient both need personal protective gear (PPE) of some kind, typically a mask for the patient and full-body protection for the worker.
The vial is then sent to a lab, which if it's located offsite would require shipping materials and a courier service. As of April 24, the state reports 48 labs are actively testing — a combination of the government labs, hospital system labs and independent private labs. 
At the lab, they need machines to run the physical test and chemicals to aid in the analysis. An array of different chemicals are used at different labs to conduct the test, collectively referred to as "reagents."
The majority of tests done in Wisconsin now return results within 24 to 48 hours.
A relatively small number of health care systems have rapid testing that can accomplish all this in-house and get a result before the end of an office visit. In some extreme cases, tests sent to a backlogged outside lab could take up to 10 days.
Defining capacity
That brings us to the key word in the Fitzgerald/Vos claim — capacity.
The day Vos and Fitzgerald made this claim, the Wisconsin Department of Health Services reported a statewide testing capacity of 7,608. The actual number of tests conducted was 1,433, about about 19% of the testing capacity. 
The state's capacity tally is referring to how many tests labs are theoretically able to process, if everything else in the supply chain was in place to collect and deliver them.
Vos and Fitzgerald, meanwhile, are framing their claim around the idea that the capacity level cited by the state represents what can actually be conducted on a given day. 
But the process involves collection and testing, and sometimes transport. And, as seen in the process above, the list of components to a test is long — swab, transport liquid, protective gear, lab machinery and reagent, at a minimum.
"It's like baking cookies, that you need to have flour, eggs, butter and chocolate chips to make a batch of cookies, and if you don't have any one of those, you can't make cookies," Sterkel said. "If one of those supply lines goes down, you go down altogether."
Putting it all together
In short, the labs can handle a higher volume of tests than the rest of the system can actually conduct and send them right now. 
"That (20%) number is I think inaccurately representing what we're capable of doing right now," Sterkel said.
For starters, the state isn't exactly overflowing with testing supplies. Asked which elements of the supply chain are preventing Wisconsin from doing more tests, Sterkel said, "Just about everything."
And the testing capacity number is skewed by the inclusion of Exact Sciences, a Madison-based lab that has just started doing coronavirus testing. The massive lab accounts for about half of the state testing capacity number, but they are at least several weeks from being able to actually obtain that many tests to process. 
"This is testing that they did not previously do. They do not have existing relationships and ways to get samples to their lab, and this is something that needs to develop over time as they build those relationships with hospital systems," Sterkel said. "They double the capacity in a very short amount of time in the state, but using that capacity will take time."
A quick aside – testing is improving fast
Sterkel made sure to note that the outlook for testing in Wisconsin is positive and improving quickly from initial logjams. She is working to make sure patients and doctors both know testing is widely available.
"For a while we had to limit to only the most ill where it could make the biggest difference because that's all we could test," Sterkel said. "Now we're able to test more, we need to get the message out that people should be testing more."
She said about half of the state's testing capacity — up around 11,000 as of April 24 — could be used today, though the collection supplies available now wouldn't necessarily sustain that volume indefinitely.
"The labs have been working very hard to build capacity very quickly," she said.
Our ruling
In a joint statement, Vos and Fitzgerald criticized plans to hold up re-opening Wisconsin — in part — for increased testing, saying Wisconsin is "currently using only around 20% of our testing capacity."
That is indeed the portion of testing currently in use, but the implication that the state could simply flip a switch and increase testing fivefold is wrong.
The state is in better shape than it was, but it still doesn't have the sample collection materials it would need to sustain that kind of increase. And half of the state's capacity is from Exact Sciences, which is likely a few weeks from having the supply chain in place to actually utilize its listed capacity.
We define Half True as a statement that's partially accurate but leaves out important details or takes things out of context. That fits here.
Wispolitics.com, Rep. Vos, Sen. Fitzgerald: Gov. Evers' plan provides roadblocks to reopening Wisconsin, April 20, 2020
Interview with Dr. Alana Sterkel, assistant director of the Communicable Disease Division of the Wisconsin State Laboratory of Hygiene at the University of Wisconsin-Madison, April 23-24, 2020
Wisconsin Department of Health Services, Wisconsin COVID-19 Laboratory Testing Capacity, last updated April 24, 2020
Appleton Post Crescent, Wisconsin officials say labs can run 7,500-plus coronavirus tests each day, April 17, 2020
Milwaukee Journal Sentinel, Exact Sciences in Madison ready to process 20,000 coronavirus tests per week, expanding Wisconsin's testing capacity, April 20, 2020
PolitiFact, Swabs and reagents: The coronavirus test materials everyone is talking about, April 21, 2020
Gov. Tony Evers, Badger Bounce Back plan, April, 20, 2020
Browse the Truth-O-Meter
More by Eric Litke
Support independent fact-checking.
Become a member!
In a world of wild talk and fake news, help us stand up for the facts.