Stand up for the facts!
Our only agenda is to publish the truth so you can be an informed participant in democracy.
We need your help.
I would like to contribute
"In Wisconsin, there are approximately 70,000 absentee ballots that do not have matching ballot applications as required by law."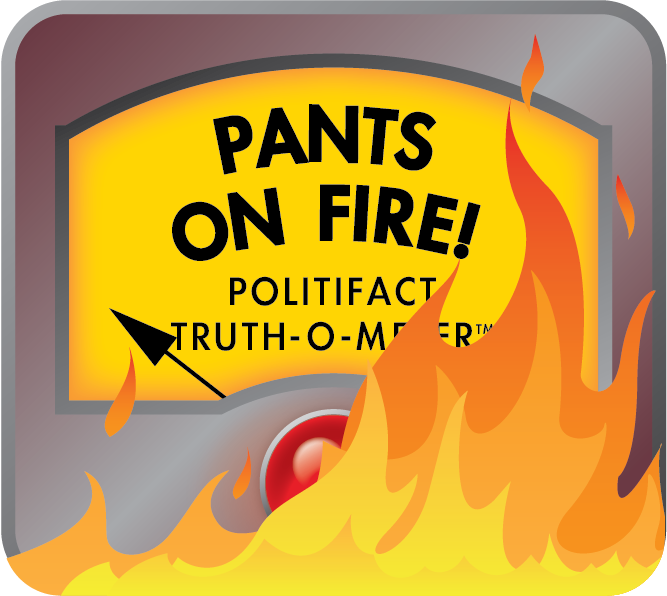 Trump wrong in multiple ways on Wisconsin absentee ballot applications
If Your Time is short
Trump misstated his own claim, he's referencing 170,000 absentee ballots in Dane and Milwaukee counties.

But this is baseless regardless.

That group of in-person absentee voters filled out an application in order to cast their ballot, just one that was part of the envelope. This approach has been used throughout Wisconsin since 2010.

State statute doesn't specify what form that application should take.
President Donald Trump continued his evidence-free assault on the validity of the 2020 election during a Dec. 2, 2020, speech, taking aim at Wisconsin several times.
One claim zeroed in on a favorite Trump target — absentee voting — to assert the paperwork behind those ballots was lacking.
"In Wisconsin, there are approximately 70,000 absentee ballots that do not have matching ballot applications as required by law," Trump said.
The claim, included in a list of supposed election fraud examples, was made without any further detail or evidence.
As with Trump's many lawsuits seeking to overturn the election results in Wisconsin and elsewhere, this claim flies in the face of reality.
Here's why.
Trump misstates his own (wrong) claim
For starters, Trump got the number wrong.
Since the claim in this speech doesn't provide much context, we reached out to Trump campaign spokeswoman Courtney Parella to explain the 70,000 figure. She declined to elaborate aside from referring to the campaign's Wisconsin lawsuit.
But that lawsuit makes clear Trump was attempting to refer to in-person absentee voting — that's the only element of his Wisconsin claims related to ballot applications. One of the four primary allegations in the complaint was that "at least 170,140 absentee ballots were improperly counted as they were issued without the elector having first submitted a written application."
That total is the number of in-person absentee votes cast in Milwaukee and Dane counties combined, according to the Wisconsin Elections Commission. Those are the two heavily Democratic counties in which the Trump campaign paid for a recount and is now suing.
So Trump meant to say 170,000, not 70,000.
But that's the least of his issues with the truth.
Yes, absentee voters filled out an application
Wisconsinites casting a traditional absentee vote do that by applying for a ballot by mail or through the MyVote.wi.gov website. But in-person absentee ballots simplify this down to a single form — an "absentee ballot application/certification" located on the envelope that holds the absentee ballot.
Trump's lawsuit — in line with verbiage from the speech — claims those in-person absentee ballots were filed without "written application as expressly required by Wis. Stat. § 6.86(1)(ar)."
But that statute doesn't include specific requirements.
That reference in state law simply says municipal clerks shouldn't issue an absentee ballot "unless the clerk receives a written application therefor (sic) from a qualified elector of the municipality." It details no requirements for what that application should include.
Reid Magney, spokesman for the state elections commission, confirmed there are no requirements in state law on the nature of absentee ballot applications, leaving that detail to the commission to decide. And the commission has required an application for every ballot.
"To claim that there is no application on file for these absentee ballots is false," Magney said.
The commission created the combined certificate and application in 2010 after complaints following the 2008 presidential election that in-person absentee voting was inefficient and involved too much paperwork. 
The Government Accountability Board (predecessor to the elections commission) studied the matter and issued a lengthy report in December 2009. It created the combined form on the envelope of the absentee ballot after holding listening sessions and consulting with clerks around the state.
A memo sent to clerks in May 2010 explained the change this way: "The title of the certificate has changed to indicate that it also serves as an application for in-person absentee voters. A line has been added ("I further certify that I requested this ballot.") to make the document an application.
This process — where early voters fill out an envelope application — has been used throughout Wisconsin (though not exclusively) since the 2016 election where Trump narrowly carried the state. We should also note this change was implemented at a time when Republicans controlled all of state government.
It was a heavily-used approach in this year's mid-pandemic election. Early in-person votes accounted for 23.7% of all ballots in Milwaukee County and 17.7% in Dane County, according to a Milwaukee Journal Sentinel analysis of voting data from the elections commission. Statewide, nearly 700,000 people voted this way in the November election.
Our ruling
Trump claims in his speech (and a lawsuit) that "70,000 absentee ballots that do not have matching ballot applications as required by law."
Every part of this is wrong.
Trump was actually referring to a group of 170,000 votes, not 70,000.
And that group of in-person absentee voters did indeed fill out an application in order to cast their ballot. It was part of the ballot certificate on the envelope, but that doesn't make it any less valid since state statute doesn't specify the nature of that application.
It's the same approach that's been used without issue in Wisconsin elections since 2010 — including the 2016 presidential contest that Trump won.
We rate Trump's claim Pants on Fire.
Donald Trump, speech, Dec. 2, 2020
Wisconsin Supreme Court case, Trump v. Wisconsin officials, Dec. 1, 2020
Wisconsin Elections Commission, Absentee Ballot Report, Nov. 6, 2020
Wisconsin Elections Commission, Official Absentee Ballot Application/Certification, revised August 2020
Wisconsin State Statute, Methods for obtaining an absentee ballot, accessed Dec. 8, 2020
Wisconsin Government Accountability Board, An Examination of Early Voting in Wisconsin, Dec. 17, 2009
Wisconsin Elections Commission, Revised Absentee Ballot Certificate memo, May 10, 2010
Milwaukee Journal Sentinel, 'They counted last time, why wouldn't they count this time?' Dane County voters baffled and angry over effort to throw out their ballots, Nov. 24, 2020
Milwaukee Journal Sentinel, Here are the 4 voting issues at the heart of Trump's Wisconsin election lawsuit, Dec. 1, 2020
Browse the Truth-O-Meter
More by Eric Litke
Support independent fact-checking.
Become a member!
In a world of wild talk and fake news, help us stand up for the facts.