Stand up for the facts!
Our only agenda is to publish the truth so you can be an informed participant in democracy.
We need your help.
I would like to contribute
"Mayor Bloomberg was busy blaming African Americans and Latinos for the housing crisis in 2008."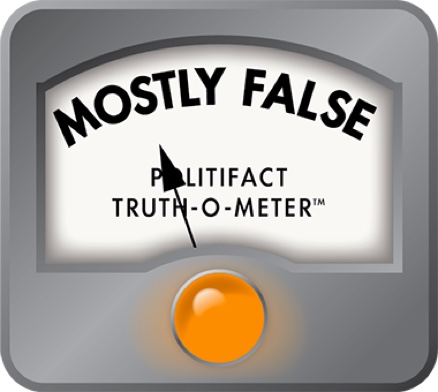 Mike Bloomberg's redlining remarks distorted by Elizabeth Warren
If Your Time is short
Bloomberg in 2008 linked the financial crisis to pushback against redlining.
When Bloomberg brought up redlining, he made no mention of minorities but instead brought up poor neighborhoods.
Bloomberg also cited other factors for the financial crisis, including automated trading and inadequate regulation.
U.S. Sen. Elizabeth Warren, D-Mass., used the Democratic primary debate in Las Vegas to launch attacks against Mike Bloomberg, including his the billionaire's rhetoric on the collapse of the housing market and financial crisis.
"When Mayor Bloomberg was busy blaming African Americans and Latinos for the housing crash of 2008, I was right here in Las Vegas literally just a few blocks down the street holding hearings on the banks that were taking away homes from millions of families," Warren said.
Warren was referring to a statement Bloomberg made in 2008 in which he said that the end of redlining — a discriminatory practice in which banks refused certain applicants, often African Americans, loans to live in certain neighborhoods — contributed to the collapse of the housing market. But Bloomberg did not blame African Americans, Latinos or any minority group.
What Bloomberg said about the causes of the financial crisis
The Warren campaign pointed to what Bloomberg said at a forum in September 2008 at Georgetown University. At various points in the hourlong interview, Bloomberg spoke broadly about loose lending as a factor in the financial crisis. Bloomberg identified pressure by Congress to expand lending after the ban on redlining as one of those causes. The term "redlining" comes from when bankers would draw lines on maps indicating poorer neighborhoods where they would avoid offering mortgages. Those areas often include large minority populations.
Bloomberg did not talk about the racial aspects of redlining or bring up any minority groups. Instead, he seemed to define redlining narrowly as excluding loan applicants in poor neighborhoods. And he described a system in which, by enacting a ban on redlining, Congress encouraged banks to give mortgages to people whether or not they could afford them.
Here's what Bloomberg said:
"It all started back when there was a lot of pressure on banks to make loans to everyone. Redlining, if you remember, was the term where banks took whole neighborhoods and said, 'People in these neighborhoods are poor, they're not going to be able to pay off their mortgages, tell your salesmen don't go into those areas.'"
He continued: "And then Congress got involved — local elected officials, as well — and said, 'Oh that's not fair, these people should be able to get credit.' And once you started pushing in that direction, banks started making more and more loans where the credit of the person buying the house wasn't as good as you would like."
Warren's argument is essentially that by citing the pushback against redlining as factor in the crisis, Bloomberg was blaming African Americans and Latinos.
Bloomberg's description of redlining may have sounded naive in that he didn't explicitly acknowledge the discriminatory impact against racial minorities. But that's a long way from blaming African Americans or Latinos for the housing collapse. 
In the same interview, Bloomberg cited several other factors that led to the crisis, but he made no mention at all of minorities.
Bloomberg talked about how the mortgage crisis accelerated after mortgages were approved too easily for borrowers who didn't have the means to repay them. 
"There was pressure to open up the spigot and to sell mortgages to everyone," he said.
Bloomberg's eight-minute answer also lobbed criticism at financial companies, saying that they didn't understand the risks and volatility of their own products. He said that Bear Stearns, AIG and Lehman Brothers all had reputations for being very aggressive.
"They got themselves so far out there that when the mortgage market collapsed, they couldn't value the things that they owned," he said. "They didn't know how many mortgages at the very bottom were going to be good."
In 2011, Bloomberg repeated his opinion that Congress was to blame for the crisis, because it "pushed the banks to loan to everybody." In this statement, he appeared to let bankers off the hook.
"It was not the banks that created the mortgage crisis," he said. "It was, plain and simple, Congress who forced everybody to go and to give mortgages to people who were on the cusp. Now I'm not so sure that was terrible policy because a lot of those people who got homes still have them, and they wouldn't have had them without that."
RELATED: What caused crisis? No one thing
Many experts have pushed back against the idea that eliminating redlining was a culprit for the financial meltdown. The Financial Crisis Inquiry Commission concluded that the 1977 law against redlining was "not a significant factor in subprime lending or the crisis."
When we contacted the Bloomberg campaign, the campaign pointed to other statements Bloomberg made in which he mentioned various factors.
Speaking in London in October 2008, Bloomberg said that automated trading contributed to the market's volatility. He said that the United States had an "antiquated patchwork of regulatory bodies" that lacked transparency.
At that event, Bloomberg was asked to respond to a magazine article suggesting the origins of the subprime mortgage crisis could be traced to the Clinton administration's anti-discrimination drive that cajoled banks to lend to people who were not creditworthy.
Bloomberg said: "I think it might have contributed a little bit, but what happened was fundamentally everybody was doing well. And when everybody's doing well, we let our guard down, we take risks that we would not otherwise have taken, and what happened plain and simple is that the modeling said these mortgages were going to be paid off."
Our ruling
Warren said, "Mayor Bloomberg was busy blaming African Americans and Latinos for the housing crisis in 2008."
Warren makes it sound like Bloomberg made a clear cut statement blaming minorities for the collapse of the housing market, when that's not the case.
Bloomberg in September 2008 brought up redlining when he was asked about the causes of the financial crisis. Bloomberg said after politicians deemed the process of redlining unfair, banks and lenders extended loans to applicants with poor credit. 
But Bloomberg made no mention of race or minorities — he spoke about people in poor neighborhoods. Bloomberg faulted other factors in the crisis including inadequate regulation.
Warren's statement contains an element of truth but ignores critical facts that would give a different impression. We rate this statement Mostly False. 
New York Times, Bush drive for home ownership fueled housing bubble, Dec. 21, 2008
Washington Post, Clinton pushes homeownership strategy, June 6, 1995
Los Angeles Times, Minorities' Home Ownership Booms Under Clinton but Still Lags Whites' May 31, 1999
New York Times, Bush drive for home ownership fueled housing bubble, Dec. 21, 2008
PolitiFact, What caused crisis? No one thing, Nov. 30, 2008
NBC News, Live Blog / Las Vegas Democratic debate live updates: Six candidates face off in Nevada, Feb. 19, 2020
YouTube, Mike Bloomberg at Georgetown University, Sept. 17, 2008
C-SPAN, Mike Bloomberg at Georgetown University, Sept. 17, 2008
Washington Post, Sanders steps up attacks on Bloomberg at candidates event in Nevada, Feb. 16, 2020
AP, Bloomberg once blamed end of 'redlining' for 2008 collapse, Feb. 12, 2020
New York Times, Bloomberg Once Linked 2008 Crisis to End of Redlining Bias in Home Loans, Feb. 13, 2020
Mike Bloomberg campaign website, Housing Affordability and Homelessness, 2020
CityLab, What Mike Bloomberg Got Wrong About Redlining and the Financial Crisis, Feb. 13, 2020
Washington Post perspectives by Robert Kuttner, I wrote the law Bloomberg blames for the financial crisis. He's wrong. Feb. 15, 2020
Federal Reserve, Federal Fair Lending Regulations and Statutes Fair Housing Act
Financial Crisis Inquiry Commission Report, Financial crisis inquiry report
Politico, Bloomberg: 'Plain and simple,' Congress caused the mortgage crisis, not the banks, Nov. 1, 2011
Mayor Mike Bloomberg, lecture on financial crisis in London, Oct. 6, 2008
The Spectator, Clinton Democrats are to blame for the credit crunch, Oct. 1, 2008
NYC, Mayor Bloomberg Outlines Principles To Guide Financial Industry Reform At The Securities Industry And Financial Markets Association Annual Meeting, Oct. 28, 2008
NYC, Mayor Bloomberg Announces Innovative Initiative To Combat Predatory Lending And Prevent Mortgage Foreclosures, Oct. 28, 2005
NYC, Mayor Bloomberg And Speaker Quinn Join The Center For Nyc Neighborhoods To Award New Grants To Help Prevent Mortgage Foreclosures, Dec. 11, 2008
NYC, Mayor Bloomberg Announces Public Campaign To Help More New Yorkers Get Free Foreclosure Prevention Services, June 11, 2009
Email interview, Josh Orton, Sen. Bernie Sanders campaign spokesman, Feb. 17, 2020
Email interview, Stu Loeser, Mike Bloomberg campaign spokesman, Feb. 17, 2020
Email interview, Ricardo Quinto, Center for Responsible Lending spokesman, Feb. 17, 2020
Browse the Truth-O-Meter
More by Amy Sherman
Support independent fact-checking.
Become a member!
In a world of wild talk and fake news, help us stand up for the facts.