Get PolitiFact in your inbox.
"Research illustrates a clear correlation between vitamin D deficiencies and (higher) COVID-19 mortality rates."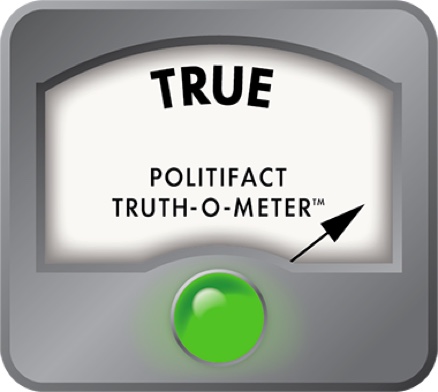 Glenn Grothman on target about tie between vitamin D and COVID-19, but vitamin D isn't a known cure
If Your Time is short
U.S. Rep. Glenn Grothman touted a correlation between vitamin D deficiencies and COVID-19 deaths, suggesting the supplement may help combat the virus.

Early research verifies that correlation, but more work needs to be done.

Grothman emphasized that point and didn't imply vitamin D is a cure for COVID-19.
People across the globe continue to seek answers on how to defeat the coronavirus that has sickened millions.
One proposed solution has gained attention in recent weeks: Vitamin D.
A link between vitamin D and COVID-19, the disease caused by the coronavirus, caught the eye of U.S. Rep. Glenn Grothman, R-Glenbeulah. 
In a May 21, 2020 news release, Grothman encouraged the Centers for Disease Control and Prevention to look into vitamin D's impact on the virus. 
"Research illustrates a clear correlation between vitamin D deficiencies and (higher) COVID-19 mortality rates," the release said.
Studies cited by Grothman do suggest vitamin D deficiencies may have contributed to COVID-19 deaths in some countries. But many questions remain about the relationship between the two, and researchers say more work should be done to better understand it.
Is Grothman right about the correlation?
Vitamin D and COVID-19 deaths
Grothman's news release cited studies out of Northwestern University and Trinity College in Dublin that reached similar conclusions: Countries with more deaths from the virus, such as Spain and Italy, also had higher rates of vitamin D deficiencies. 
"We saw a significant correlation with vitamin D deficiency," Vadim Backman, a Northwestern professor who helped author one study, told the university website Northwestern Now.
Why look into vitamin D in the first place?
Aside from building healthy bones, vitamin D can boost the immune system by suppressing what's called a cytokine storm — severe inflammation that occurs when the immune system becomes overactive and releases too many cytokine proteins.
Backman said cytokine storms may contribute to COVID-19 deaths because the storms can damage people's lungs. An April 17, 2020 article on WebMD also indicated that patients with severe COVID-19 symptoms had high levels of cytokines in their system.
The idea, then, is that vitamin D could suppress a catastrophic immune response and prevent people from developing severe COVID-19 symptoms that lead to death.
"It will not prevent a patient from contracting the virus, but it may reduce complications and prevent death in those who are infected," Backman said in the interview.
Let's return to Grothman.
He did not say researchers found a connection, only a correlation between vitamin D levels and COVID-19 deaths. That's on target. Vitamin D is by no means a cure for the virus, and Grothman conceded that we don't yet know the extent of the relationship.
In an interview with PolitiFact Wisconsin, Grothman reiterated his belief that federal agencies should further explore the issue. 
"I think a lot of times, the CDC and (National Institutes of Health) and that crowd primarily focus on new drugs," he said. "If you have something right under your nose, let's go with it."
What researchers say
For now, researchers caution against reading too much into the available studies. 
J. Wesley Pike, a biochemistry professor at the University of Wisconsin-Madison, said there is not enough proof yet to suggest a meaningful relationship between vitamin D and COVID-19. Researchers will need to conduct further studies to determine if that vitamin is effective in combating the coronavirus.
"There's simply no evidence that taking vitamin D will protect you," Pike said. "But again, we don't know. The answer is it's possible." 
A group of researchers in Europe and the United Kingdom noted in a May 2020 paper that vitamin D supports the immune system and is recommended to help people maintain a healthy lifestyle. People can up their intake and avoid deficiencies through supplements, eating vitamin D-rich food and getting safe sunlight exposure.
But vitamin D is not a "magic bullet" to prevent or treat COVID-19, they wrote, and should not be taken in excessive doses that could present their own health risks.
Our ruling
Grothman claimed "research illustrates a clear correlation between vitamin D deficiencies and (higher) COVID-19 mortality rates."
Early studies into vitamin D suggests it may curb the severity of COVID-19 symptoms and reduce mortality rates. Further research is needed to examine the issue, and vitamin D is not a cure for the coronavirus. 
But Grothman did not say it was a cure, only that there was a correlation. One expert noted the correlation was "significant"
We rate his claim True. 
See Figure 1 on PolitiFact.com
Irish Medical Journal, Vitamin D and Inflammation: Potential Implications for Severity of Covid-19, accessed May 22, 2020.

Northwestern University, The Possible Role of Vitamin D in Suppressing Cytokine Storm and Associated Mortality in COVID-19 Patients, May 18, 2020.

CNN, Vitamin D's effect on Covid-19 may be exaggerated. Here's what we know, May 26, 2020.

Microbiology and Molecular Biology Reviews, Into the Eye of the Cytokine Storm, March 2012.

Northwestern Now, Vitamin D appears to play role in COVID-19 mortality rates, May 7, 2020.

WebMD, Cytokine Storms May Be Fueling Some COVID Deaths, April 17, 2020.

Interview with U.S. Rep. Glenn Grothman, June 3, 2020.

Email from Timothy Svoboda, communications director for U.S. Rep. Glenn Grotman, June 3, 2020.

BMJ Nutrition, Prevention and Health, Vitamin D and SARS-CoV-2 virus/COVID-19 disease, May 13, 2020.
Browse the Truth-O-Meter
More by Haley BeMiller
Support independent fact-checking.
Become a member!
In a world of wild talk and fake news, help us stand up for the facts.