Stand up for the facts!
Our only agenda is to publish the truth so you can be an informed participant in democracy.
We need your help.
I would like to contribute
Says before he planned a rally on June 19 "nobody had ever heard of" Juneteenth.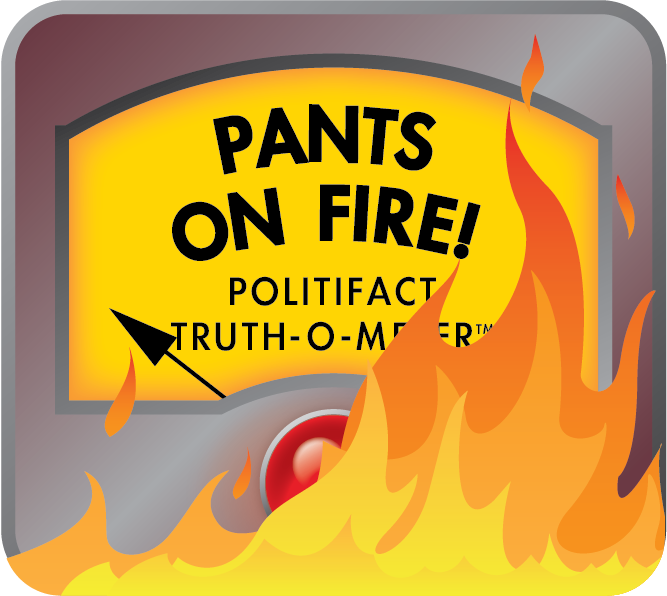 Donald Trump's Pants on Fire claim that nobody had heard of Juneteenth
If Your Time is short
Donald Trump said that before he rescheduled a rally in Tulsa, Okla., nobody had heard of Junteenth, a day that marks the end of slavery in America.

The tradition started in 1866 in Texas and spread to nearby states.

The Civil Rights movement infused Juneteenth with new energy.

Today, 47 states recognize the day.
President Donald Trump took credit for boosting awareness of Juneteenth, a day that marks the end of slavery in America.
"I did something good: I made Juneteenth very famous," Mr. Trump said, in a Wall Street Journal interview. "It's actually an important event, an important time. But nobody had ever heard of it."
Trump had originally planned his first political rally in more than three months in Tulsa, Okla., for June 19. He moved the rally to June 20 after, he said, African American leaders asked him to.
It is fair to say that outrage over George Floyd's death while in police custody, combined with vocal demonstrations and the Black Lives Matter movement, have raised the profile of Juneteenth and its meaning to new heights. Trump's planned rally in Tulsa fueled that sentiment. But his suggestion that no one knew about it ignores history; the day has held significance for millions of Americans for decades.
Juneteenth stems from June 19, 1865, when Union troops under Gen. Gordon Granger landed in Galveston, Texas. Granger's men marched through the city reading General Order No. 3 at municipal buildings and churches, declaring that all slaves were now free. African American leaders held the first celebration to mark the day on June 19, 1866.
Trump's assertion that he made the day famous is a matter of opinion, but we can fact-check his claim that "nobody had ever heard of it."
Millions of Americans had heard of Juneteenth before Trump's scheduling shift.
"Today, if Americans have any knowledge at all about commemorations of the end of U.S. slavery, their reference point is generally Juneteenth," historian Mitch Kachun wrote in 2007.
In 1980, Texas made June 19 a state holiday. Today, 47 states recognize the day. New York and Virginia just moved to make it a state holiday.
In 2019, celebrations were held in cities nationwide, including New York City, Sacramento, Houston, New Orleans, Sioux Falls, S.D., Richmond, Va., Tulsa, Okla., Milwaukee, Kansas City, Mo., and the list goes on and on.
From Texas in 1866, the Juneteenth tradition spread to surrounding states. It was popular in Oklahoma, where a young African American writer named Ralph Ellison grew up. Ellison wrote a short story entitled "Juneteenth." It became a key chapter in Ellison's posthumously published novel bearing the same title.
Throughout the 1950s and 1960s, the social justice overtones of Juneteenth grew more prominent. In 1968, the Poor People's March on Washington firmly embedded Juneteenth in the Civil Rights movement. The march that traveled through the South had its final day of speeches and music at the Lincoln Memorial before an estimated crowd of 50,000 on June 19, 1968. Juneteenth.com, one of several efforts to promote recognition of the day, tracked large events in Milwaukee and Minneapolis back to the 1968 march.
Starting in the 1990s, books aimed at younger readers popularized the tradition. The head of a group that promoted Juneteenth presented a copy of "Juneteenth: A Celebration of Freedom" to then-governor of Alaska Sarah Palin at the Alaska Juneteenth Conference in Anchorage in 2009, where the governor spoke about the significance of Juneteenth in her state.
Under Trump, the White House has issued statements every year to recognize Juneteenth.
Our ruling
Trump said that nobody had heard of Juneteenth until this year.
The history is clear. Long before Trump was elected president, millions of Americans knew about the day that marks the end of slavery in America.
We rate this claim Pants on Fire.
Wall Street Journal, Trump Talks Juneteenth, John Bolton, Economy, June 18, 2020
Oxford University Press blog, Thoughts on Juneteenth, June 22, 2007
Conference on Lincoln and the Civil War in Contemporary America, Celebrating Freedom: Juneteenth and the Emancipation Festival Tradition, Feb. 6, 2009
Galveston History Foundation, JUNETEENTH AND GENERAL ORDER NO. 3, June 10, 2020
National Museum of African American History and Culture, The Historical Legacy of Juneteenth, accessed June 15, 2020
National Juneteenth Observance Foundation, About, accessed June 15, 2020
Oxford African American Studies Center, Emancipation and the Meaning of Juneteenth, accessed June 17, 2020
Juneteenth.com, History of Juneteenth, accessed June 15, 2020
Civil Rights Digital Library, Series of WSB-TV newsfilm clips of African Americans celebrating and demonstrating as they prepare for the Poor People's March on Washington, 1968, accessed June 17, 2020
PBS, What Is Juneteenth?, accessed June 18, 2020
The Atlantic, The Quintessential Americanness of Juneteenth, June 19, 2017
Interview, Mitch Kachun, emeritus professor of history, Western Michigan University, June 16, 2020
Browse the Truth-O-Meter
More by Jon Greenberg
Support independent fact-checking.
Become a member!
In a world of wild talk and fake news, help us stand up for the facts.