Facts are under assault in 2020.
We can't fight back misinformation about the election and COVID-19 without you. Support trusted, factual information with a tax deductible contribution to PolitiFact
I would like to contribute
"OSHA says masks don't work" to reduce COVID-19 transmission "and violate OSHA oxygen levels."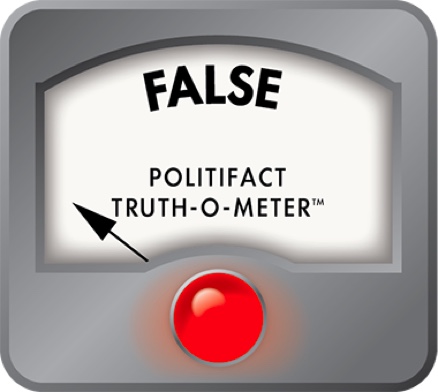 No, OSHA does not say that 'masks don't work' against COVID-19
If Your Time is short
OSHA recommends that masks be worn to help slow the spread of COVID-19.

Masks aren't a cure to prevent spread of COVID-19, experts say. But they are an effective tool in slowing transmission.
When it comes to fighting the spread of COVID-19, the consensus among health authorities is that masks provide some measure of protection for people around the wearers.
So, has the federal agency charged with ensuring healthy conditions in the workplace declared that face coverings don't work, and actually pose a health risk?
That's the claim of an article (archived here) widely shared on Facebook that carries this headline:
"OSHA says masks don't work — and violate OSHA oxygen levels."
The post was flagged as part of Facebook's efforts to combat false news and misinformation on its News Feed. (Read more about our partnership with Facebook.) 
In fact, the Occupational Safety and Health Administration, part of the Department of Labor, recommends the use of masks.
Change in advice
Initially, the lead federal agency on the coronavirus, the Centers for Disease Control and Prevention, did not recommend face coverings. That changed in April:
"We now know from recent studies that a significant portion of individuals with coronavirus lack symptoms ('asymptomatic') and that even those who eventually develop symptoms ('pre-symptomatic') can transmit the virus to others before showing symptoms. This means that the virus can spread between people interacting in close proximity—for example, speaking, coughing, or sneezing—even if those people are not exhibiting symptoms.  In light of this new evidence, CDC recommends wearing cloth face coverings in public settings where other social distancing measures are difficult to maintain (e.g., grocery stores and pharmacies) especially in areas of significant community-based transmission."
OSHA recommends masks
The article we're checking is on a website called GreenMedInfo. The article doesn't have text per se, but rather two videos and links to OSHA web pages. 
But we found that on its website, OSHA repeatedly recommends the use of face coverings:
From OSHA's "COVID-19 Frequently Asked Questions":
Cloth face coverings are worn in public over the nose and mouth "to contain the wearer's potentially infectious respiratory droplets produced when an infected person coughs, sneezes, or talks and to limit the spread" of the coronavirus. 
From OSHA's "Guidance on Returning to Work": 
Employers must determine PPE (personal protective equipment) such as gloves, surgical masks and face shields) are necessary for employees. 
From OSHA's "Guidance on Preparing Workplaces for COVID-19":
"Provide a face mask, if feasible and available, and ask the person to wear it, if tolerated. ...Most workers at high or very high exposure risk likely need to wear gloves, a gown, a face shield or goggles, and either a face mask or a respirator, depending on their job tasks and exposure risks."
OSHA's response to the post
A Department of Labor spokeswoman told PolitiFact that OSHA "generally recommends that employers encourage workers to wear face coverings at work. Face coverings are intended to prevent wearers who have COVID-19 without knowing it from spreading potentially infectious respiratory droplets to others. 
"OSHA has not suggested they are ineffective for that purpose."
The spokeswoman also said OSHA has not made any determination on whether masks have any impact on oxygen levels. 
Our ruling
A Facebook post claims "OSHA says masks don't work" to reduce COVID-19 transmission "and violate OSHA oxygen levels." OSHA actively recommends masks, when appropriate, in the workplace, and has made no determination on whether they affect a person's oxygen levels. 
We rate the post False.
Greenmedinfo.com, "OSHA says masks don't work — and violate OSHA oxygen levels," post (archived here), June 18, 2020
Email, OSHA spokeswoman Kimberly Darby, June 23, 2020
Snopes, "Are These Claims About the Effectiveness of Face Masks True?", June 18, 2020
OSHA, "Guidance on Preparing Workplaces for COVID-19," accessed June 22, 2020
OSHA, "COVID-19 Frequently Asked Questions," accessed June 22, 2020
Browse the Truth-O-Meter
More by Tom Kertscher
Support independent fact-checking.
Become a member!
In a world of wild talk and fake news, help us stand up for the facts.