Get PolitiFact in your inbox.
Technology coming to Virginia allows COVID-19 personal protection equipment to be "decontaminated and reused 20 times without degrading performance."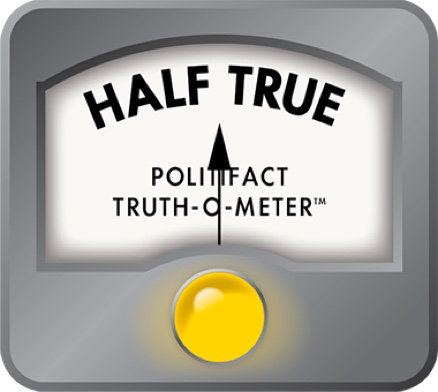 Can N95 masks be sterilized 20 times with no degradation, as Northam says?
Gov. Ralph Northam announced that Virginia has received decontamination systems that will help provide front-line health workers with protective equipment against COVID-19.
Each of the systems can massively sanitize for reuse much-sought-after N95 face masks. The systems were developed by the Battelle Memorial Institute, a nonprofit technology company in Ohio, and received emergency authorization from the Food and Drug Administration.
The Federal Emergency Management Agency has been sending the equipment, free of charge, to various locations. Northam announced during a May 1 news conference that Virginia has gotten three of the systems, to be located in Chesterfield County, Newport News and Blacksburg. 
"These systems have multiple units that are each the size of a storage container and can clean up to 80,000 masks per day using a hydrogen peroxide vapor," Northam said.  "(Personal  protective equipment) can be decontaminated and reused 20 times without degrading."
Traditionally, N95 masks have been designated for only single use. So we fact-checked Northam's statement that the system allows the masks to be "decontaminated and reused 20 times without degrading."
The Battelle process
Hospitals send the masks to N95 sanitization centers Battelle has helped set up, including in coronavirus hot spots such as New York, Boston, Seattle and Washington, D.C.
Workers wearing protective gear load the respirators into a sealed container. Masks are cleaned with vapor-phase hydrogen peroxide, aerated and then sent back to the originating hospitals. The decontamination process takes about 12 hours.
Battelle says the masks can withstand the decontamination process up to 20 times. But, as PolitiFact National recently noted, that's not a best practice.
The FDA, in its letter designating emergency approval, specified that Battelle's decontamination system "may be effective" safely recycling masks 20 times, but it advised that recycling should only be done "when there are insufficient supplies." The Centers for Disease Control and Prevention also recommends reuse "only be practiced as a crisis capacity strategy."
There are several reasons. For one thing, research is limited on how effective this type of decontamination is. Also, masks vary in how they stand up to the procedure.
And it's not as simple as doing a load of laundry. "Decontamination is a complicated process," said Hana El-Samad, a professor of biochemistry and biophysics at the University of California-San Francisco, who researches N95 sanitization. "Assessing how well it works and which N95 makes and models remain unaffected is an area of active research." 
N95Decon, a research collaborative with which El-Samad works, has examined Battelle's hydrogen peroxide approach and found the chemicals appear to eliminate COVID-19 spores without damaging the mask's filtration.
Mask integrity
Performance is only part of the equation. Another is mask structure: N95s work only when properly fitted to the face.
When workers reuse the masks, they can lose their shape, which undermines the quality of fit and renders them less protective. For some masks, per an N95Decon report on hydrogen peroxide, fit quality declined substantially after just five uses. For others, it took 15 wears to see a meaningful difference.
In addition, decontamination itself can in some cases worsen the respirator's fit. 
"If [an N95] doesn't fit well, then air will leak around the sides and it doesn't matter how good a filter it is," said Patrick Kenney, medical director of the Yale-New Haven Health's corporate supply chain.
Plus, using this technology requires hospitals to have other protocols in place. Used masks must be safely collected ― since they could be COVID-contaminated and pose a biohazard — and a plan must be in place to move them to and from the sanitization facility. 
"These are all complicated processes that need to be done right," El-Samad said.
She offered a key takeaway: Technology like Battelle's can help. But nothing substitutes for new N95s.
We should note the PolitiFact National fact-checked an April  23 statement by President Trump. He said, "We're also using a sterilization process ― some great equipment that will sterilize masks up to 20 times per mask. So that's like ordering 20 times more masks."
PolitiFact rated the statement Half-True, saying, "Government authorities and health care researchers are clear that this is a crisis measure and it is in no way as effective as 'ordering 20 times more masks.'"
Our ruling
Northam said with decontamination systems being set up in Virginia, "PPE can be decontaminated and reused 20 times without degrading."
The systems are excellent news for Virginia which, like practically all states, has struggled to acquire N95 masks for medical workers. But the governor's words are still rosy.
The FDA, in its letter of emergency approval, said the decontamination system "may be effective" safely recycling masks up to 20 times, but warned the process should  only be used when there are "insufficient (new) supplies." Some early research suggests the structure of the masks may be compromised through the repeated process, making them less-secure fits on faces.
So Northam's statement is partially accurate, but leaves out important details. We rate it Half True.
Gov. Ralph Northam, news conference, May 1, 2020 (3:52 mark).
PolitiFact National, "Trump says N95 masks can be sterilized for reuse. Only in a pinch, experts warn," April 29, 2020.
Food and Drug Administration, "Letter to Battelle Memorial Institute," March 29, 2020.
N95Decon, "Technical Report for Hydrogen Peroxide-Based N95 Reuse Risk Management," April 23, 2020.
Battelle Memorial Institute, "Battelle CCDS Critical Care Decontamination System," March 2020.
Battelle, "CCDS Technical Technical Summary Paper," March 2020.
Browse the Truth-O-Meter
More by Warren Fiske
Support independent fact-checking.
Become a member!
In a world of wild talk and fake news, help us stand up for the facts.