Get PolitiFact in your inbox.
"I brought back Big Ten football."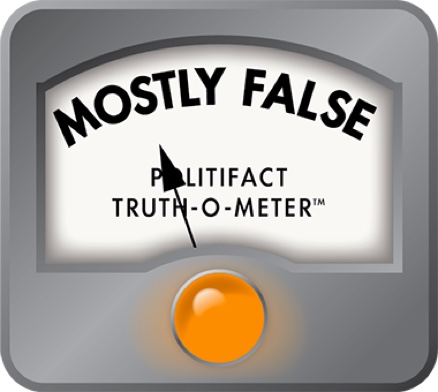 Big Ten leaders say testing and medical advice brought back football season
If Your Time is short
In a Sept. 1, 2020 phone call with Big Ten Commissioner Kevin Warren, President Donald Trump urged Warren to reconsider the decision to push back the college football season because of the coronavirus pandemic

Trump claims that his words and actions helped bring the season back.

But several school leaders say the decision was made based on medical advice and increased availability of testing, not politics.
Before President Donald Trump and several others close to him tested positive for coronavirus, there was the presidential debate. 
And in the debate, there was a claim — one that may have caused college athletes, parents, coaches and athletic conference leaders to scratch their heads. 
Amid a discussion on the economy at the Sept 29, 2020 debate in Cleveland, Trump said: 
"I'm the one who brought back football, by the way. I brought back Big Ten football. It was me and I'm very happy to do it."
Even prior to the debate, more than 20 versions of an advertisement asserting that the president "brought back" college football were being shared on various Trump campaign Facebook pages in Wisconsin, Michigan, Ohio, Pennsylvania and other Big Ten states — some of which are crucial for his reelection.
The problem with that assertion is that Big Ten leaders don't seem to agree. 
Let's dig in.
Schools say medical advice, not Trump's urging, helped bring back the season
Trump's campaign did not respond to a request for backup for the president's claim, so we are left with what we know from past statements and media coverage of the matter.  
To be sure, Trump had been vocal with his opinion that college football should carry on as usual despite the coronavirus pandemic, and had been hard on the Big Ten for its initial decision to delay the start of the season. 
On Sept. 16, 2020, the day the conference announced it would return to fall football, Trump  tweeted that it was his "great honor to have helped" and said on a Fox Sports Radio segment that the season was "totally dead" before he called Big Ten Commissioner Kevin Warren to discuss the matter. 
The president did speak with Warren on Sept. 1, 2020 and labeled the conversation "productive," according to a Washington Post article posted that day.  
Various other reports said the league was offered federal assistance, presumably around testing of players and coaches, but those same reports in USA TODAY, the Washington Post and CBS Sports said the league had not requested and was not given any such assistance. 
Warren has said that the Big Ten itself will pay for the approximately 150,000 coronavirus tests needed to keep the season going from its planned Oct. 24, 2020 start through December. 
According to a Sept, 16, 2020 Washington Post article, conference officials and university leaders disputed Trump's claim, saying that medical advice and increased availability of rapid testing drove the decision to bring the season back, not politics. 
"For me, it wasn't about political pressure," Northwestern University president Morton Schapiro told reporters on a Sept. 16, 2020 conference call. "It wasn't about money. It wasn't about lawsuits. It wasn't about what everyone else is doing. It's about the unanimous opinion of our medical experts. That sort of evolved over the course of weeks."
Added Ohio State team physician James Borchers, co-chair of the conference's Return to Competition Task Force medical subcommittee: "Our ability to test consistently and uniformly amongst the conference and provide that was really important."
Penn State athletic director Sandy Barbour said: "If it was possible to get there safely, we were going to find a way. And that's what happened."
According to a Sept 16, 2020 tweet from NBC White house correspondent Peter Alexander, a Big Ten university president told him that Trump's urgings did not impact the deliberations and that Trump's name came up in a negative light because "no one wanted this to be political." 
Big Ten conference officials did not respond to our request for comment on the issue.
Before we close, two notes about the way Trump phrased his claim.
Big Ten football was never canceled. The initial decision — the one that was reversed — was to postpone the games until spring.

Likewise, "football" was never canceled. Several major conferences — most notably the Big Ten and Pac 10 — had delayed seasons, but others including the SEC, ACC and Big 12 were already playing before the Big Ten decision came.
So, in addition to inflating his role, Trump overstates the accomplishment he is boasting about.
Our ruling 
In the presidential debate, Trump claimed he "brought back Big Ten football."
But school and conference leaders jumped in to dispute that claim, saying that opportunities for continued rapid testing of players and other medical advice led them to undo their decision to play in the spring instead of the fall.
It's clear that Trump urged the Big Ten to return this fall, but far less clear that his urging played into the final decision.
We rate his claim Mostly False. 
Browse the Truth-O-Meter
More by Madeline Heim
Support independent fact-checking.
Become a member!
In a world of wild talk and fake news, help us stand up for the facts.