Stand up for the facts!
Our only agenda is to publish the truth so you can be an informed participant in democracy.
We need your help.
I would like to contribute
Abigail Spanberger and other Democrats "voted to spend public funds on their political campaigns; up to $5 million..."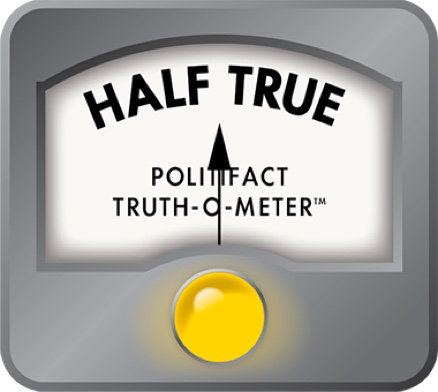 Did Spanberger, other House Democrats, vote to use public money for their campaigns?
Democratic Rep. Abigail Spanberger wants the public to pay for her campaign, according to Nick Freitas, her Republican challenger this fall.
"Washington Democrats love to spend your money," says a Freitas TV ad. "They even voted to spend public public funds on their political campaigns; up to $5 million each for travel expenses, staffers, even TV ads. And Abigail Spanberger voted with them, not you."
The ad flashes grainy videos of three Democrats often targeted by conservatives:  House Speaker Nancy Pelosi and Rep. Adam Schiff of California, and Rep.Alexandria Ocasio-Cortez of New York. It ends with videos of Spanberger. The narrator says, "Washington Democrats and Abigail Spanbereger: They flood your TV with attack ads; you get stuck with the bills."
We fact checked whether Spanberger voted to give politicians up to $5 million for their campaigns. A similar claim against Spanberger was made last month in a TV ad by the conservative Congressional Leadership Fund. The charge is cropping up in ads against incumbent Democrats in races across the country.
The ads target votes that Spanberger and other House Democrats cast on March 8, 2019 for the "For the People Act of 2019,"  a 705-page bill that would expand voting rights, limit gerrymandering, strengthen ethics rules and reduce the influence of private donor money in politics. Spanberger was among 236 Democrats who cosponsored the measure. It passed the House on a starkly partisan 234-193  vote, with all participating Democrats supporting it, and all participating Republicans voting no. The bill has not been taken up in the GOP-controlled Senate.
Campaign financing proposal
The bill would provide a 6-to-1 match for small-dollar donations ($200 or less), and create a pilot program in three states to provide $25 vouchers for eligible voters to give to their favored candidates for Congress.
Freitas' ad gives the impression that everyone running for federal office would get public funding, but that's not the case. 
Participation in the program would be optional. A candidate would have to agree not to accept any single contribution of more than $200, and any aggregate donations from an individual or PAC of more than $1,000. Each of those contributions, and voucher money, could receive the 6-to-1 match.
To qualify for the program, a candidate would have to raise at least $50,000 in small-dollar donations from at least 1,000 individuals.
Ray La Raja, professor of political science and an expert in campaign finance at the University of Massachusetts, Amherst, has told PolitiFact that the eligibility requirements would make the matching program attractive to some candidates more than others.
"My hunch is that many Democrats would participate under the reform, but probably not those who expect highly competitive elections," he said. "They would not want to risk coming up short of money for the campaign."
"Additionally, candidates who have ideological followings will likely benefit from this program," he added. "Ideological candidates tend to draw more small donors."
Freitas and other Republicans say the bill would allow up to $5 million in public financing for a candidate. The figure comes from a Bloomberg Government estimate in January 2019.
Who pays for the funding?
Freitas' ad tells viewers "you get stuck with the bill," suggesting the general public would pay for the matching funds. That's not correct.
The money actually would come from a new "Freedom From Influence Fund" under the U.S. Treasury, which would collect a 2.75 percent surcharge on criminal and civil fines and penalties or settlements with banks and corporations that commit corporate malfeasance.
It should be noted, however, that the source of money for the matches was not specified in the version of the bill that Spanberger and other Democrats co-sponsored on Jan. 9, 2019. The fines against banks and corporations were added to the bill on March 5.
The final bill seals off the possibility that individual and household taxpayers' money would seep into the fund. It says if the Freedom From Influence Fund runs out of money, no money can be drawn from other sources. The bill allows payments for vouchers and grants to be reduced if the fund runs low.
Our ruling
Freitas's ad says Spanberger and other Democrats "voted to spend public funds on their political campaigns; up to $5 million..." 
The claim refers to votes Spanberger and 233 of her Democratic House colleagues cast on March 8, 2019 for a bill that would provide a 6-to-1 match on small-dollar contributions to congressional candidates. Bloomberg News estimates candidates could receive as much as $5 million apiece in federal support.
Although the bill would be a step towards public financing of congressional campaigns, Freitas glosses over some important details:
Participation in the program would be optional, and against the interests of many Democratic and Republican candidates. To be eligible for the match, candidates would have to refuse aggregate contributions from any individual of  more than $1,000.
The program would not receive tax dollars paid by individuals and households. It would be funded by a 2.75 percent surcharge on civil and criminal fines paid by banks and corporations.
Freitas's statement tells half the story, and we rate it Half True.
Browse the Truth-O-Meter
More by Warren Fiske
Support independent fact-checking.
Become a member!
In a world of wild talk and fake news, help us stand up for the facts.