Stand up for the facts!
Our only agenda is to publish the truth so you can be an informed participant in democracy.
We need your help.
I would like to contribute
Foxconn hasn't hit job targets on its massive Wisconsin factory because "No. 1, you had a pandemic."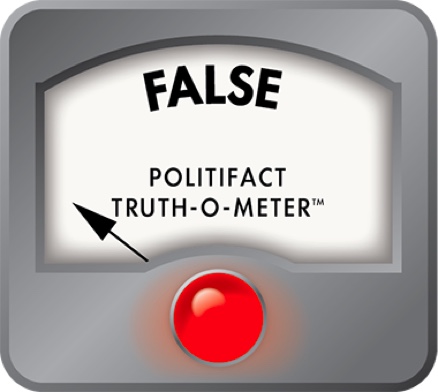 Trump wrong to blame pandemic for Foxconn struggles
If Your Time is short
Foxconn's hiring and infrastructure improvements dramatically lagged their promises long before the pandemic hit.

Foxconn fell short of even the minimum hiring thresholds to receive state credits in both 2018 and 2019.

The planned Generation 10.5 factory was abandoned in favor of a Generation 6 — again, long before the pandemic hit.
President Donald Trump and Wisconsin's Foxconn project are undeniably linked.
Trump was at the June 2018 groundbreaking in Mount Pleasant, and when a series of media reports detailed the possibility Foxconn could scale back or call off its plans in Wisconsin in early 2019, Trump stepped in directly. The president spoke to then-CEO and Chairman Terry Gou, and the company then announced it was still building a liquid crystal display manufacturing plant here.
So it wasn't surprising to hear Trump back the company even as we learned it failed to meet the job targets to receive any subsidies for the second straight year.
In an Oct. 17, 2020, interview with WTMJ-TV's Charles Benson, Trump said the company was still going to deliver on its promised 13,000 jobs.
"They will do what I tell them to do. They will do what's supposed to be done. Because they did make promises," Trump said. "If they don't meet the standards, you shouldn't give them the tax credits, but they will end up being a great investment for your state. … If I win the election, Foxconn is going to come in with money like no other company has come into our country, you watch."
But it was Trump's explanation for Foxconn's lack of progress that struck us as particularly interesting.
Asked why the company hadn't met expectations, Trump said, "No. 1, you had a pandemic."
Since the Foxconn deal was signed in 2017, officials have repeatedly referenced the changing marketplace and Foxconn's resulting strategy shifts as factors in the slow ramp-up in Mount Pleasant. Trump didn't mention either of these factors, citing only the pandemic as a cause.
Let's check out what Foxconn promised and how fair it is to blame COVID-19  for the lack of progress.
The original deal
Foxconn and Wisconsin signed an initial memorandum of understanding in July 2017 that said the company "agrees to … create up to 13,000 jobs with an estimated average salary of $53,875 over a period of up to six years."
A formal agreement signed in November 2017 moved that up a bit, saying Foxconn agrees "to the best of their ability, to projected employment of 13,000 jobs of hourly and salaried personnel of Wisconsin payroll between 2018 and the end of 2022."
In a deal brokered by then-Gov. Scott Walker and approved by the GOP-led Legislature, Wisconsin agreed to provide as much as $3 billion in subsidies (cash payments made to the company) and hundreds of millions in infrastructure improvements. In exchange, the company pledged to invest up to $10 billion and build a Generation 10.5 plant to make giant display panel screens.
The deal established job thresholds for the subsidies for each year along the way — a minimum to get the lowest available subsidies, and a maximum to get all of them.
Where we are now
In the time since, local and state government have spent hundreds of millions of dollars on infrastructure, but the company has repeatedly downsized its plans and fallen short of its promises.
Foxconn failed to quality for even the minimum tax credits in 2018 or 2019.
The Wisconsin Economic Development Corp., a private-public partnership that oversees the state's deal with Foxconn, reported Oct. 12, 2020 that the company had hired only 281 people eligible for credits — compared to the expectation of 2,080 and minimum of 520 — and made only $300 million in capital expenditures through the end of 2019.
Meanwhile, the company had dropped the Generation 10.5 plans in favor of a Generation 6 plant, which conflicts with the agreement reached with the state. State officials have attempted to renegotiate the deal with Foxconn to reflect the company's current reality, but that so far has not happened as the company hasn't provided specifics on its plans for the site.
Wisconsin Secretary of Administration Joel Brennan cited Foxconn business challenges, a changing marketplace and the pandemic as elements of the conversation on how to move forward. 
 "There is no manufacturing to speak of going on at that facility right now," Brennan told the Milwaukee Journal Sentinel. "I don't know that there is a lot of certainty about what is going on there."
In short, Foxconn is falling short, and it has been since long before the pandemic.
"It has been clear for more than 16 months that Foxconn was no longer pursuing the project proposed, evaluated, negotiated, and contracted for with WEDC," WEDC Secretary and CEO Missy Hughes said in a statement to PolitiFact Wisconsin. "Further, the pre-pandemic job creation numbers submitted by Foxconn for 2018 and 2019 fell short of the minimum for each year. That's why we have been encouraging Foxconn for the last year and a half to align its agreement with WEDC with its evolved plans and vision in Wisconsin."
State doubts viability of Foxconn facility
In the time since Trump's comment, new documents and media reports have further illuminated Foxconn's lack of progress.
These don't factor into our rating since they weren't widely known at the time of the statement, but they support the prior evidence.
An Oct. 7, 2020, memo from the state Department of Administration — first reported by The Verge — noted:
The Generation 6 facility on the site now is more of an assembly facility than a fabrication facility, according to a DOA expert. It "may be better suited for demonstration purposes rather than as a viable commercial glass fabrication facility."

The facility "if operational, would be the smallest Generation 6 (factory) operating anywhere in the world. It is less than one-twentieth the size of the promised Generation 10.5 project and would employ, if it ever became fully operational, only a small fraction of the local residents who WEDC expected to be employed."

Foxconn has a "pattern of hiring spikes," where they have added employees near the year-end job reporting deadline, then cut ties soon after.

Foxconn has changed one building's purpose "at least temporarily" from manufacturing to storage.

Foxconn's hiring likely dropped so far in 2020, rather than dramatically ramping up as the contract requires.
After this surfaced, Foxconn founder Terry Gou issued a statement reiterating a desire to expand on the Mount Pleasant site.
"The world has changed a lot since Foxconn's partnership with Wisconsin began, but Foxconn's commitment to the state has not wavered," Gou said. "Market conditions and the COVID-19 pandemic have altered the timing of our expansion, the specifics of our manufacturing plans, and our product lines have changed. But through it all, Foxconn has pressed forward with its Wisconsin plans."
Our ruling
Asked why Foxconn has fallen short of expectations, Trump said "No. 1, you had a pandemic."
The pandemic no doubt has played a role in Foxconn's 2020 struggles, where the state expects the company to fall even farther off of its projected hiring levels.
But the project was foundering long before that. The benchmarks that showed Foxconn struggling all occurred before the pandemic — the company fell short of even minimum hiring targets in 2018 and 2019 while investing nowhere near the money initially projected by this point for what was to have been a Generation 10.5 facility.
Referencing the pandemic as the primary reason for Foxconn's struggles is flat wrong.
We rate this claim False. 
WTMJ-TV, Charles Benson's exclusive interview with President Donald Trump, Oct. 17, 2020
Wisconsin Department of Administration, Foxconn memo, Oct. 7, 2020
Milwaukee Journal Sentinel, Wisconsin denies tax credits to Foxconn for 2019 work, says company did not create enough jobs to fulfill agreement, Oct. 12, 2020
Milwaukee Journal Sentinel, State budget office: Foxconn's facility 'may be better suited for demonstration' than as a factory, Oct. 21, 2020
The Verge, THE 8TH WONDER OF THE WORLD*, Oct. 19, 2020
The Verge, Exclusive: Wisconsin report confirms Foxconn's so-called LCD factory isn't real, Oct. 21, 2020
PolitiFact Wisconsin, Foxconn progress is slow, but Gwen Moore is wrong expecting 13,000 jobs already, March 11, 2020
Foxconn agreement with Wisconsin Economic Development Corp., Tax credit disbursement schedule (page 24), Nov. 10, 2017
Scott Walker, memorandum of understanding with Foxconn, July 27, 2017
Wisconsin Economic Development Corp., Certification statement, Nov. 7, 2017
Milwaukee Journal Sentinel, More signs emerge that the pace of Foxconn's Wisconsin project is falling short of expectations, Jan. 3, 2020
Email exchange with David Callender, spokesman for Wisconsin Economic Development Corp., Oct. 21-22, 2020
Browse the Truth-O-Meter
More by Eric Litke
Support independent fact-checking.
Become a member!
In a world of wild talk and fake news, help us stand up for the facts.