Stand up for the facts!
Our only agenda is to publish the truth so you can be an informed participant in democracy.
We need your help.
I would like to contribute
When Sen. Kelly Loeffler heard about the COVID-19 risk, she "focused on her own portfolio" and "profited from the pandemic."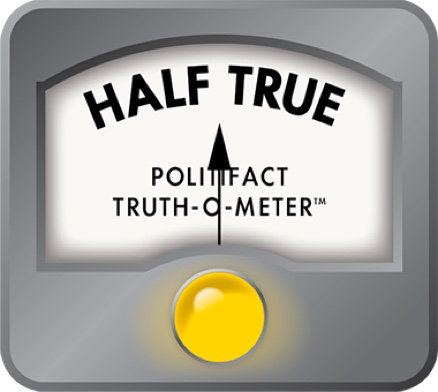 Fact-checking Raphael Warnock's claim that Georgia Sen. Kelly Loeffler profited from COVID-19
If Your Time is short
Loeffler, a GOP Georgia senator, benefited from stock transactions she made beginning on the same day she received a private briefing for senators early in the COVID-19 outbreak. Some stock purchases were in companies poised to see increased business because of the virus.

A Senate Ethics Committee investigation found no evidence she broke laws or Senate rules. She said she did not direct the trades herself.

After an outcry over the transactions, Loeffler said that she sold all her individual stock holdings and that she incurred losses as a result.
The Rev. Raphael Warnock, a Democrat and first-time candidate running to unseat Georgia GOP Sen. Kelly Loeffler, accused her of using her position to profit from the coronavirus outbreak.
"We have a United States senator, Kelly Loeffler, unelected by the people of Georgia who, when she heard about COVID-19 seemed much more focused on her own portfolio than the people she was sent there to represent," Warnock said on MSNBC. "She profited from the pandemic."
Warnock was referring to ethics complaints about questionable stock trades by Loeffler and other senators after an early briefing about the coronavirus threat. 
Financial disclosures and news reports show that on the day of the briefing and in the weeks afterward, Loeffler's accounts engaged in various stock trades involving companies that would be affected by a disease outbreak, and some of those trades helped her make profits, or avert big losses.
Loeffler has denied using nonpublic information to benefit financially, and a Senate Ethics Committee investigation found no evidence that Loeffler violated any laws or Senate rules. 
Crowded race is a tossup
Warnock is the senior pastor of Ebenezer Baptist Church in Atlanta, where the Rev. Martin Luther King Jr. preached. Warnock is among 21 candidates competing to fill the seat held by Republican Sen. Johnny Isakson, who resigned in December with health problems. Loeffler, an Atlanta businesswoman, was appointed on an interim basis. If no candidate gets at least 50% of the vote, the top two vote-getters will face each other in a runoff Jan. 5. 
The race is one of 18 pivotal House and Senate contests up for election Nov. 3 that PolitiFact is tracking. It's rated a tossup by the Cook Political Report. So is Georgia's other Senate contest, which pits Republican incumbent David Perdue against Democrat Jon Ossoff.
Private COVID-19 briefing, quick stock moves
Loeffler's stock trades during the period before the potential threat of the virus became widely known surfaced in news stories early in the pandemic, and crystallized with complaints made to the Senate Ethics Committee that targeted several other senators as well. 
Here's a timeline, based on the complaints and news reports:
Jan. 24: Loeffler attended a private briefing for senators from administration officials about "an emerging public health threat" posed by the novel coronavirus, just three days after the first case in the United States had been confirmed. 
Jan. 24 - Feb. 14: Loeffler and her husband made more than 20 stock sales amounting to between $1.275 million and $3.1 million. Loeffler also bought stock in two companies, including Citrix, which produces teleworking software. 
Feb. 14: The stock market began a tumble that would take the Dow Jones Industrial Average down by 36% over the next five weeks. (It recouped most of those losses over the next several months.)
Feb. 26 - March 11: $18.7 million in shares of Intercontinental Exchange stock were sold on Loeffler's behalf in three separate deals, among other trades from mid-February to mid-March, the Atlanta Journal Constitution reported in April. Loeffler is a former executive with the company, which owns the New York Stock Exchange, and her husband, Jeff Sprecher, is the CEO.
March 13: President Donald Trump declared a national emergency concerning the COVID-19 outbreak as shutdowns began across the country.
March 20: Citizens for Responsibility and Ethics in Washington, or CREW, filed a complaint asking the Senate Ethics Committee to investigate Loeffler and another GOP senator, Richard Burr of North Carolina. Another government watchdog group, Common Cause, filed similar complaints against those two and two other senators, Democrat Dianne Feinstein of California and Republican James Inhofe of Oklahoma. The CREW complaint alleged that Loeffler violated insider trading laws and the STOCK Act, which bars members of Congress from using nonpublic information for private profit.
June 16: The Senate Ethics Committee dismissed its investigation into Loeffler, saying it "did not find evidence" that she violated the law or Senate rules. It did not elaborate. The Department of Justice had also conducted a probe, but closed it in May with no action.
Days after the Journal Constitution report, Loeffler announced that she and her husband would divest themselves of all individual stocks and move their money into mutual and exchange-traded funds.
"I have never used any confidential information I received while performing my Senate duties as a means of making a private profit, she said then. "Nor has anyone in my family."
Loeffler campaign communications director Stephen Lawson told PolitiFact that Loeffler and her husband had no role in the transactions.
"She had no knowledge, no control, no communication, none of that" with the "third-party advisers" who handled all of the transactions, he said.
Lawson said Loeffler ultimately lost $1.3 million in the "liquidation" of her stocks.
Stocks connected to the outbreak
Asked for information to support Warnock's attack, his campaign highlighted a number of Loeffler transactions, citing news reports and Senate disclosure reports made by Loeffler. The transactions involved shares of companies that were affected by changes brought on by the pandemic. Some examples:
Loeffler and her husband bought stock in Citrix on Feb. 14 and sold it on April 7, creating a gain of $33,285.

On Feb. 14, Loeffler sold between $250,001 and $500,000 worth of stock in Exxon Mobil from an account owned jointly with her husband, avoiding losses that would occur as the outbreak took hold. The stock then was trading at around $60 per share; by the end of March, it had tumbled to about $31. 

Between Feb. 28 and March 10, Loeffler's husband purchased $206,774 worth of stock in DuPont de Nemours, which produces protective suits used by health care workers.
Our ruling
Warnock claimed Loeffler "focused on her own portfolio" after hearing about the COVID-19 threat and "profited from the pandemic," suggesting that she used non-public information about the coronavirus outbreak to make beneficial stock trades.
Loeffler denied using inside information, and Senate Ethics Committee and Justice Department investigations found she did not violate laws or Senate rules barring insider trading. 
Her disclosures and other news reports show that on the day she received a private coronavirus briefing and in the weeks weeks afterward, there were stock trades made on her behalf involving companies that would be affected by the pandemic, and she benefited from those trades. 
We rate the statement Half True.
This fact check is available at IFCN's 2020 US Elections FactChat #Chatbot on WhatsApp. Click here, for more.
YouTube, MSNBC Raphael Warnock interview (3:35), Oct. 28, 2020
Interview, Raphael Warnock campaign spokesman Stephen Lawson, Oct. 30, 2020
Email, Kelly Loeffler campaign spokesman Stephen Lawson Oct. 29, 2020
Citizens for Responsibility and Ethics in Washington, complaint, March 20, 2020
Associated Press, "Georgia Sen. Loeffler gets renewed scrutiny over stock moves," April 1, 2020
Yahoo Finance, DuPont de Nemours, accessed Oct. 30, 2020
Yahoo Finance, Exxon Mobil Corporation, accessed Oct. 30, 2020
Yahoo Finance, Citrix Systems, accessed Oct. 30, 2020
Washington Post, "Senate ethics panel dismisses insider-trading inquiry into Sen. Loeffler," June 16, 2020
U.S. Senate Financial Disclosures, Kelly Loeffler report, May 1, 2020
U.S. Senate Financial Disclosures, Kelly Loeffler report, March 31, 2020
U.S. Senate Financial Disclosures, Kelly Loeffler report, March 12, 2020
Senate Ethics Committee, letter to Sen. Kelly Loeffler, June 16, 2020
USA Today, "Sen. Loeffler says she'll sell off all individual stocks amid scrutiny during coronavirus spread," April 8, 2020
New York Times, "Under Fire for Trades, Kelly Loeffler Says She Will Divest From Individual Stocks," published April 8, 2020, updated July 10, 2020
Atlanta Journal Constitution, "Loeffler reports more stock sales, denies wrongdoing," updated April 6, 2020
Wall Street Journal, "I Never Traded on Confidential Coronavirus Information," April 8, 2020
Browse the Truth-O-Meter
More by Tom Kertscher
Support independent fact-checking.
Become a member!
In a world of wild talk and fake news, help us stand up for the facts.