Stand up for the facts!
Our only agenda is to publish the truth so you can be an informed participant in democracy.
We need your help.
I would like to contribute
"Wearing masks has not been demonstrated to make a significant impact in preventing the spread of COVID."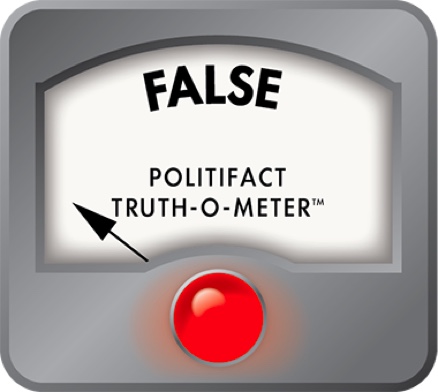 Contrary to Good, masks have been shown to limit COVID spread
If Your Time is short
Good's statement largely rests to two experts who support mask wearing but question the efficacy of cloth masks in limiting the spread of COVID.
There is a wealth of global research that concludes masks, in general, significantly reduce COVID spread.
U.S. Rep. Bob Good, R-Va., takes a dim view of mask mandates.
"Wearing masks has not been demonstrated to make a significant impact in preventing the spread of COVID, and no one should be forced to wear a mask," he wrote in a July 26 Facebook post.
We fact-checked Good's statement and found strong evidence that masks prevent coronavirus spread, although there is debate over the effectiveness of each type of mask. Let's take a look.
Good's proof 
Good represents Virginia's 5th Congressional District stretching from Southside Virginia through Charlotteville and up to Front Royal. 
We asked Good's office to back up his claim. Although his statement broadly refers to masks, much of the information we received focused on cloth masks. His office sent interviews with two epidemiologists who question the effectiveness of cloth masks in stopping COVID spread. One is Michael Osterholm, a former adviser to President Joe Biden who heads the Center for Infectious Disease Research and Policy at the University of Minnesota.
"When you look at cloth coverings … they only have a limited impact in reducing the amount of virus you inhale and exhale," Olsterholm said in an Aug. 3, 2021, interview on CNN.
"The bottom line is that by telling people that just putting a cloth mask on is going to protect you is simply not true," he added.
Similar remarks by Olsterholm have caused a stir for several months. He clarified his comments in a July 23 post. "I support the wearing of cloth face coverings (masks) by the general public," he wrote, adding that he sometimes wears such masks himself. 
Olsterholm asked people to stop using him "as grounds to not wear masks." He said masks should be supplemented by social distancing and vaccinations. Olsterholm also called for a continuous effort to improve face coverings and spoke highly of N95 masks that have largely been reserved for medical personnel.
Good's office also sent us testimony of virologist Li-Meng Yan before the House Freedom Caucus, to which the congressman belongs, on Aug. 3, 2021. Yan is the author of a controversial report alleging COVID was made in a Chinese government laboratory.
Yan also questioned the efficacy of cloth masks and said mask mandates "were not based on scientific evidence; it's just based on scientists' claims." She said "masks can't stop the flow of the virus" because droplets can still fall on uncovered parts of the face that people touch, such as around the eyes.
But Yan added that surgical and N95 masks "can reduce some percentage of COVID-19 spreading a short distance." She's also tweeted that masks "are necessary when it is crowded and (there is a) lack of social distancing." She recommended surgical masks for such occasions.
Good's office also sent an article about an Indian study finding masks are beneficial that was rejected in peer review. And we received research published in February 2021 by The Lancet, a peer-reviewed medical journal, that studied the spread of COVID from 314 victims to close contacts in Catalonia, Spain. "We did not find any evidence of decreased risk of transmission in individuals who reported mask use," the study concluded.
Authors of the Catalonia study acknowledged their finding "collides with evidence found elsewhere" and were not sure why. They noted that their study had "several limitations."
What Good ignores
Indeed, there is a large body of research that concludes masks do limit COVID spread that has been published by leading health institutes and medical journals. Here's a sampling:
In March 2020, the CDC investigated an outbreak of largely symptomatic COVID cases aboard the crowded aircraft carrier USS Theodore Roosevelt. In a sample of 382 service members, those who reported wearing face masks had a 56% infection rate compared to an 81% rate among those who did not wear them.
A study was conducted in Beijing of 335 people from 124 families in which there was at least one confirmed COVID case in March 2020. Researchers found families that reported wearing masks before the first infection lowered their risk of secondary infections by 79%.
A month-long study in Thailand focused on 839 originally uninfected close contacts of 211 people who had asymptomatic COVID. Those who wore masks all the time when in contact with the infected person had a 77% lower risk of infection than those who did not.
In mid 2020, Boston researchers conducted an online survey, asking people if they wore masks in grocery stores and in friends' homes. They got 378,207 responses and concluded that a 10% increase in mask wearing more than tripled the odds of stopping community spread of COVID.
In March 2020, Massachusetts' largest healthcare system — Mass General Brigham — implemented a policy of universal mask wearing and systematic COVID testing for its employees. Positive test results for health care workers went down 22% the next month.
In Germany, researchers found new daily COVID infections dropped by 45% in regions of their country 20 days after masks were mandated in spring 2020.
In Springfield, Mo., 139 clients were exposed to two hairstylists with symptomatic COVID in spring 2020. With both the stylists and the clients wearing face masks, no secondary cases were reported. Sixty-seven of the clients were tested for COVID, and all of their results were negative
Kansas Gov. Laura Kelly implemented an executive order on July 3, 2020, that mandated mask wearing in public spaces, but allowed counties to opt out. Six weeks later, COVID infections were down 6% in the 24 counties that enforced the mandate and up 100% in the 81 counties that didn't.
The National Institutes of Health posted a study of the effects of mask mandates in 15 states and the District of Columbia. It found that three weeks after the mandates began, COVID infections were dropping by 2% a day. Researchers credited the mandate with averting more than 200,000 COVID cases over two months.
Researchers found that mask mandates in Ontario led to a "25% or larger weekly reduction in new COVID-19 cases" during summer 2020.
Our ruling
Good says, "Wearing masks has not been demonstrated to make a significant impact in preventing the spread of COVID." The two experts he cites don't say that. They express concerns about cloth masks but, even so, one of them says he sometimes wears them. Both experts say other types of masks do prevent COVID spread.
Good points to outlier studies to back his claim. In one, a Catalonian sample group received no benefit from wearing masks. The other study, from India, found benefits from masks but was rejected in peer review.
What Good ignores is a wide body of research from around the world that found mask wearing to noticeably reduce infection rates.
We rate Good's claim False.
Rep. Bob Good, Facebook post, July 26, 2021.
Email from Mattie Nicholson, Good's communications director, Aug. 4, 2021.
Michael Osterholm, CNN interview, Aug. 3, 2021.
Olsterholm, "My views on cloth face coverings for the public for preventing COVID-1," July 23, 2021.
Li-Meng Yan, Testimony before the House Freedom Caucus, Aug. 3, 2021.
Yan, Twitter, Oct. 29, 2020.
The Washington Post, "Scientists said claims about China creating the coronavirus were misleading. They went viral anyway." Feb. 12, 2021.
The Lancet, "Transmission of COVID-19 in 282 clusters in Catalonia, Spain: a cohort study," Feb. 2, 2021.
JAMA, "Effectiveness of Mask Wearing to Control Community Spread of SARS-CoV-2," Feb. 10, 2021.
Centers for Disease Control and Prevention, "Absence of Apparent Transmission of SARS-CoV-2 from Two Stylists After Exposure at a Hair Salon with a Universal Face Covering Policy," July 17, 2020.
CDC, "Science Brief: Community Use of Cloth Masks to Control the Spread of SARS-CoV-2," May 7, 2021.
CDC, "SARS-CoV-2 Infections and Serologic Responses from a Sample of U.S. Navy Service Members — USS Theodore Roosevelt, April 2020, June 12, 2020.
BMJ Global Health, "Reduction of secondary transmission of SARS-CoV-2 in households by face mask use, disinfection and social distancing: a cohort study in Beijing, China," May 11, 2020.
CDC, "Case-Control Study of Use of Personal Protective Measures and Risk for SARS-CoV 2 Infection, Thailand," November 2020.
MedRXiv, "Mask Wearing and Control of SARS-CoV-2 Transmission in the United States," Sept. 1, 2020.
JAMA, "Association Between Universal Masking in a Health Care System and SARS-CoV-2 Positivity Among Health Care Workers," July 14, 2020.
PNAS, "Face masks considerably reduce COVID-19 cases in Germany," Dec. 3, 2020.
CDC, "Trends in County-Level COVID-19 Incidence in Counties With and Without a Mask Mandate — Kansas, June 1–August 23, 2020."
NIH, "Community Use Of Face Masks And COVID-19: Evidence From A Natural Experiment Of State Mandates In The US," June 16, 2020.
VOXEU, "Face mask mandates slowed the spread of COVID-19 in Canada," Oct. 9, 2020.
Li-Meng Yan, Tweet, Oct. 9, 2020.
Browse the Truth-O-Meter
More by Warren Fiske
Support independent fact-checking.
Become a member!
In a world of wild talk and fake news, help us stand up for the facts.