Get PolitiFact in your inbox.
"Wisconsin is 49th in public health spending."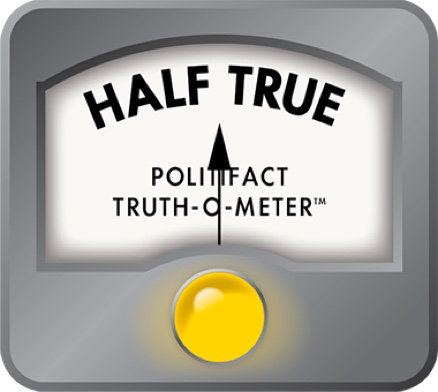 Wisconsin ranks near-last in federal money received for public health, but higher in state spending
If Your Time is short
Wisconsin did rank 49th in the nation in the amount of federal funds spent on public health during the previous fiscal year, receiving $18.65 per resident for U.S. Centers for Disease Control and Prevention programs.

But looking at what the state itself invests in public health, however, paints a slightly different picture.

Wisconsin ranks 42nd in the nation, plus Washington, D.C., in state spending on public health, spending about $18 per person in 2020.
Wisconsin's state budget for the next two years has arrived at the desk of Democratic Gov. Tony Evers, lauded by the Republican-controlled Assembly and Senate and opposed by most Democratic lawmakers. 
The nearly $88 billion spending plan would cut taxes by more than $3 billion, end an eight-year freeze on tuition at University of Wisconsin schools and lower property taxes by about $100 for the owner of a typical home. 
Republican lawmakers removed hundreds of items that Evers had proposed, including expanding Medicaid, legalizing marijuana, raising the minimum wage and repealing Act 10, the law that restricted collective bargaining for most public employees. 
They also passed on public health spending that Democrats argue is key to preparing for the next pandemic. Evers had proposed a $53 million boost to state-funded public health activities, including a $5 million annual increase in grants to local public health departments for communicable disease prevention and 23 full-time positions in the Bureau of Communicable Diseases.
State Sen. Jon Erpenbach, D-West Point, voiced his displeasure with that decision on Twitter, responding to a June 15, 2021 tweet about Republicans' health care priorities. 
"(Wisconsin) is 49th in public health spending," Erpenbach tweeted. "We just had a pandemic and will be vulnerable to the next one because Republicans are not investing in public health." 
The first part of that statement needs more context to understand which ranking he's talking about — but once we have that context, is it true? 
Let's take a look. 
Rank 49th in federal spending on public health, but higher in state spending 
When asked for backup for the claim, Kate Constalie, communications director for the office of the senator, said Erpenbach meant that the state was 49th in the nation in federal public health dollars. 
She pointed to a May 2021 report from Trust for America's Health, a nonprofit health policy organization based in Washington, D.C., that detailed the federal government's investment in states' public health initiatives. 
Most federal money for public health flows through the U.S. Centers for Disease Control and Prevention, and much of that is rerouted to states to use for specific efforts such as immunization, public health preparedness and chronic disease prevention. 
But declining funding for the CDC over the past decade has resulted in fewer federal funds for public health, which the report argued set states up to fail during the coronavirus pandemic. 
That report said Wisconsin ranked 49th in total CDC program funding to states in fiscal year 2020, which ended in September. The state received more than $108 million, averaging out to $18.65 per person — just about 50 cents more than New Jersey, which was ranked last. 
In comparison, Washington, D.C. at the top received more than $208 per person, the report found. 
But Erpenbach's claim was made in the context of the state budget.
And how much money Wisconsin receives from the federal government for public health isn't anything statehouse Republicans — whom he appeared to be talking about in the tweet — can control. 
What they do control is how much the state spends on public health. 
The State Health Access Data Assistance Center, a program of the Robert Wood Johnson program at the University of Minnesota, assembles a yearly ranking of per-person state public health funding. 
In 2020, it found Wisconsin spent $18 per person on public health, sitting at 42nd in the nation plus Washington, D.C. Below Wisconsin were Michigan, Mississippi, Ohio, North Carolina, Indiana, Pennsylvania, Kansas, Nevada and Missouri. 
The state actually ranked higher in 2019, at 40th in the nation, despite spending a dollar less per person that year on public health, according to data from the center. 
So Wisconsin ranks higher in state dollars put toward public health than in what it receives from the federal government — though to be sure, it's still on the lower end by that measure, too. 
Since 2010, spending for state public health departments dropped 16% per person, and spending for local health departments has fallen 18%, according to a Kaiser Health News and Associated Press analysis of government spending on public health. 
Our ruling
In a retort about the state budget, Erpenbach said Wisconsin ranks 49th in the nation in public health spending. 
While the state ranks next to last in the amount it received from the CDC, the picture is different when looking at state money. By that measure, Wisconsin ranks 42nd in the nation, according to the State Health Access Data Assistance Center. 
Our definition of Half True is a statement that is "partially accurate but leaves out important details or takes things out of context."
That fits here. 
Browse the Truth-O-Meter
More by Madeline Heim
Support independent fact-checking.
Become a member!
In a world of wild talk and fake news, help us stand up for the facts.