Stand up for the facts!
Our only agenda is to publish the truth so you can be an informed participant in democracy.
We need your help.
I would like to contribute
Says "Jeff Bezos will put 300 (metric tons) of carbon into the atmosphere for 180 seconds in space."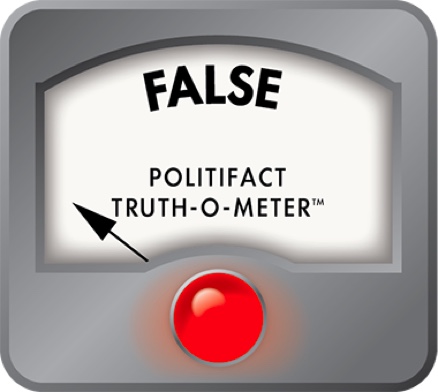 How much CO2 did Bezos' rocket ride release? Close to zero
If Your Time is short
Twitter users said Bezos' ride to space put 300 metric tons of carbon into the air.

Liquid hydrogen and liquid oxygen fueled his ride, not carbon-based fuels.

All rocket launches pose a threat to the ozone layer.
When uber-billionaire Jeff Bezos blasted off from a launchpad in Texas for a fast and short trip to near-space, he ignited a burst of claims about the outsized carbon footprint of his adventure.
"Today Jeff Bezos will put 300 tonnes of carbon into the atmosphere for 180 seconds in space," said one tweet July 20. Other social posts made the same general point.
"If you are reporting on the Bezos space flight … please mention the carbon emissions."
"They really should given Bezos trip today = more carbon pollution than avg person's whole life but oddly most in media refuse to punch up when it comes to climate."
In terms Americans might more clearly understand, the claim is that about 330 tons of carbon dioxide were emitted for Bezos and three companions to ride to a point about 60 miles above the Earth before coming back down. The round trip lasted about 10 minutes, of which about three were spent in weightlessness. Bezos, the founder of Amazon, is one of a handful of private rocketeers aiming to turn space travel into a viable business. His company is called Blue Origin.
Given the clouds of dust and fiery plume that come with any launch, it might seem likely that greenhouse gases would be part of the picture.
In the case of the engine used in the Blue Origin rocket, that assumption is wrong.
Conventional rocket fuels are carbon-based. The BE-3 engine developed by Bezos' company burns liquid hydrogen and liquid oxygen. 
"Carbon dioxide isn't emitted from the Blue Origin rocket that was used for today's launch," said Eloise Marais, an air pollution researcher at University College London.
The Guardian newspaper cited Marais in an article about how the rush of billionaires to get to space could dump massive amounts of greenhouse gases into the atmosphere. Marais told The Guardian that typically, rockets release 200 to 300 metric tons of carbon dioxide during launch. That didn't apply to the Blue Origin rocket, Marais said — but the erroneous tweets shared the article in making the claim about Blue Origin anyway.
At a press conference after returning from space, Bezos said the Blue Origin rocket used "​​the most environmentally benign propellant you can choose."
Other private companies — SpaceX, controlled by billionaire Elon Musk, and Virgin Galactic, which took owner Richard Branson into space a week before Bezos — use conventional fuels, and do release carbon dioxide.
The Blue Origin flight isn't a net zero for the environment, however. Marais and other researchers warn that every rocket poses a threat to the ozone layer. Whether it's water vapor and nitrogen oxides from a Blue Origin engine, or particles from conventional rocket fuels, both degrade the ozone. 
We should note that it takes a lot of energy to make most of the hydrogen used today. Those carbon emissions wouldn't come from the launch itself, but they are the reason there's a big push to expand "green" hydrogen production.
"In the stratosphere, nitrogen oxides and chemicals formed from the breakdown of water vapour convert ozone into oxygen, depleting the ozone layer which guards life on Earth against harmful UV radiation," Marais wrote in The Conversation July 19.
Our ruling
Social media users tweeted that Bezos' brief trip to space released 300 metric tons of carbon dioxide. 
The trip released none. The rocket's engine burns hydrogen and oxygen to carry it away from Earth. That doesn't make these rides risk-free. They do pose a threat to the ozone layer. 
We rate this claim False.
Update, 10:55 a.m. July 21: After publishing, we updated the article to acknowledge the energy needed to produce hydrogen.
Twitter, tweet, July 20, 2021
Blue Origin, New Shepard, accessed July 20, 2021
Blue Origin, BE-3, accessed July 20, 2021
The Guardian, How the billionaire space race could be one giant leap for pollution, July 19, 2021
The Conversation, Space tourism: rockets emit 100 times more CO₂ per passenger than flights – imagine a whole industry, July 19, 2021
Journal of Cleaner Production, The environmental impact of emissions from space launches: A comprehensive review, May 10, 2020
Center for Space Policy and Strategy, The policy and science of rocket emissions, April 2018
CNN, Jeff Bezos goes to space, July 20, 2021
Live Science, How much will Jeff Bezos' New Shepard rocket warm the planet?, July 19, 2021
Eos, The Coming Surge of Rocket Emissions, Sept. 24, 2019
Email exchange, Eloise Marais, associate professor in Physical Geography, University College London, July 20, 2021
Browse the Truth-O-Meter
More by Jon Greenberg
Support independent fact-checking.
Become a member!
In a world of wild talk and fake news, help us stand up for the facts.