Stand up for the facts!
Our only agenda is to publish the truth so you can be an informed participant in democracy.
We need your help.
I would like to contribute
"Right to Work states have: faster private sector employment growth"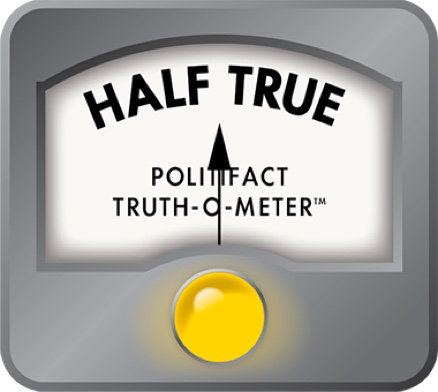 Lobbying group says Right to Work laws lead to faster employment growth, but evidence is mixed
If Your Time is short
The WMC said Right to Work laws lead to faster private sector employment growth.

Earlier fact checks and experts say the evidence is mixed and there may not be a direct causal relationship between Right to Work laws and employment growth.
Gov. Tony Evers, a Democrat, has made no secret about wanting to undo the state's right-to-work law.
But he has powerful opponents.
That includes the GOP-controlled Legislature, which has already stripped a provision overturning the law from the governor's 2021-23 budget. 
And Wisconsin Manufacturers & Commerce, the state's largest business lobbying group, which on March 9, 2021 -- the sixth anniversary of Wisconsin becoming a right-to-work state -- hailed the benefits of that status.
The group issued a tweet that included this claim: "Right to Work States Have: Faster Private Sector Employment Growth." 
Right-to-work laws make it optional for workers to join labor unions. All told, there are 28 right-to-work states, with many concentrated in the south, though many midwestern states -- including Michigan, Iowa and Indiana -- also carry that status. 
But what about the WMC claim? Does right-to-work status result in faster private-sector job growth?
Behind the numbers
When asked for backup for the claim, Chris Reader, WMC's senior director of workforce and employment policy, told us the group was referring to "Right-to-Work Laws: The Economic Evidence (2018 Update)" by the U.S. Chamber of Commerce, a national business lobbying group.
The document is based on a report the Chamber, which supports right-to-work laws, commissioned from NERA Economic Consulting. 
A WMC news release quotes an even more specific line from the report: "Between 2001 and 2016, private sector employment in Right to Work states grew at 27 percent compared to 15 percent in non-Right to Work States."
The numbers may be on point, but the claim runs into problems within the fine print of the report itself, which notes the data can't be used to demonstrate a causal relationship between right-to-work status and a state's economic performance. 
What others say 
In 2014, when the issue was being debated in Wisconsin, we looked at a series of claims by politicians here and elsewhere about right-to-work laws and found mixed evidence for such connections. 
For instance, PolitiFact National rated Mostly True a 2011 claim that right to work states "have much lower levels of unemployment than union states do"  – the levels were lower, but "much lower" was a stretch.
And it rated True a claim from then-Republican presidential candidate Newt Gingrich that  "The right-to-work states are creating a lot more jobs today than the heavily unionized states." 
But in 2013, PolitiFact Ohio rated Half True a claim that "Six out of 10 of the highest unemployment rates are also in so-called right to work states." The numbers were right, but it was "misleading because it implies a cause-and-effect relationship that is bogus."
So, what do experts say about the WMC claim?
"Most recent papers use Right-to-Work status as indicating more favorable business climate generally as opposed to the policy specifically," Peter Orazem, a labor economics professor at Iowa State University, said in an email to PolitiFact Wisconsin.
"I think it would be very difficult to isolate the effect of Right-to-Work in economic growth as opposed to more favorable business climate more generally," he wrote. "There is evidence that firm productivity is stronger and that entrepreneurial activity is more robust in states with Right-to-Work laws, but this may be due to a range of pro-business policies."
Gordon Lafer, a University of Oregon professor and former senior labor policy adviser for the U.S. House of Representatives' Committee on Education and Labor, said there's no evidence right-to-work status increases job growth. Lafer is a research associate with the Economic Policy Institute, a left-leaning institution. 
"All the claims that RTW increases job growth come from simply measuring growth in states that do and don't have RTW laws, and assuming -- based on nothing -- that RTW is the cause," Lafer wrote in an email. "But really you're measuring things like the impact of warmer weather and fewer snow days, oil in Texas, tourism in Florida, and other things that have nothing to do with RTW.  
"If you line up all 50 states in order of growth over a decade, you find the states with RTW laws on both ends of the spectrum and every place in between."
Finally, Michael Childers, a professor at the University of Wisconsin-Madison's Department of Labor Education, said in an email that right-to-work laws lead to negligible changes in employment and pointed to research by the Economic Policy Institute. 
In its most recent report, issued in February 2021,  the institute noted Montana – which currently does not have a right-to-work law (but is considering one) – had faster job growth than neighboring right-to-work states including South Dakota, Wyoming and Idaho.
Our ruling
In a tweet, WMC claimed right-to-work states have faster private-sector job growth than in non-right-to-work states.
While the numbers may add up, the report itself says the numbers can't prove one causes the other. And outside experts say there are many factors at work, such as other pro-business policies or an existing trend of employment growth.
We rate this statement Half True.
National Conference of State Legislatures, "Right-to-Work Resources."
Tom Kertscher, PolitiFact Wisconsin, "Right to work: How past claims have fared on the Truth-O-Meter", Dec. 4, 2014.
Louis Jacobson, "Bill O'Reilly says unemployment is lower in 'right to work' states", Feb. 28, 2011.
Tom Ferran, "Ohio Democratic Party Chairman Chris Redfern ties right-to-work states with unemployment", May 6, 2013.
Bill Wichert, "New Jersey Assembly Speaker Sheila Oliver says studies show right-to-work laws don't spur job growth", July 15, 2011.
Eric Stirgus, "Numbers back up Gingrich job growth claim", June 21, 2011.
Allison Colburn, "Greitens not quite right on right to work", April 6, 2017.
Email from Peter Ozarem, professor at Iowa State University, May 3, 2021.
Email from Michael Childers, professor at the University of Wisconsin–Madison, May 3, 2021.
Email from Gordon Lafer, professor at the University of Oregon's Labor Education & Research Center, May, 3, 2021.
Browse the Truth-O-Meter
More by Nusaiba Mizan
Support independent fact-checking.
Become a member!
In a world of wild talk and fake news, help us stand up for the facts.