Stand up for the facts!
Our only agenda is to publish the truth so you can be an informed participant in democracy.
We need your help.
I would like to contribute
In rejecting his amendment, "Democrats voted to send reopening money to schools that refuse to reopen."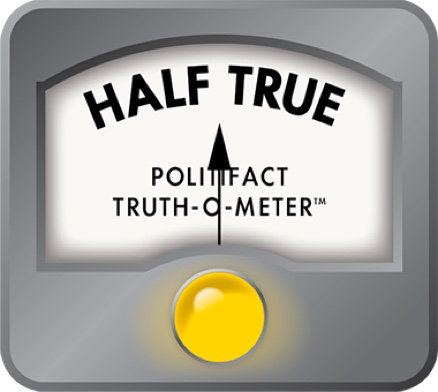 Rubio takes Democratic school reopening vote out of context
If Your Time is short
Schools would get funds under the American Rescue Plan Act regardless of whether they have fully reopened.

A mix of factors drive school reopening decisions, such as the needs of students and local infection rates, and schools occasionally change course depending on circumstances.

The COVID relief bill funds a wide range of school actions, from immediate steps to prevent viral spread to remedial education to longer term building ventilation upgrades.
The path toward bringing students back to real classrooms with teachers and desks and art in the hallways has taken many twists and turns. The Democrats' massive COVID-19 relief bill has $125 billion to help schools bring their students back and make up for a troubled year.
Sen. Marco Rubio, R-Fla., had an amendment that would tie aid to how fully reopened a school was. When his amendment failed on a mostly party-line vote, Rubio tweeted his disdain.
"Tonight, Democrats voted to send reopening money to schools that refuse to reopen," he wrote March 6.
Let's unpack that.
Rubio's proposal
The relief package provided money for a variety of purposes, including summer remedial education, student counseling, rebuilding ventilation systems and taking any steps needed to slow the spread of the virus.
Rubio's amendment would have tweaked the distribution formula for those billions in school aid. Under his proposal, every school district could count on getting 25% of whatever amount would be its share. (That share would be tied to the federal Title I funds the district normally received.)
Beyond that 25%, "for each school day in a five-day school week" that district schools were open to 100% of their students, the district would get an additional 15% of its money. 
"This amendment incentivizes us to get our kids back in school," Rubio said March 6 on the Senate floor. And he targeted one group that he felt stands in the way. 
"We do have unions — and to be fair, not all — but we do have unions that say, 'We're not going back until next year,' even if all the (safety) measures are put in place," Rubio said.
The limits to Rubio's complaint
Rubio chastised Democrats for voting to send reopening money to schools that refuse to open. But his criticism contains some misleading elements.
Rubio's term "refuse to reopen" casts schools as adopting a policy simply as a matter of preference. But many factors drive school closures. 
Education researchers who have pulled together data on schools and the coronavirus found that schools that choose to reopen don't necessarily stay open.
The Center for Reinventing Public Education at the University of Washington has been tracking 477 school districts. Many of them began to bring students back at the start of the school year, but then reversed course. Between November and December, remote learning increased, by 7% in suburban communities and 20% in urban areas.
"Several districts shifted toward more opening through the fall but seemed to pull back on these partial reopenings as the winter surge took hold," said center associate director Betheny Gross.  
Tactical shifts in response to the virus make it difficult to define schools as ones that "refuse to reopen." 
Gross said the great majority of schools seem to aim to reopen at least partially. Only about 7% relied solely on remote teaching for all grades in October, November and December.
Rubio's claim also simplifies the nature of the bill's school aid. The $125 billion is aimed at much more than just reopening schools. With an eye on remedial teaching, it orders districts to reserve 20% of their funds for measures such as summer school, after-school tutoring and an extended school year. The school aid spans many years to sustain efforts to help students make up lost ground.
We reached out to Rubio's office and did not hear back.
The Democratic school reopening policy
Rubio's comment suggests that returning kids to school is a low priority among Democrats.
In January, President Joe Biden released a pandemic strategy plan that said the country is "committed to ensuring that students and educators are able to resume safe, in-person learning as quickly as possible, with the goal of getting a majority of K-8 schools safely open in 100 days." 
The following month, a reporter asked press secretary Jen Psaki to elaborate on Biden's goal of reopening schools. 
"His goal that he set is to have the majority of schools — so, more than 50% — open by day 100 of his presidency," she said Feb. 9. "And that means some teaching in classrooms. So, at least one day a week. Hopefully, it's more. And obviously it is as much as is safe in each school and local district." 
A week later, at a CNN town hall, Biden said "the goal will be five days a week," and he thought that for grades K-8, the country would "be close" to seeing a majority of schools fully reopened. High schools, with the greater chances of viral spread, might be more challenging, Biden said.
Our ruling
Rubio said that "Democrats voted to send reopening money to schools that refuse to reopen."
Democrats voted down a Rubio amendment that would have tied the school aid amounts to whether school buildings were open to students.
But education experts said it is not accurate to define closed or partly closed school buildings as ones that "refuse to reopen." Some schools that brought some students back backtracked in response to surging infections in the community. 
Also, Rubio described the Democratic vote as being narrowly about reopening. They voted for money to help more schools reopen, to make changes to stay open and to provide remedial instruction to make up for lost ground.
Rubio's claim is partly accurate, but leaves out important context. We rate it Half True.
Marco Rubio, tweet, March 6, 2021
Congress, Roll call vote Amendment 1026, March 6, 2021
U.S. Congress, Legislative session: American Rescue Plan Act, March 6, 2021
C-SPAN, Senate session and vote on ARPA, March 5, 2021
U.S. Congress, Senate: American Rescue Plan Act, March 4, 2021
The Center on Reinventing Public Education, U-Turn: Suge of COVID cases reverses reopening progress in America's school districts, January 2021
Education Next, Pandemic parent survey finds perverse pattern: Students are more likely to be attending school in person where Covid is spreading more rapidly, Winter 2021
White House, Remarks by President Biden in a CNN Town Hall, Feb. 16, 2021
PolitiFact, Some research suggests Biden's school reopening goal has already been achieved, Feb. 25, 2021
Email exchange, Betheny Gross, associate director, Center on Reinventing Public Education, March 8, 2021
Browse the Truth-O-Meter
More by Jon Greenberg
Support independent fact-checking.
Become a member!
In a world of wild talk and fake news, help us stand up for the facts.