Get PolitiFact in your inbox.
The Biden Department of Justice "would use the FBI to target parents who speak out against critical race theory."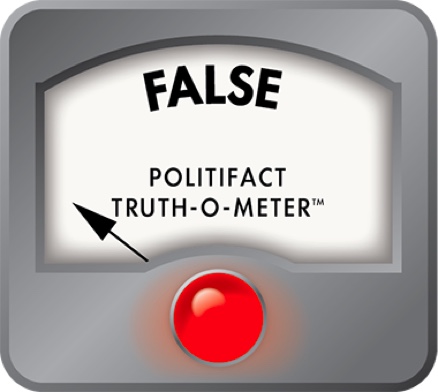 Kleefisch misses mark with claim that the FBI will be targeting parents on critical race theory
If Your Time is short
As accounts of threats against school boards began to pile up in the wake of heated arguments on pandemic policies and critical race theory, the U.S. attorney general directed the FBI to help tamp down those violent threats.

Conservative politicians, including Kleefisch, have said that directive is tantamount to shutting down parents' free speech. But it only seeks to prosecute criminal and violent conduct, not anyone who voices dissent.

The AG clarified that "spirited debate" is protected under the First Amendment — which would protect parents who want to speak out.

Kleefisch also said the bureau specifically sought to target parents who are opponents of critical race theory. But its efforts are meant to root out any violent threats, no matter what caused them.
School boards have increasingly found themselves at the center of controversy as national debates on pandemic protocols and teaching about the harms of systemic racism trickle down to the local level.
In particular, critical race theory — a decades-old academic concept that argues racism is embedded into American systems and institutions, creating disadvantages for people of color — is in the spotlight.
It's a topic typically addressed at the college level, since it focuses on how laws are interpreted. Educational experts say the phrase is being used much more broadly in the current debate as a catch-all for any teaching about race, equity, diversity and history.
But is the FBI targeting conservative parents who speak out against CRT?
That was the claim from Rebecca Kleefisch, the former lieutenant governor aiming to be Wisconsin's Republican gubernatorial nominee in 2022, in an Oct. 23 , 2021 campaign email:
"It's truly despicable that Joe Biden and Kamala Harris' Department of 'Justice' would use the FBI to target parents who speak out against critical race theory," she wrote.
But parents who are simply speaking out aren't who the bureau seeks to hold accountable.
Let's take a closer look.
The debates over CRT and masking have caught fire as much in Wisconsin as anywhere else. The state has logged more recall attempts of school board members than any state in the nation besides California.
But in some places, protests have morphed into more dangerous situations.
The National School Boards Association said in a Sept. 29 letter to President Joe Biden that school board members and school officials needed protection against threats and acts of violence that have cropped up amid arguments about critical race theory and mask mandates.
They cited a variety of incidents, including a northern Virginia school board meeting where board members received death threats and a person was injured during the meeting's chaotic public comment section. Meanwhile, an Illinois man who was arrested after striking a school official during a school board meeting there.
Soon after the letter was sent, U.S. Attorney General Merrick Garland ordered the FBI to help tamp down criminal conduct directed at school district personnel.
An Oct. 4 memo from the Department of Justice states that the department will form a task force to examine how federal enforcement tools could be used to prosecute such crimes and how to assist local law enforcement if violent threats didn't constitute federal crimes.
The department also plans to create specialized training for school district administrators to recognize threats and report them, the memo says.
Conservative politicians and commentators, including Kleefisch, seized on the directive as what they viewed as an infringement of parents' free speech at school board meetings.
FBI will look for criminal conduct, not overall parent protests
When asked about Kleefisch's claim, campaign manager Charles Nichols sent the letter from the school boards association and the Justice Department's memo.
"When they talk of prosecuting individuals, they are referring to the parents who are protesting school boards — protests that, according to the NASB's letter, were occurring because of anger over critical race theory," Nichols wrote. "Obviously real criminal conduct and violence is never OK, but referring to parent protests at board meetings as 'criminal conduct' is more than just over the top, it's insulting and wrong."
But the directive doesn't say to specifically look for parents who are talking about critical race theory, nor was that the only root of the threats mentioned in the association's letter. And nowhere has Garland or the FBI equated general protests with individuals who have made violent threats.
In his original memo to FBI Director Christopher A. Wray, Garland wrote that "spirited debate about policy matters is protected under our Constitution," but "that protection does not extend to threats of violence or efforts to intimidate individuals based on their views."
The actions of parents who show up to simply speak out against critical race theory, then, as Kleefisch mentioned, would seem to fall into the area of spirited debate, which is of course protected by the First Amendment. Parents who make threats of violence at meetings or elsewhere, however, would not be protected.
In October, PolitiFact National rated False a claim by U.S. Sen. Rick Scott, R-Fla., after he similarly argued that Garland wanted the FBI to target parents who speak out "to protect kids from radical curriculum like critical race theory."
One law professor interviewed for the story did say there was a risk Garland's effort to weed out harassment and intimidation could be applied too broadly. Three others noted Garland specifically mentioned that spirited debate is protected and found nothing in the memo that signals he'll seek overly broad enforcement.
"If the Justice Department tried to stretch intimidation to cover any hostile speech, they should lose, and almost certainly would lose" in a court of law, law professor Douglas Laycock at the University of Virginia School of Law told PolitiFact National. Laycock voiced no opinion on Garland's memo itself.
In response to our request, Nichols also sent a second letter from the school boards association to its members, apologizing for its initial letter and voicing regret for "some of the language" included in that letter — though it did not say to which language it was referring.
That apology reignited the issue among national Republican lawmakers, who viewed it as a retraction and questioned Garland about it Oct. 27, 2021.
But the association did not retract its request for federal assistance in the face of threats, and the apology letter doesn't affect the scope of what Garland told the FBI to look for.
In a campaign email, Kleefisch claimed the Justice Department told the FBI to target parents who speak out against critical race theory.
But the memo outlining what would take place indicated the bureau will aim to curb violent threats and criminal conduct, not anyone who publicly criticizes critical race theory.
What's more, the initial letter from the school boards association didn't seek federal help only to protect against threats from critical race theory critics. The group sought protection for any threats, no matter what prompted them.
We rate this claim False.
EducationWeek, "What is critical race theory and why is it under attack?" May 18, 2021
Milwaukee Journal Sentinel, "What should Wisconsin kids learn about race in schools? How a proposed law is stoking the debate over 'critical race theory,'" July 2, 2021
Milwaukee Journal Sentinel, "Wisconsin is second in nation for school board recall attempts, driven by disputes over masking, teaching race," Oct. 20, 2021
National School Boards Association, letter to President Joe Biden, Sept. 29, 2021
NBC Washington, "'The meeting has degenerated': One arrest, one injury at Loudoun schools meeting on equity," June 23, 2021
WGEM, "Mendon man arrested following disruption at Unity school board meeting," Sept. 2, 2021
U.S. Department of Justice, "Justice Department Addresses Violent Threats Against School Officials and Teachers," Oct. 4, 2021
Office of the Attorney General, memo to FBI director, Oct. 4, 2021
Politifact, "Rick Scott wrongly warns FBI coming after loud parents at school board meetings," Oct. 11, 2021
Letter from NASB to its members, Oct. 22, 2021
Washington Post, "Garland asks FBI to address recent 'disturbing spike' in threats against educators," Oct. 5, 2021
Washington Post, "Our dumbed-down debate over the Justice Department and schools," Oct. 27, 2021

Associated Press, "Fact check: The FBI is not targeting opponents of critical race theory," Oct. 5, 2021
Browse the Truth-O-Meter
More by Madeline Heim
Support independent fact-checking.
Become a member!
In a world of wild talk and fake news, help us stand up for the facts.