Stand up for the facts!
Our only agenda is to publish the truth so you can be an informed participant in democracy.
We need your help.
I would like to contribute
Cannabis reform "is supported by the majority of the residents of our state, including a majority of Republicans."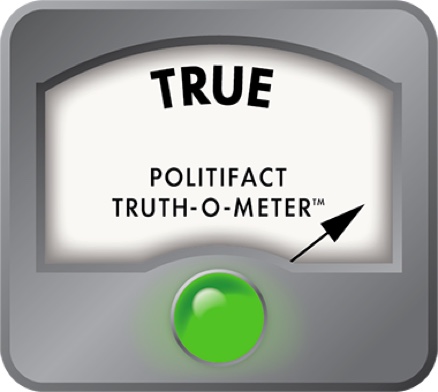 Yes, it's true cannabis reform supported in Wisconsin, including by Republicans
If Your Time is short
A February 2022 poll of registered Wisconsin voters by the Marquette University Law School showed 61% in favor of legalization of marijuana and 31% opposed.

The same poll found 51% of Republicans supported legalization, with 42% opposed.

But to reach the number, pollsters added together those who identify as Republican (who narrowly oppose legalization) and independents who lean Republican (and generally support).
The effort to make marijuana legal at the federal level gained ground as the U.S. House passed a measure April 1, 2022 that would eliminate criminal penalties for anyone who manufactures, distributes or possesses the substance. 
The proposal faces an uncertain future in the U.S. Senate, but a Wisconsin state senator who has advocated for similar reforms in the state argues the time is right for such a move.
"The people of Wisconsin are ready for cannabis reform," state Sen. Melissa Agard, D-Madison, said in an April 11, 2022 tweet. "It is supported by the majority of the residents of our state, including a majority of Republicans." 
The last part of the tweet caught our attention. There have long been differing views on permitting marijuana for medicinal uses, when compared to outright legalization.
Has the needle on legalization really moved that far?
Poll results
When asked to provide backup for her claim, Agard's office cited a Marquette Law School poll of 802 registered Wisconsin voters taken from Feb. 22 to 27, 2022. It has a margin of error of 3.8 percentage points for the full sample. 
A summary of the poll noted that "support for legalization of marijuana has grown since the question was first asked in 2013, with 61% now in favor of legalization and 31% now opposed." It also noted that support has grown in each partisan group since that time, with a slim majority of Republicans now supporting legalization.
According to the poll, 51% of those who identified as Republican supported legalization, while 42% were opposed and 7% undecided. (In 2013, the situation was the virtual opposite – 43% support, 51% opposed).
In the new poll, among Democrats, 75% supported legalization, with 19% opposed. Another 5% said they didn't know.
Charles Franklin, director of the Marquette Law School Poll, said Agard's statement "is basically right, but depends on whether 'Republican' includes those who say they are independent but lean Republican or not."
Franklin said that for many purposes the MU poll includes leaners with partisans, but "for other analysis we keep them separate." 
In this case, the 51% figure included independents who lean Republican. 
Indeed, those who say they are "Republican" are still just slightly more opposed to legalization, by 0.6 percentage points. The "leaners" are much more likely to support legalization, which dramatically shifts the over picture. 
  Party                  Legal          Illegal                     Don't know
1 Rep       46.5    47.1         6.43       
2 Lean Rep  59.2    33.6         7.20       
3 Ind       60.2    27.6         11.5    
4 Lean Dem  79.6    16.9         3.52       
5 Dem       71.5    20.8         6.51   
Barry Burden, director of the Elections Research Center at the University of Wisconsin-Madison, in an email to PolitiFact Wisconsin, noted cannabis reform can mean many different things including changing regulations about buying, selling, and using marijuana for either medicinal or recreational purposes. 
"What share of Wisconsinites support changing laws surely depends on exactly what kind of reform is being proposed," Burden said. 
"It appears that Democrats and Independents in Wisconsin are generally supportive of legalization but that Republicans' opinions probably depend more on the kind of reform being considered."
National poll
The results of the Wisconsin poll are on par with residents across the United States. 
A CBS News poll released April 20, 2022, found that two-thirds of Americans want recreational marijuana use to be legal under federal law and in their own state. And most people said they wouldn't mind if a licensed marijuana business opened in their neighborhood.
Most Democrats, liberals, independents and moderates favor legalization under federal law, the poll found, but Republicans and conservatives are split on the issue, mainly based on age. 
In terms of supporting legalization,  79% of Democrats, 67% of independents and 49% of Republicans were in favor. Opposed were 21% of Democrats, 33% of independents and 51% of Republicans. 
The picture changes when age is added to the equation for Republicans. 
When looking just at Republicans under age 45, some 59% said it should be legal and 41% opposed legalization. For Republicans over age 45, some 44% said it should be legal, and 56% said it should not be legal. 
Our ruling 
Agard claimed cannabis reform "is supported by the majority of the residents of our state, including a majority of Republicans." 
Recent polling of Wisconsin residents found  61% in favor of legalization and 31% opposed. Among Republicans, 51% supported legalization, while 42% were opposed. 
But that comes with a footnote: To reach the 51% level, one has to include those who identify as Republican, as well as those who lean Republican. This is often done in polling, so it's not surprising here. But it is worth noting.
We rate the claim True. 
State Sen. Melissa Agard, Twitter, April 11, 2022.
Email, Megan Wittman, Sen. Melissa Agard communications director, April 13, 2022
Email Professor Barry Burden, UW-Madison, April 20, 2022
Email Professor Charles Franklin, Marquette University, April 20, 2022
CNBC, "House passes landmark marijuana legalization bill," April 1, 2022
117th Congress House of Representatives, Marijuana Opportunity Reinvestment and Expungement Act
Marquette University Law School "NEW MARQUETTE LAW SCHOOL POLL FINDS INFLATION FEARS UP, PANDEMIC FEARS DOWN; MARIJUANA LEGALIZATION UP, OPTIMISM ABOUT WISCONSIN DOWN; PRIMARY CANDIDATES NOT YET WELL KNOWN," March 2, 2022
Milwaukee Journal Sentinel "A medical marijuana bill received a Wisconsin Capitol hearing, but it's not going anywhere anytime soon," April 20, 2022

CBS News "Large majority favor legal recreational marijuana under federal law," April 20, 2022
Browse the Truth-O-Meter
More by D.L. Davis
Support independent fact-checking.
Become a member!
In a world of wild talk and fake news, help us stand up for the facts.