Get PolitiFact in your inbox.
Image shows Paul Pelosi, bruised, in a booking mugshot.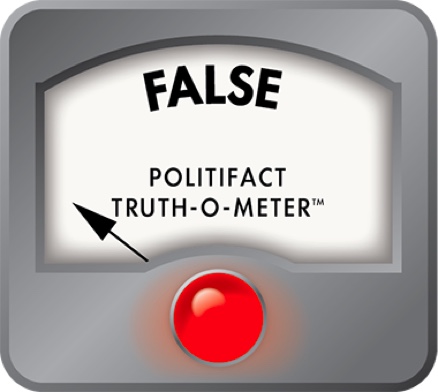 Fake mugshot showing badly bruised Paul Pelosi circulates online
If Your Time is short
An image purporting to show Paul Pelosi looking bruised and unkempt is not authentic. It's been edited.

The image appears to have originated on a far-right message board.

Authorities on June 13 released a real mugshot of Paul Pelosi related to his May arrest on suspicion of driving under the influence, but he does not appear bruised in the image.
A viral image purports to show House Speaker Nancy Pelosi's husband looking badly bruised in a mugshot snapped following his May arrest on suspicion of driving under the influence.
Napa County authorities released and shared with PolitiFact an authentic mugshot of businessman Paul Pelosi, 82, on June 13. But the image ricocheting around the internet for several days before that — in which Pelosi appears disheveled and with a black eye — is not real. 
"​It's a complete fake," said Larry Kamer, a spokesperson for Paul Pelosi.
The fake mugshot appears to have been created using digital editing. Snopes reported that an image of Pelosi from Getty Images was altered to add bruising around his eye, a prison uniform and other distortions to create what looks like a genuine booking photo. 
According to Snopes, the original, unaltered photograph shows Paul Pelosi in a suit beside Nancy Pelosi. It was taken in 2016 at a gala before the Grammy Awards, according to a Getty Images caption.
The first iteration of the fake mugshot PolitiFact could find cropped up June 8 on patriots.win, a far-right message board. A screenshot of that post spread quickly to Truth Social, former President Donald Trump's social media app, and the messaging app Telegram, where it was shared among some promoters of the QAnon conspiracy theory. Soon, screenshots of those posts were on Twitter and Facebook.

This PolitiFact illustration shows how a fake Paul Pelosi mugshot spread from the patriots.win message board to Truth Social and Facebook.
The Facebook posts were flagged as part of the platform's efforts to combat false news and misinformation on its News Feed. (Read more about our partnership with Facebook.)
Paul Pelosi was arrested close to midnight on May 28 after a two-vehicle collision, according to the California Highway Patrol's collision report, a copy of which was obtained by PolitiFact. The report says Pelosi was driving a 2021 Porsche into an intersection when his car was hit by a 2014 Jeep. The 48-year-old Jeep driver was not arrested and no injuries were reported. 
Pelosi was arrested in connection with driving under the influence and driving with a blood alcohol content of 0.08% or higher, according to the Napa County Department of Corrections. His court date has been set for Aug. 3, at which time he would be arraigned if charges are filed, per the Napa County District Attorney's Office. He was released the morning after his arrest. 
Other viral misinformation relating to Pelosi's arrest claimed that all charges had been dropped. PolitiFact rated this claim False.
We rate this viral image showing a bruised Paul Pelosi False.
Facebook post, June 12, 2022
Telegram post, June 13, 2022
Tweet, June 9, 2022
Telegram post, June 9, 2022
Truth Social post, June 8, 2022
Patriots.win post, June 8, 2022
CrowdTangle, accessed June 14, 2022
Napa County Department of Corrections, "Napa County Department of Corrections Releases Paul Pelosi Mugshot," June 13, 2022
KRON4, "Paul Pelosi's mugshot released from DUI arrest," June 13, 2022
Snopes, "Is This Paul Pelosi's Mug Shot?" June 11, 2022
Napa County District Attorney's Office on Facebook, June 9, 2022
CBS News, "Nancy Pelosi's husband, Paul Pelosi, arrested for alleged drunk driving," May 31, 2022
CNN, "Pelosi's husband charged with DUI," May 30, 2022
The Associated Press, "DUI arrest of Pelosi's husband came after California crash," May 30, 2022
California Highway Patrol, "Report of Collision," May 28, 2022
PolitiFact, "Charges haven't been dismissed against Paul Pelosi because they haven't been filed," June 10, 2022
Email interview with Larry Kamer, spokesperson for Paul Pelosi, June 14, 2022
Email and phone interviews with Henry Wofford, spokesperson for Napa County, June 14, 2022
Email correspondence with Jaime Coffee, spokesperson for California Highway Patrol, June 14, 2022
Browse the Truth-O-Meter
More by Grace Abels
Support independent fact-checking.
Become a member!
In a world of wild talk and fake news, help us stand up for the facts.