Get PolitiFact in your inbox.
"Gov. Tony Evers brought Republicans and Democrats together to cut income taxes for the middle class."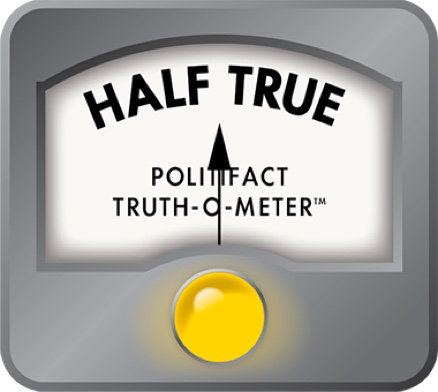 Claim that Evers brought Republicans and Democrats together on tax cut doesn't tell full story
If Your Time is short
Evers introduced a budget in February 2021 that did include some lower and middle-class tax breaks, but Republicans rejected that budget and wrote their own.

The Republican-written budget cut more than $2 billion in taxes, in part by lowering a tax bracket that covers about half of Wisconsinites.

Republicans and a handful of Democrats favored the bill and Evers signed it into law last summer.

But while Evers has pushed for tax cuts for middle class families, it was the Republican budget that delivered it — with Evers' signature.
Wisconsin Republicans and Democrats both want credit for a massive tax cut signed into state law last summer. 
In a sign of the times, the two parties can't agree on whether the move — part of the Republican-written state budget that Democratic Gov. Tony Evers signed into law — was a bipartisan one or not. 
Republican leadership said no. Evers said yes.
The Wisconsin Initiative, a group whose website says it works to enact progressive policies, hold elected officials accountable and find solutions to issues facing the state's working families, says yes, too.  
A pro-Evers television ad from the group says the move would help working families with rising costs and declared that Evers "brought Republicans and Democrats together to cut income taxes for the middle class." 
But that doesn't exactly describe what happened. 
Let's take a look. 
How the tax cut plan unfolded
When Evers released his two-year spending plan for the state Feb. 16, 2021, it included a net increase of $1 billion in taxes over the biennium. He aimed to give tax breaks to the lower and middle classes and raise taxes on businesses and the wealthy. 
Republicans didn't care for it. They removed his tax increases and breaks and, after learning the state would receive more than $4 billion extra in tax collections over the next three years, proposed a plan to cut more than $2 billion in taxes in their own budget. 
That included lowering one tax bracket from 6.27% to 5.3%, covering incomes up to $263,000 for individuals and up to $351,000 for married couples. The nonpartisan Legislative Fiscal Bureau estimated at the time that about three-quarters of the cuts would go to those making $100,000 or more a year. 
When Evers signed that budget, he cheered the tax cut and said it delivered on his promise to cut taxes for middle-class families. 
Republicans didn't like that, either. 
"Governor Tony Evers deserves NO credit for signing our budget," Senate Majority Leader Devin LeMahieu, R-Oostburg, said in a statement at the time, arguing it was not a bipartisan victory but rather that Evers was "boxed into a corner."
Evers said his signature on the Republican-written budget by nature made it a bipartisan effort.
"I signed the budget — simple as that. I could have vetoed that," he said at the time. 
Evers signed the budget, but the tax cut plan was written by Republicans
When reached by PolitiFact Wisconsin, Morgan Grunow, executive director of the Wisconsin Initiative, pointed to bipartisan support as the Republicans' budget moved through the Legislature as well as Evers' final signature. 
When it passed the state Assembly on June 29, 2021, four Democrats joined Republicans in supporting it. Three Democrats in the state Senate voted for the plan the next day before sending it to Evers' desk. 
"At the end of the day, Governor Evers introduced the budget, Democrats and Republicans both voted for it, and Evers signed into law," Grunow wrote in an email. "Bipartisan agreement on anything, especially this day and age, seems to align with the idea of bringing people together. The final vote tally speaks for itself."
It's correct that Evers has long pushed for middle-class tax cuts. He campaigned on cutting state income taxes by 10% for Wisconsinites making $100,000 a year or less. (PolitiFact Wisconsin rated that campaign promise as a Compromise last July because he'd pledged to do so in his first budget, not his second.)
But it was the Republican-written budget, not his own, that eventually accomplished that goal for him. 
And while the budget that was ultimately signed into law received bipartisan support in both legislative chambers, Evers didn't personally spur those Democratic lawmakers to join with their Republican colleagues. 
His actions didn't necessarily bring people together — the pieces unfolded on their own. 
Our ruling
The Wisconsin Initiative claimed Evers "brought Republicans and Democrats together to cut income taxes for the middle class."
The end result of the maneuvering was that both sides — Evers and Legislative Republicans — signed off on tax cuts. But it was more the result of political maneuvering and budgetary good fortune than bipartisan outreach on the part of Evers.
Our definition of Half True is a statement that is partially accurate but leaves out important details or takes things out of context. 
That fits here.
Browse the Truth-O-Meter
More by Madeline Heim
Support independent fact-checking.
Become a member!
In a world of wild talk and fake news, help us stand up for the facts.