Get PolitiFact in your inbox.
Elon Musk tweeted, "The world is flat."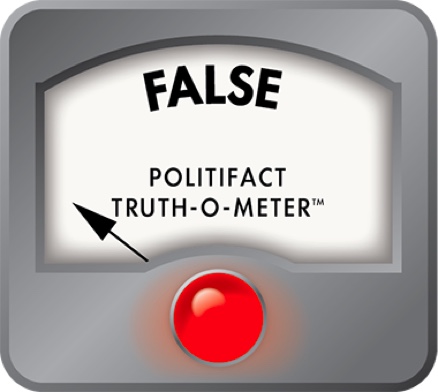 Earth is round and Elon Musk didn't say it was flat
If Your Time is short
This tweet was fabricated. 
The earth isn't flat, and SpaceX founder Elon Musk didn't say it was, either. 
An image of a purported tweet from the entrepreneur suggests otherwise. 
"The world is flat and I can't get past the firmament!" read what looked like an April 25 tweet from Musk, referring to an unfounded belief that Earth is covered in a dome called the firmament. The tweet then followed up with a question that lacked a question mark: "Anyone want to buy SpaceX," it read.
A March 11 Instagram post sharing this image was flagged as part of Facebook's efforts to combat false news and misinformation on its News Feed. (Read more about our partnership with Meta, which owns Facebook and Instagram.)
We found no evidence that Musk said this. It doesn't appear in his Twitter feed, nor is there any news coverage of Musk saying this. And such a tweet would draw media attention, especially considering SpaceX has launched rockets into space more than 200 times and works with NASA, an agency that is unequivocal about our planet being spherical.
Musk has poked fun at the idea that Earth is flat, tweeting in November 2017: "Why is there no Flat Mars Society!?"
In April 2021, he tweeted that "the earth is not flat, it's a hollow globe & Donkey Kong lives there!" 
And in February 2023, he acknowledged the earth's roundness. 
"Without the sun," he said, "we'd just be a dark ice ball with some chemotrophic bacteria." 
We rate claims that Musk tweeted the world is flat False.
Instagram post, March 11, 2023
Elon Musk tweet, Feb. 27, 2023
Elon Musk tweet, Jan. 5, 2023
Elon Musk tweet, Nov. 28, 2017
Elon Musk tweet, April 5, 2021
NASA, What Is Earth?, Oct. 4, 2017 
SpaceX, Launches, visited March 13, 2023
NASA, SpaceX Commercial Resupply, visited March 13, 2023
NASA, 90 Years of Our Changing Views of Earth, Dec. 21, 2020
Browse the Truth-O-Meter
More by Ciara O'Rourke
Support independent fact-checking.
Become a member!
In a world of wild talk and fake news, help us stand up for the facts.