Stand up for the facts!
Our only agenda is to publish the truth so you can be an informed participant in democracy.
We need your help.
I would like to contribute
"Goldfish crackers contain a dangerously high amount of weed killer."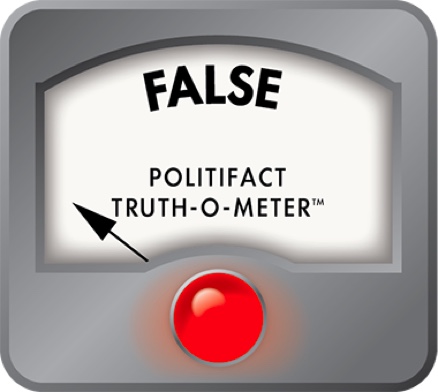 Trace amounts of glyphosate are found in many foods, are not harmful
If Your Time is short
Trace amounts of glyphosate, a weed-killing chemical used in products like Roundup, are found in many foods, but the U.S. Environmental Protection Agency says the amounts "are not of concern" for consumers.
Would you like some weed killer with your Goldfish crackers? According to a viral video, that's what you and your kids are eating when munching on the popular snack.
In an April 25 Facebook reel, a man holds a bag of Goldfish crackers and says they "contain a dangerously high amount of weed killer which has been directly linked to cancer," adding that the chemical is called glyphosate. He pointed to information from two advocacy groups, which he called scientific organizations — the Public Interest Research Group and Environmental Working Group — as proof.
The reel was flagged as part of Facebook's efforts to combat false news and misinformation on its News Feed. (Read more about our partnership with Meta, which owns Facebook and Instagram.) 
Glyphosate is an herbicide used to control weeds and grass; it's in products like Roundup. The chemical is widely used in agriculture, which is why trace amounts find their way into so many different packaged food products. But it's found at such low levels that government agencies say it poses no risk to humans who consume those foods and beverages. 
"Due to its widespread use, trace amounts of glyphosate residues may be found in various fresh fruits, vegetables, cereals, and other food and beverage commodities," according to a U.S. Environmental Protection Agency fact sheet. "However, these trace amounts are not of concern for the consumer."
We found studies on glyphosate conducted by both of the advocacy groups mentioned in the Facebook reel, but none that specifically mentioned Goldfish crackers. A Public Interest Research Group spokesperson said the group has not tested the crackers for glyphosate. Environmental Working Group did not respond to a request for comment. 
A spokesperson for Campbell's Soup Company, a division of which manufactures Goldfish crackers, said the company requires suppliers to "follow the standards for pesticide use set by the EPA and state regulatory agencies." Campbell's also encourages ingredient suppliers to use Integrated Pest Management that promotes using biological controls before using chemicals, the spokesperson said. 
Glyphosate is not included on Goldfish's list of ingredients. So, if it is in the snack, it's likely trace amounts — which as the EPA said, is not a problem.
The environmental advocacy organization Environmental Working Group "is not neutral on the issue," NBC News reported in 2018. "It actively campaigns against glyphosate," and some of its research about glyphosate in food products was not published in peer-reviewed journals. PIRG, another environmental advocacy group, believes "glyphosate should be banned unless and until it can be proven safe," according to its website.
In 2019, PIRG published a report about glyphosate in beer and wine products at levels the organization deemed high. The study also noted that the glyphosate levels fell within the EPA's guidelines for safe consumption. 
In response, a toxicologist from Bayer, which owns the parent company of Roundup weed killer, said PIRG released misleading information.
"Assuming the greatest value reported, 51.4 (parts per billion), is correct, a 125-pound adult would have to consume 308 gallons of wine per day, every day for life to reach the U.S. Environmental Protection Agency's glyphosate exposure limit for humans," William Reeves told USA Today in 2019. 
It's very unlikely that a person could ever consume enough glyphosate via trace amounts in food to pose a health threat. FactCheck.org wrote in August 2017 that based on the European Food Safety Authority's glyphosate suggested limit of 0.5 mg/kg of body weight, a 175-pound person would have to consume more than 1,270 servings of Cheerios in a day to exceed the safety limit.
In an interview with NBC News, Fred Gould, head of the Genetic Engineering and Society Center at North Carolina State University, said the amount of the chemical is key. 
"With all things, it is the level of exposure that matters," he said. "The poison is in the concentration."
We rate the claim that "Goldfish crackers contain a dangerously high amount of weed killer" False. 
Facebook video, April 25, 2023
National Pesticide Information Center, Glyphosate Technical Fact Sheet, accessed May 8, 2023
CNN, Dozens more breakfast foods test positive for trace amounts of weed killer, report says, Oct. 24, 2018
U.S. Environmental Protection Agency, Glyphosate definition, accessed May 3, 2023
USA Today, Weed killer in your wine and beer? That's what a new U.S. PIRG study found, Feb. 25, 2019
Environmental Working Group, Roundup for Breakfast, Part 2: In New Tests, Weed Killer Found in All Kids' Cereals Sampled, Oct. 24, 2018
Environmental Working Group, New Round of EWG Tests Finds More Children's Cereals Tainted With Monsanto's Cancer-Causing Weedkiller, June 12, 2019
U.S. Food and Drug Administration, Questions and Answers on Glyphosate, Feb. 28, 2022
FactCheck.org, Does Glyphosate Cause Cancer? Aug. 28, 2017
NBC News, Weed killer in your cereal? Maybe, but don't panic, Aug. 17, 2018
U.S. Public Interest Research Group, Glyphosate pesticide in beer and wine, Feb. 21, 2019
Special Session of the Joint Food and Agriculture Organization of the United Nations, World Health Organization: Pesticide residues in food 2016, accessed May 3, 2023
Pepperidge Farm, Goldfish Nutritional Information and Ingredients, accessed May 3, 2023
Email interview with Mark Morgenstein, spokesperson for the U.S. Public Interest Research Group, May 9, 2023 
Browse the Truth-O-Meter
More by Gabrielle Settles
Support independent fact-checking.
Become a member!
In a world of wild talk and fake news, help us stand up for the facts.