Get PolitiFact in your inbox.
Some individuals or businesses in Wisconsin are charging $2 or $2.25 an hour for child care.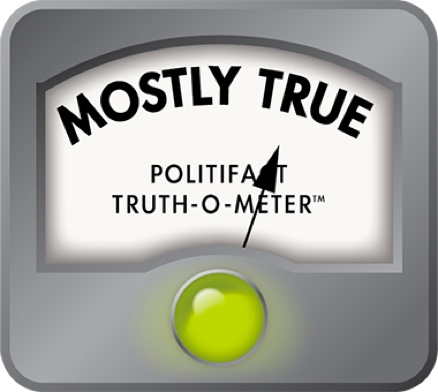 Cabral-Guevara says some Wisconsin child care providers' rates are as low as $2.25 an hour
If Your Time is short
State Sen. Rachael Cabral-Guevara, R-Appleton's office was unable to point to a specific provider.

But data from a Fox Valley child care agency shows some providers charge as little as $90 per week, or $2.25 per hour.

Data to support her claim is for older children. Infant care, group centers and urban areas are more expensive.
Wisconsin lawmakers agree that the state's child care industry is in crisis. But they are at odds on how to address it. 
Republicans have introduced bills that would loosen regulations like staff-to-child ratios, which they say would give centers flexibility. 
Democrats have pushed to continue pandemic-era Child Care Counts payments to providers, which help prevent tuition rate increases for parents. 
During an Oct. 18,  hearing for the GOP bills, state Sen. Rachael Cabral-Guevara, R-Appleton, asked the state Department of Children and Families for solutions "besides just more money."
"I had some folks coming in and I was asking them, 'Well, how much are you charging an hour for child care?' And some of them told me, '$2. $2.25 an hour,'" she said. "And I said, 'Well, maybe you need to increase your prices.'"
(She added that not every provider charges $2 an hour.) 
Still, Cabral-Guevara's claim caught our attention. Especially after one recent report found that child care can cost more than tuition at the University of Wisconsin-Madison.
Could some providers in Wisconsin really be charging as little as $2 an hour for child care? Let's take a look.
Rates as low as $3 an hour in rural areas for older kids
When asked to back up the claim, Cabral-Guevara's chief-of-staff, Ryan Retza, followed up with the meeting organizer to get more details on the attendees. 
He also shared a 2022 Department of Children and Families study that showed price ranges based on the child's age, the type of care and whether the area was rural or urban. 
He pointed us to a line in a table that represented children in the 6-and-older age group, in child care that is normally operated out of a provider's home, and in the most rural parts of the state. The corresponding weekly rate was as low as $120, or $3 an hour for 40 hours of child care a week. That's not quite as low as $2 or $2.25, but it's somewhat close. 
Department of Children and Families communications director Gina Paige told us that a single provider might not charge that amount, but it's possible that the $120 is "a composite of multiple providers' prices."
Paige noted that "provider prices vary substantially across Wisconsin," and urban areas, group centers and infant care are more expensive. 
"Providers are often not charging families for the true cost of care because they know families cannot afford it," she added. 
But back to Cabral-Guevara: Are there any providers charging even less than $3 that could prove her claim?
Based on other information, it's possible, at least in some counties.
Documentation shows Winnebago County providers may charge that little
In a later email, Retza said "we have not pinpointed the specific individual Sen. Cabral-Guevara spoke to in April." 
So, we don't know the specific provider she was referring to. But her office checked with a local child care resource and referral center in Kimberly, which was also at the meeting. That agency shared information on rates at group centers and family homes in eight Fox Valley counties in November 2022. 
Retza pointed to Winnebago County, where weekly rates at group centers can be as low as $90 for children 5 and over, or $2.25 per hour. That assumes the calculation is based on a 40-hour work week, though the report doesn't specify. 
Another table for Winnebago County — with less data filled in — shows a $9 hourly rate for that older age group in that type of care. 
That's the highest hourly rate of all the counties, age groups and types of care. And many counties had missing hourly rate data, suggesting it might not be as reliable. 
But again, Cabral-Guevara was referring to an exceptionally low rate she heard about, and that $90 weekly rate fits her recollection.  
Our ruling
Cabral-Guevara said in the October hearing that some individuals or businesses in Wisconsin are charging $2 or $2.25 an hour for child care.
She wasn't able to point to a specific provider, and the data has a bit of uncertainty involved. But it's still feasible that a provider in her district is charging $2.25 an hour, based on data from the referral agency.
And although she acknowledged not all providers charge that little, she also didn't specify the age or type or care, which impacts prices. 
Our definition of Mostly True is "The statement is accurate but needs clarification or additional information." That fits here.
WisEye, Senate Committee on Mental Health, Substance Abuse Prevention, Children and Families, Oct. 18, 2023
Email exchange, Ryan Retza, chief-of-staff for Office of state Sen. Rachael Cabral-Guevara, R-Appleton, Oct. 20, 2023 and Oct. 30, 2023
Department of Children and Families, 2022 Child Care Market Survey Results, August 2022
Email exchange, Gina Paige, communications director for Department of Children and Families, Oct. 30, 2023, and Nov. 3, 2023
Child Care Resource and Referral Fox Valley, November 2022 Child Care Rate Reports, November 2022
Support independent fact-checking.
Become a member!
In a world of wild talk and fake news, help us stand up for the facts.