DeSant-O-Meter
Expand K-12 choice scholarship programs
"Ron DeSantis will support policies that expand choice scholarships, including raising the cap on the Florida Tax Credit Scholarship program."
Updates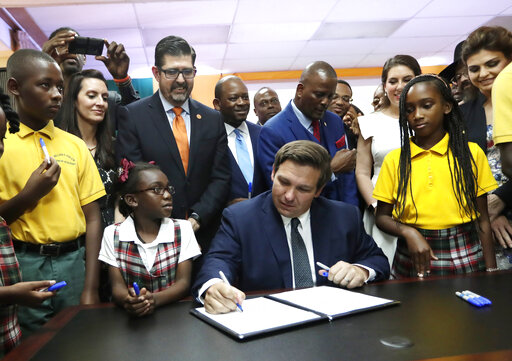 DeSantis moves ahead on promise to expand school choice scholarships
A law signed by Gov. Ron DeSantis creates a new voucher program for students, easing the burden on a waiting list for a similar scholarship program.
The creation of the Family Empowerment Scholarship is in keeping with DeSantis' campaign promise to expand K-12 school scholarships for low-income students, building off of a voucher program started under Gov. Jeb Bush in 2001.
Bush's Florida Tax Credit Scholarship Program allows corporate donors to give money to nonprofit scholarship-funding organizations, which then give the scholarships to poor children. The companies in turn received tax breaks from the state.
The scholarships are used by primarily black and Hispanic students of lower-income families. During the 2018-19 school year, there were about 104,000 students who used the scholarships at private schools.
When DeSantis took office, there were roughly 13,000 students on the waiting list.
The program has always had a cap on contributions, which ends up being a cap on enrollment, said Jon East, a spokesman for Step up for Students, which administers the scholarships. This year the cap is about $874 million.
As part of his promise, DeSantis aimed to increase the cap on the Florida Tax Credit Scholarship Program, but that didn't happen. Instead, lawmakers created the new program.
The Family Empowerment Scholarship is expected to benefit 18,000 students. The program includes $130 million in direct state funding for the new scholarship students entering the program.
The new program expands eligibility for scholarships to a slightly higher income threshold to include households earning up to $77,250 for a family of four. That's up from $66,950 for the tax credit program.
"Collectively, it is on pace to produce the largest single-year increase enrollment since the FTC was created in 2001," East said.
The Florida Education Association, the statewide teachers union, opposed the new program. The union argued that the taxpayer dollars are being taken from a tight education budget and that the majority of the schools under the tax credit program are religious schools.
A similar voucher program was struck down in 2006, but Republicans hope that it withstands any potential future court challenge under the current Florida Supreme Court.
For now, DeSantis has achieved his goal of expanding school choice, so we rate this Promise Kept.
Sources:
Florida Senate, SB 7070, May 2019
Florida Department of Education, Florida Tax Credit Scholarship FAQs, Accessed Sept. 11, 2019
Florida Department of Education, Family Empowerment Scholarship, Accessed Sept. 11, 2019
Miami Herald, DeSantis asks for $100 million so low-income students don't have to wait for aid, Feb. 15, 2019
Gainesville Sun, Lawmakers OK private school voucher program, April 30, 2019
Orlando Sentinel, More Florida private schools grow dependent on vouchers, April 19, 2015
Email interview, Cheryl Etters, Florida Department of Education, Aug. 26, 2019
Telephone and email interview, Jon East, Step up for Students vice president for policy and public affairs, Aug. 14, 2019
Email interview, Liz Hayes, Americans United for Separation of Church and State spokeswoman, Sept. 11, 2019
Email interview, Ronald G. Meyer, Lawyer, Meyer, Brooks, Blohm and Hearn, P.A. Sept. 12, 2019
Email interview, Sharon Nesvig, Florida Education Association spokeswoman, Aug. 14, 2019