The Campaign to Fix the Debt's file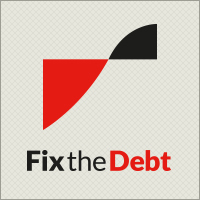 Organization from Washington, D.C.
The Campaign to Fix the Debt, a group formed in 2012 with help from a bipartisan cast of elected officials, is a corporate-backed effort to push for action to reduce the long-term federal debt and bring down deficits. It is a vehicle created in large part by CEOs of major companies to lobby on the issue, according to media coverage in the Wall Street Journal, New York Times and Los Angeles Times.
The Campaign to Fix the Debt's website
Our The Campaign to Fix the Debt feeds