O'Reilly: 'Denver Post' hired an editor to promote pot
The Denver Post's decision to hire a "pot editor" to cover the legal recreational use of marijuana in Colorado has drawn the ire of Bill O'Reilly, who twice in four days attacked the newspaper on his Fox News program.
Among other things, O'Reilly called the Post's top editor a pinhead and warned that the paper was promoting intoxication that would put more dangerous drivers on the road.
"The Denver Post has actually hired an editor to promote pot," O'Reilly exclaimed on Monday's show.
Both of his guests on Monday's show pushed back. Mary Katharine Ham argued that this was a legitimate matter of public policy. Juan Williams said since pot would soon be legal in Colorado, talking about it would be no different from the wine reviews you can find in many newspapers.
O'Reilly would have none of it.
"You can drink wine without getting inebriated," he said. The only reason to use marijuana, O'Reilly said, "is to get high."
We reached out to Fox News for more details from the show and did not hear back. This fact-check focuses on whether the Denver Post is promoting pot, but O'Reilly and his guests raised some important points and we'll cover some of them too.
Reporting vs. endorsing
We should be clear that O'Reilly did not say the Post's coverage would have the unintended effect of encouraging the consumption of marijuana. He said promotion was the newspaper's intent, calling the Post a "very far left concern." We can never be entirely certain when it comes to intent but here is how the newly appointed editor, Ricardo Baca, described the scope of his mandate.
"We will have voices in the mix from all sides of the story," Baca said in an article published by his paper. "You smoke (or eat or vaporize) everyday. You got high once in high school and never again. You stopped after you had kids but are thinking about returning. You're anti-pot and wish it weren't one of the biggest issues in Colorado. I want to talk with all of you."
Baca promised that the beat would cover cannabis culture and news "from a professional, journalistic and critical point of view."
So yes, the Post will have a freelance pot critic and a freelance pot adviser, but it will also use staff reporters to follow how the legalization of marijuana unfolds in the state that has gone further than any other (although Washington runs a close second).
Colorado's unique status makes the Post's work very intriguing to Dr. Eric Wish, director of the Center for Substance Abuse Research at the University of Maryland.
"People have been debating this for a long time and there's been no place where we could have an experiment to see what happens.," Wish said. "Now the voters made Colorado the experiment. Anything that the Denver Post can do to inform people of the consequences of this experiment is going to be good. We need to know."
The Post's editor says he expects the new beat to engage the public. That can mean many things. Safe to say, the newspaper plans to attract readers. That's a long way from encouraging people to use marijuana.
Comparing cannabis and alcohol
Coloradans voted on a measure that aimed to treat marijuana the same as alcohol. Opponents, such as O'Reilly, would maintain that the two chemicals are so fundamentally different, we should never confuse them in our minds or our laws. We can't resolve that dispute, but our research did produce some useful data.
First, coverage of beer, wine and spirits is widespread. Barbara Fusco, director of sales and marketing at the Brewers Association, a beer trade group, searched one database and found 168 reporters and editors who report on beer, wine and spirits at daily newspapers nationwide.
"I'd consider this number low, as it doesn't include magazines, newswires, blogs, websites or broadcast outlets," Fusco said. "Of those, 168 reporters, 60 are specifically identified as covering beer."
That's about twice as many beer reporters from five years ago when the association said fewer than three dozen papers had regular coverage.
Arnie Robbins, executive director of the American Society of Newspaper Editors, says based on what he's seen, newspapers are expanding the space they give to all kinds of alcoholic drinks.
"On the New York Times baby boomer blog they have a column called A Quiet Drink," Robbins said. "They cover where can you find a cool bar that isn't crazy loud and it's about the drinks there."
We visited A Quiet Drink and read about an "iced black tea made with Jim Beam bourbon, simple syrup and cardamom pods" and a mai tai "with two kinds of rum — Zacapa 23 and Cana Brava — and a pleasant undercurrent of orange, from Creole Shrubb liqueur."
To our eye, this wouldn't seem to discourage drinking.
But O'Reilly's main point was that you can drink without getting drunk while getting stoned is the only reason to smoke pot. This made us curious. Can we calibrate the effects of alcohol in ways that we can't with pot?
"It may be a false dichotomy to say you can do it with alcohol but not marijuana," said Wish at the University of Maryland.
Wish pointed to reports of people who have used marijuana medically and were given the choice of using pills or smoking the drug. They said they were able to control the effects more precisely by smoking.
Wish has many concerns about the consequences of legalization. He warns about the combined impact on driving with both alcohol and marijuana in the blood stream. He says if legal pot is taxed at too high a rate, it could encourage the use of cheaper synthetic cannabis which can be a very risky compound.
But as to our relative ability to manage our consumption of alcohol and marijuana, he says we should not assume we do a great job with either.
"I'm not so sure people calibrate so well once they get inebriated," Wish said.
Our ruling
O'Reilly said the Denver Post was a "far left concern" that had "actually hired an editor to promote pot". This goes to the newspaper's intent. The Denver Post said it planned to cover many aspects of the unfolding story of legalized marijuana in the state, ranging from policy and laws to the culture of pot users.
While that coverage has yet to unfold, the stated goals of the Post do not match O'Reilly's description of the newspaper's intentions and we heard nothing from the show that supported O'Reilly's view.
We rate the claim False.
After the Fact
O'Reilly responds to PunditFact
Added on Dec. 19, 2013, 9:12 a.m.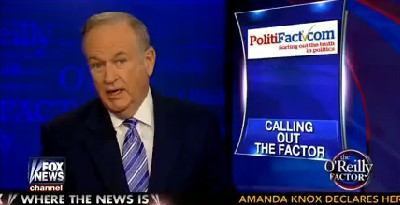 During his Dec. 17, 2013, show, Bill O'Reilly responded to our fact-check during a segment with John Stossel. We've attached the relevant part of the transcript. O'Reilly's comments do not affect our ruling.
"PolitiFact says the intent of the Denver Post is to, 'cover many aspects of the unfolding story of legalized marijuana,' and that I misled you guys in that commentary," Bill O'Reilly told viewers, before turning to Stossel.
"So, here's my beef, when you hire an editor who says he's going to allow people to use marijuana, to ingest it, and then tell readers what the best bud is, you're promoting it, okay, you're promoting intoxication, because that's why you use marijuana," O'Reilly said. "And I don't think that's right. And you say?"
"I say that is part of it. I don't think it's their main intention," Stossel said.
"All right. So, I didn't mislead then," O'Reilly said.
"Well, if you said they're just promoting it, you kind of did," Stossel said.
"I said not just, I said they're promoting it," O'Reilly said.
"Then we'll have that. If you cover something, you promote it," Stossel said.
"Okay, good," O'Reilly finished. "So, Stossel and I think that, on this one, PolitiFact is wrong."