Rick Santorum: We are accepting more legal immigrants than ever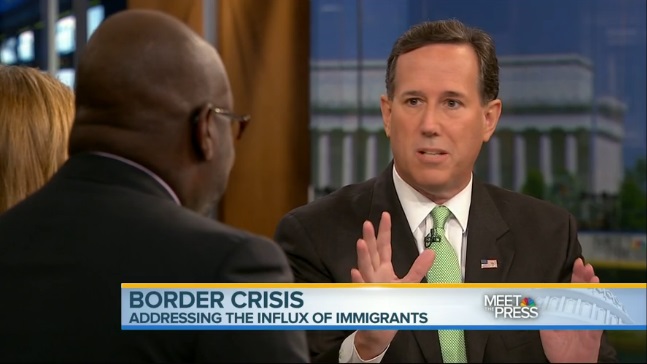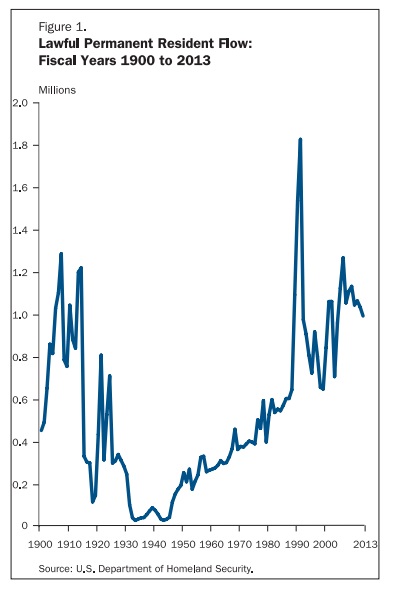 The country's focus is trained on headlines about illegal immigration.
But a claim by former GOP presidential candidate Rick Santorum made us wonder about the other side of our immigration policy. What's the trend for immigrants lawfully living in the United States?
Santorum's claim came up in a heated exchange with Detroit Free Press editorial page editor Stephen Henderson during the July 13, 2014, Meet the Press pundit panel. (We fact-checked another point from Santorum's talking points, too.)
"First off, we are accepting more legal immigrants than we ever have in the history ..." Santorum said before some crosstalk. "It's all chain immigration. And it's from the very countries that people have been coming from, because most of the immigration is tied to people who are already here."
So is he right about the United States accepting more legal immigrants than ever?
Like other immigration figures, there are a few ways to slice the data. In some ways, he is right. In others, he is not.
We tried to ask Santorum which numbers he had in mind, but a spokeswoman for his group, Patriot Voices, could not be reached by email or Twitter.
Experts directed us to the Department of Homeland Security's Yearbook of Immigration Statistics, which publishes annual numbers of people obtaining lawful permanent resident status, or a "green card," dating back to 1820 (see this chart for each year's tally). Green card recipients exclude people who come to the country for short-term reasons, such as temporary work or studies.
By the raw numbers
The most obvious way to look at federal data is comparing raw numbers.
The government admitted the highest amount of lawful permanent residents in 1991, at 1.827 million people, followed by 1990, at 1.536 million. Those years are higher than the most recent decade's annual admissions, which hovered around the 1 million mark. The 2013 total is 990,553, down 4 percent from 2012.
Those peak years -- 1990 and 1991 -- are atypical, the result of a swath of people receiving green cards after winding through the process laid out in the Immigration Reform and Control Act of 1986, said Sumption, Migration Policy Institute director of international research. (That was the last time Congress enacted sweeping immigration reform, FYI.)
The third all-time highest year is 1907, with admissions of 1.285 million people. That tops the 2006 tally of 1.266 million people and any other recent year.
Looking at individual years, however, may not be as useful as the slightly broader trend, Sumption said.
From 2004 to 2013, average annual admissions were 1.076 million. During the other comparable time period of 1905-1914, before numerical quotes on immigration were in place, the average was 1.012 million people. That's slightly lower than our most recent decade.
But that doesn't mean Santorum's claim is in the clear.
By percentage of population
Perhaps an even better comparison would be legal immigrants admitted over time as a percentage of the American population, other experts told us.
In that case, the influx of immigrants was more dramatic at the turn of the century, when the country's population was much smaller.
"Since the total population was 92 million in 1910, compared with 308 million in 2010, admitting more than 1 million immigrants in a single year (and this wasn't atypical of the decade) was much more significant," said Susan Martin, professor and director of Georgetown University's Institute for the Study of International Immigration.
Looking at the data in this light allows for analysis of the country's capacity for bringing in new people without risking competition in the labor market, Sumption said.
"Share of population is a better measure of the lived experience of immigration, the experience on the ground," she said.
A big driver of the increase in recent years is the category for spouses of U.S. citizens, which isn't too surprising considering the growing global economy and the fact that many people who come to the country for temporary purposes of work and study marry U.S. citizens, she said.
Our ruling
Santorum said, "we are accepting more legal immigrants than we ever have in the history" of the country.
Over the last 10 years, in raw numbers, the United States has admitted slightly more immigrants into the country compared to any other 10-year period.
But when you factor in the new arrivals as a share of the U.S. population, 1905-14 is the leading time period. And when looking just at raw numbers, the United States admitted more immigrants in 1907, 1990 and 1991.
In fact, the 2013 tally -- 990,553 -- would rank 20th all time.
We rate the claim Mostly False.