He's not from here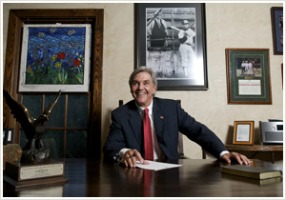 Texas Republican Roger Williams recently made a he's-not-from-here claim about a fellow aspirant to represent a newly carved North Texas U.S. House district. Williams said of Michael Williams: "My opponent does not live in the district. My opponent has never voted in the district."

Not living there? Never voted there?

This claim ultimately shook out as False on the Truth-O-Meter and an aide to Roger Williams told us he'd intended to say that for more than a decade, Michael Williams lived, worked and voted in Austin, which largely aligns with the fact that Williams was constitutionally required to reside in the capital while serving on the Texas Railroad Commission, which he left in April.

However, Michael Williams also has lived in the new Congressional District 33 where he has claimed a homestead in Arlington for more than 15 years. And contrary to his foe's quoted statement, Michael Williams voted in the district several times in the 1990s.

We've fact-checked other kind-of carpetbagging claims before.

In April 2010, Democratic U.S. Rep. Chet Edwards said his GOP challenger, Bill Flores, had "never once voted in a general election in our district — not even once." We rated that True.
Flores, who defeated Edwards in November 2010, had registered to vote in the district in late 2006, our research indicated, and voted in various elections after that. But he had not voted in any general elections.

In September 2010, the Republican Party of Texas said state Rep. Jim Dunnam of Waco, who was chairman of the House's Democratic Caucus, "has not lived in the district he represents for years now."

We found a thread of truth to the party's statement, rating it Barely True. Dunnam had houses in his home district and another one. Without substantial detective work, we concluded, it'd be impossible to conclude he didn't live in one house over the other.

Upshot: It's easier in Texas to gauge where someone has voted than where they live.