Texas-bound Beck will need bigger blackboards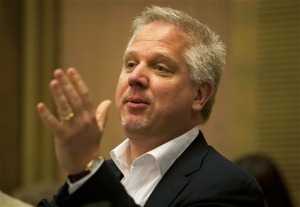 Texans, get ready for Glenn Beck.
Eleven days after the airing of his final show on the Fox News channel, the conservative pundit announced on his radio program that he is moving to Dallas: "My family is there now, and I will be there shortly."
Beck, who is launching an online network called GBTV, also said he was going to build a radio and television studio there. "We're going to create some jobs with people who know how to create jobs, in Texas," Beck said.
Beck has previously lauded the Texas economy while also hinting at his relocation. On June 14, during Gov. Rick Perry's unannounced appearance on his Fox show, Beck asked: "How many jobs did you create, percentage, during the recession?"
Perry replied: "Since June 2009, about 48 percent of all the jobs created in America were in Texas. Come add to it."
"Thank you; would love to," Beck said.
We checked Perry's jobs statistic, which is based on research by the Federal Reserve Bank of Dallas, and rated it Half True, partly because it overlooks jobs created in states without net job gains from the end of the recession to April 2011.
About two weeks later, Perry made another appearance on Beck's television show. The two returned to a discussion of Texas' job gains and Beck again suggested he was pondering a move.
Addressing Perry, Beck said: "I know that you are considering possibly running for president and I'm considering possibly moving to Texas. … I'm thinking we're not going to let you leave Texas.
"I mean, I could run for governor of Texas, I'm just saying," Beck teased before laughing and calling that a bad idea.
To welcome Beck to the Lone Star State, we reviewed his PolitiFact record. Overall, he has been checked 23 times, racking up ratings at every point on the Truth-O-Meter: two True ratings, one Mostly True, five Half True, four Barely True and six False. As for our lowest rating -- Pants on Fire -- Beck statements received it five times.
Some highlights:
True
During a February 2010 television show, Beck claimed that the creators of Social Security may have designed it so many people would not live long enough to receive the benefits. "When Social Security started, age expectancy for the average man was 58. It was 62 for women," said Beck. "Wait a minute, when did benefits come in? At 65."
Beck was essentially right about life expectancy in the 1930s. According to the federal Centers for Disease Control and Prevention, an average man born in 1935 lived until he was 60; a woman typically lived until she was 64. Beck's statement was off by just a couple of years, and his overall point was right that life expectancy was below the retirement age of 65.
Mostly True
Beck received his single Mostly True rating for saying during a May 2010 TV show that "64 percent of Americans support" Arizona's new and disputed immigration law. Beck was citing a Wall Street Journal/NBC poll that found that 64 percent of Americans were either somewhat or strongly supportive of the law. Other polls, however, had slightly different results, including one by Quinnipiac University that found 51 percent of American voters supporting the Arizona law.
Half True
Beck likes to talk about U.S. history, especially America's Founding Fathers. He received a Half True rating last year for saying during a January 2010 radio broadcast that "Thomas Jefferson created the Marines for the Islamic pirates that were happening."
The Marines consider their birth year to be 1775, when the Continental Congress formally adopted a resolution founding the Continental Marines. The group was disbanded after the Revolutionary War and then re-established in the 1790s, in part because Barbary "corsairs" were attacking American ships at Mediterranean ports. The corsairs were essentially North African pirates, and they were Muslims.
However, the Marines weren't created by Jefferson. President John Adams signed legislation in July 1798 creating the U.S. Marine Corps to help deal with a new conflict with the French. After the fighting with France, the conflict with Barbary pirates flared again. And under Jefferson, the Marine Corps was employed in numerous operations against them.
Barely True
In 2009, the first year of Barack Obama's presidency, Beck railed for weeks against the then little-known Van Jones, who served on the White House Council on Environmental Quality. Jones eventually resigned in the wake of recaps of some of his past statements and activism. Among Beck's claims about Jones: that he is an avowed communist. PolitiFact National found that Jones had been upfront about being a communist for about 10 years, but later changed his politics and his approach. More recent statements show that Jones has transformed into a cheerleader for eco-entrepreneurs. Beck received a Barely True.
False
Beck also used his pulpit to criticize the health care overhaul legislation signed into law by Obama in March 2010. During the height of debate over the bill, in fall 2009, Beck warned that 45 percent of physicians would quit if the health legislation passed. PolitiFact National found that statement was based on questionable data, rating it False.
Pants on Fire
That fall, Beck also made a statement about the health care legislation that was not only wrong but also ridiculous: that it would offer insurance for dogs. Pants on Fire!
Soon Beck will start a new chapter in Texas, and we'll be listening. But he's not abandoning his old stomping grounds. The president of Beck's company, Mercury Radio Arts, told the Associated Press that they're keeping their studio and offices in New York.