Stand up for the facts!
Our only agenda is to publish the truth so you can be an informed participant in democracy.
We need your help.
I would like to contribute
Says Williamson County Attorney Jana Duty "has never prosecuted a single adult felony case."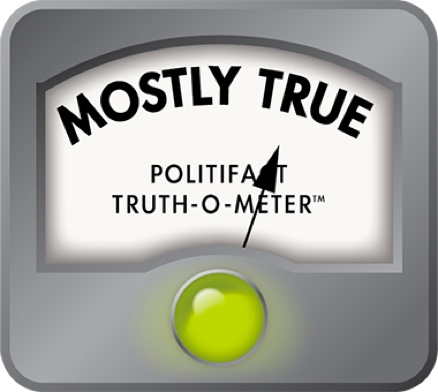 Williamson County DA John Bradley says challenger Duty has never prosecuted an adult felony case
In the heated contest over the Republican nomination to be Williamson County's district attorney, incumbent John Bradley has repeatedly said challenger Jana Duty, the elected county attorney, doesn't have enough experience to do his job.
In an op-ed article published on the Austin American-Statesman's website May 14, 2012, for instance, Bradley talked up his résumé and then said: "Duty has never prosecuted a single adult felony case."
Not one?
Before detailing our fact-check, we think it's important to note that we're not tackling what kind of experience a district attorney should have and whether Duty has it — that's open to debate.
We were curious whether Bradley was correct that Duty had never prosecuted an adult felony case.
On its face, such a charge illuminates a basic difference between the jobs of the district attorney and county attorney in Williamson County. Criminal prosecution of adults is split between them, with the district attorney's office handling felony cases and the county attorney's office handling misdemeanors.
So since Duty became county attorney in 2005, adult felonies have not fallen under her purview, which means she could not have personally prosecuted them.
In a write-up he emailed to us, Bradley says previous experience with adult felony cases is key because "no person can credibly or successfully lead an office without any experience or understanding of the job being done in that office." Via email, Bradley also told us that the district attorney sets office-wide policy on punishment recommendations in plea agreements. "As misdemeanor cases only involve a maximum of one year in jail and felony cases involve punishment of up to life in prison or death, felony experience is absolutely necessary," he said.
As for Bradley's experience, the write-up says he has been a prosecutor since 1987, starting out in the Harris County district attorney's office. He joined the Williamson County district attorney's office two years later. In 2001, Gov. Rick Perry appointed Bradley to lead the office, according to the county's website, and he first won election in 2002.
Bradley told us that he continues to personally handle some cases but that the majority are handled by assistant prosecutors. He said that on a daily basis, he discusses cases with prosecutors in his office, advises them and sets policy.
To support his statement about Duty's experience, Bradley first pointed us to a television news report in which he said Duty admitted his claim was correct. In the March 23, 2012, story by the Austin area's YNN television channel, Bradley, in an interview, said: "I have over 20 years of experience; Jana Duty has never prosecuted a single adult felony case. And that's the work that the DA does." Next, the YNN reporter, Alana Rocha, said: "She admits that's true, but that her office has tried many such cases."
Many adult felony cases? We found that statement confusing, so we sought clarity from the reporter. Rocha told us that Duty had admitted to her that Bradley's claim is correct. Rocha also said that after we inquired, she checked with Duty afresh and Duty clarified that her office prosecutes juvenile felonies.
In Williamson County, the county attorney's office is responsible for juvenile cases.
As further support for his statement, Bradley pointed us to a February 2012 candidate forum in Cedar Park, where, he said, Duty neither questioned the truthfulness of his claim nor offered examples of adult felony prosecution experience.
According to a video of the forum on the website of the Central Texas 9-12 Project, Bradley raised the issue of experience in his closing statement, although he made a narrower claim there than in his op-ed piece, charging that Duty has never tried — as opposed to the broader idea of "prosecuted" — an adult felony case.
That's an important distinction because most felony cases are resolved through plea bargains, not trials. Bradley told us that more than 95 percent of the cases in his office end in such agreements.
At the forum, Bradley said: "How can you have a district attorney run an office, decide the death penalty for people, if you've never stood in court in a felony case and tried an adult? And the fact is Ms. Duty" has not done so.
Duty responded during her final statement that she is "also a career prosecutor" and that she has experience "trying many, many cases," pointing to work she has done in Bexar and Williamson counties. She said she has tried 30 to 40 jury trials and has handled family violence and Child Protective Services cases, including those that result in the termination of someone's parental rights. "And again let me remind you that in a parental termination case, you are taking children away from their parents forever, and that is just as serious as putting somebody in prison," Duty said.
Duty did not respond to our requests to discuss her professional experience. However, according to an Oct. 7, 2004, Austin American-Statesman news article and her campaign website, she had previously served two stints as a prosecutor: as an assistant district attorney in Bexar County after she passed the Texas bar exam in 1997, and as an assistant Williamson County attorney from 1999 to 2001.
Her campaign website says Duty's earlier work at the Williamson county attorney's office came in the "Child Protective Services and Protective Order section" and then in the criminal division.
According to legal experts we contacted, Child Protective Services cases generally involve allegations of abuse or neglect against a child's parent or guardian and are civil, not criminal, cases. The website of the Williamson county attorney's office says pursuing protective orders for qualified applicants is one way that the county attorney "aids in the prevention of domestic violence." A protective order is "a civil court order issued against a person who has committed family violence," the site says. Such orders can, for example, require that an abusive husband have no contact with his wife for a certain period of time.
Either way, adult felony cases are not handled in the Williamson county attorney's office.
But did Duty handle such cases while working for the Bexar County district attorney, which prosecutes felonies and misdemeanors?
That's at least unclear.
In her campaign bio, Duty says that in Bexar County, she "worked as the Protective Order Attorney and then as a family violence prosecutor in the family violence court." We sought information from the Bexar County district attorney's office about the cases she handled there, but officials declined to comment.
Brian Fischer, a Houston criminal defense attorney, told us that generally, prosecutions of family violence cases can involve misdemeanors or felonies.
In an email, Duty replied to our inquiry about Bradley's claim without speaking directly to its accuracy. She wrote: "My office prosecutes juvenile felony crimes and adult misdemeanor crimes (and a lot of other stuff). The Texas Rules of Evidence, the Texas Rules of Procedure (and) the elements of a felony are exactly the same for an adult case as they are in a juvenile case. In my 15 years as a lawyer, I have tried hundreds of adult misdemeanor, juvenile misdemeanor and felony crimes, Child Protective Services cases, and Protective Orders. I would venture to say that I have just as much trial experience as Mr. Bradley."
Finally, we explored Duty's intimation that there are similarities between the prosecution of adult felonies and juvenile felonies by consulting Texas legal experts, including Fischer, who specializes in juvenile law; two law professors; and a juvenile defense lawyer who prosecuted both adult and felony cases over nearly three decades in the Harris County district attorney's office.
The experts did not agree on the degree of similarities or differences between prosecuting adult and juvenile felonies.
However, they all noted that juveniles can be charged with the same felony crimes as adults and that prosecutors are held to the same burden of proof in juvenile felony trials as in adult ones; they must prove "beyond a reasonable doubt" that the accused has committed the crime. Also, they agreed, the rules of evidence and the elements of the crime are the same in juvenile and adult cases.
The issue of procedure is more complicated. The experts told us that juvenile courts operate under a sort of hybrid system, in which rules of civil procedure govern many aspects of a juvenile felony case while others are governed by rules of criminal procedure, as adult cases are.
Other distinctions: The maximum sentence a juvenile can receive is 40 years, while adults face sentences up to life in prison or even death.
Duty did not respond to our questions about how many juvenile felony trials she had prosecuted.
According to data from the state Office of Court Administration, there were 205 new juvenile felony cases filed in the county's juvenile court from Sept. 1, 2010, through April 30, 2012. During that time, 142 juvenile felony cases were resolved through pleas of "true" — the equivalent of pleading guilty in adult court. Also, 31 felony cases were dismissed. There was one trial, of a misdemeanor case, according to the data.
Our ruling
Duty points out that her office prosecutes adult misdemeanors and juvenile felonies, though it appears that none made it to trial in recent years. Hers may be a reasonable point. Still, Bradley specified that Duty had not conducted adult felony prosecutions.
This published claim rates Mostly True.
Williamson County District Attorney John Bradley, op-ed article, Austin American-Statesman, May 14, 2012
Williamson County District Attorney John Bradley, "Experience" (received May 17, 2012)
Email (excerpts) from John Bradley, Williamson County district attorney, May 17-22, 2012
Austin area YNN station, news report, "Morton case source of contention in Wilco DA race," March 23, 2012
Central Texas 9-12 Project, video, candidate forum, Cedar Park (uploaded Feb. 27, 2012)
Austin American-Statesman, news article, "Sparks fly in county attorney race," Oct. 7, 2004
Williamson County Attorney Jana Duty, campaign website, "About Jana Duty" page
Email from Jana Duty, Williamson county attorney, May 17, 2012
Interview with John Bradley, Williamson County district attorney, May 17, 2012
Interview with Brian Fischer, Houston attorney, May 21, 2012
Interview with Bill Hawkins, former Harris County prosecutor, May 21, 2012
Interview with Ellen Marrus, professor, University of Houston Law Center, May 21, 2012
Interview with Njeri Rutledge, associate professor, South Texas College of Law, May 21, 2012
Additional information from legal experts on difference/similarities between adult felony and juvenile felony cases
Texas Office of Court Administration, report, District Court data, Williamson County (accessed May 23, 2012; see page 9 for juvenile court information)
Interview with Lisa David, Williamson County district clerk, May 23, 2012
Browse the Truth-O-Meter
More by Meghan Ashford-Grooms
Support independent fact-checking.
Become a member!
In a world of wild talk and fake news, help us stand up for the facts.