Rick Perry versus the field, round three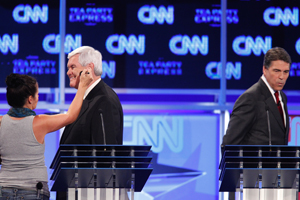 Fourth week of September, third Republican presidential debate.

Tonight's nine-way fray--former New Mexico Gov. Gary Johnson has been invited, too--will be cablecast from Orlando, Fla., on the Fox News Channel.

We'll watch for fresh checkable claims, mindful that the debates on Sept. 7 and Sept. 12 fed several Truth-O-Meter articles.

Flashback:

--It's Half True, as Texas Gov. Rick Perry said at the first September debate, that with what "we have done," Texas created 1 million jobs while the rest of the nation lost 2.5 million. His numbers were mostly defensible, but it's questionable whether he (or any governor) has enough sway to guide most job gains.

--Half True, again, was a debate statement by Perry that Massachusetts Gov. Michael Dukakis (in office 1975-79) created jobs three times faster than a successor as governor, Mitt Romney. There's little evidence that meant Dukakis was better at job creation. Rather, larger factors were at work, such as the way the computer industry in Massachusetts was developing, as well as national economic trends.

--Per Social Security, Perry's repeated references to Social Security as a Ponzi scheme remain False, while Romney's claim in the second debate that Perry called Social Security unconstitutional in his 2010 book is Mostly True and his claim that Perry also wrote that by any measure, Social Security has been a failure, is True. Perry's rejoinder that Romney wrote that if Social Security were done in the private sector, it would be called a crime is Mostly False; it misinterprets a Romney analogy.

--Mark as Mostly True U.S. Rep. Ron Paul's statement in the Sept. 12 debate that the United States is militarily in 130 countries and has 900 bases around the world.
--Another Paul claim--that 170,000 of the Texas job gains under Perry were government jobs--was Half True; PolitiFact could not confirm his numbers, yet one in four new jobs created in Perry's time as governor were state or local government posts.

--U.S. Rep. Michele Bachmann of Minnesota said just after the last debate that mental retardation can result from the kinds of inoculations sought by Perry against a virus that can cause cervical cancer. No such evidence, experts and research indicate. Her statement rated False.