Dewhurst bests Cruz -- in most popular fact checks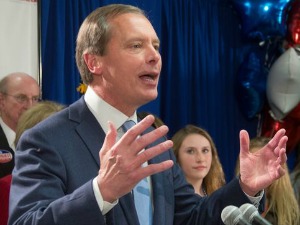 Claims by David Dewhurst fueled two of our most-viewed fact checks in May, though a Ted Cruz claim about Barack Obama also drew high interest.
Let's recap the Texas Fab Five, based on online readership.
We found unsupported and ridiculous--Pants on Fire--Dewhurst's claim that state Sen. Dan Patrick, R-Houston, "changed his name from Danny Goeb to hide from" his "debts."
This pop shook out as factually illogical. Patrick's bankruptcy case ended in 1992; he legally changed his name 11 years later. On May 27, Patrick defeated Dewhurst for the party's 2014 nomination for lieutenant governor. This piece was our most-viewed article in May.
Our older check of a claim by the U.S. Census Bureau landed No. 2. Austin radio personality Bob Cole wondered in January if the bureau was correct when it told him federal law requires residents to participate in the government's American Community Survey.
Mostly True; the law has that mandate. But the bureau doesn't seek to penalize individuals who resist.
The No. 3 reader favorite: Sen. Cruz, R-Texas, said in a report on Obama's abuses of power that the administration spent $205,075 in economic stimulus funds to relocate a shrub that sells for $16.
Mostly False. Some $130 million in stimulus money was approved toward a $1 billion San Francisco road project; a thought-to-be-extinct shrub was uncovered during preliminary work.
After that, local toll revenue covered the shrub's $148,000 move and transplantation--not stimulus aid. Also, botanists told us there's a distinction between the rare in-the-wild version of the the shrub that was uncovered and occasionally available commercial versions, which Cruz didn't acknowledge.
Coming in at No. 4, a getting-to-be perennial favorite was our July 2013 look into a statement by U.S. Rep. Roger Williams, R-Austin, that Obama's actions contributed to gas prices rising from $1.89 a gallon in January 2009 to $3.51 a gallon at that time.
Williams got the prices right, but presidents don't generally have the ability to make pump prices rise or fall. The big problem with ascribing this specific jump to Obama was Williams' failure to note that prices had collapsed right before Obama became president. Mostly False.
The No. 5 reader favorite for May arose after Dewhurst said Wendy Davis, the Democratic state senator running for governor, had done a "fund-raiser in Chicago with the international socialists organization."
Davis appeared at a fund-raiser for a Democratic U.S. House member who may have participated in Democratic Socialists of America chapter meetings in the 1980s. We saw no sign Jan Schakowsky is a current DSA member nor evidence Davis raised money for a socialist group. Pants on Fire!