Fact-checking claims about the Texas economy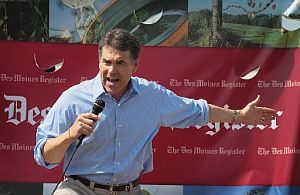 During a time of economic woes, Texas has been a bright spot. The state's economy often has fared better than other states, and Gov. Rick Perry says his success is an example of what he would do as president.
But is it as great as Perry says?

PolitiFact Texas has checked many claims from Perry and his critics about the state's economy, jobs and health care. Here's a look at some of them:

"Since June 2009, about 48 percent of all the jobs created in America were in Texas," Perry said in a June interview with Glenn Beck.
Perry's staff attributed the number to the Dallas branch of the Federal Reserve. The Dallas Fed told PolitiFact Texas that the calculation came from subtracting the number of Texas jobs in June 2009 from the jobs as of April 2011 and determining the 237,000 increase accounted for nearly 48 percent of the 496,000 jobs gained nationally over that period.

We found dispute among economists, though, about the June 2009 benchmark and whether that was the best date to pick when analyzing job gains. Different time frames revealed Texas created a more modest percentage of national jobs, they said. Also, the claim assumes that when a state had overall job losses, that there were zero new jobs created in the state, a questionable assumption since typically the overall figure is a net of jobs created and jobs lost. So we rated Perry's claim Half True.

In early 2010, we looked at an even more eye-popping jobs claim from Perry. He said then that approximately 70 percent of jobs created in the United States from November 2007 to November 2008 were in Texas. We rated this claim False because the agency that made the calculation quickly pointed out an accurate -- though less dramatic -- way of summarizing its finding.

Perry fared better on the Truth-O-Meter with the more straightforward claim that "Texas added more jobs in 2010 than any other state." After consulting with the U.S. Department of Labor's Bureau of Labor Statistics, we rated that one True. He also got a True rating for the statement, "We've created more than 850,000 jobs, more than all the other states combined."

Perry's not the only one talking about the Texas economy.

Soon after he announced, Democratic House member Lloyd Doggett said Perry's job claims don't tell the whole story. "Twenty-five states have lower unemployment than Texas," Doggett said, adding that Texas is "tied with Mississippi for more minimum-wage jobs than anywhere in the United States." We checked the numbers and found Doggett was right; we rated his statement True.

Liberal columnist Paul Krugman said that Texas has a poor record when it comes to health insurance. "One in four Texans lacks health insurance, the highest proportion in the nation," he wrote in the New York Times. The statistics proved him right, so that got a True rating as well.

Bob McDonnell, the Republican governor of Virginia, praised Perry's jobs record. "Under Gov. Rick Perry's leadership (Texas) has created more jobs over the last decade than the rest of the states combined," McDonnell said. McDonnell's statement depends on the assumption that there were no jobs created in states where job losses outpaced job creation during the decade. PolitiFact Virginia rated that Mostly False.