PolitiFact Virginia fact-checks the campaign for governor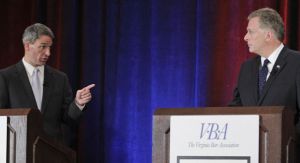 In the rest of the country, it's a quiet year for elections. In Virginia, though, voters go to the polls in November to elect a new governor. Our state partner, PolitiFact Virginia, has been tracking the race and found many things to fact-check.
The candidates are Ken Cuccinelli, the state's Republican attorney general, and Terry McAuliffe, the former chairman of the Democratic National Committee under President Bill Clinton. (See Cuccinelli's scorecard on the Truth-O-Meter or McAuliffe's scorecard.) They had their first debate Saturday night.
A few recent highlights from PolitiFact Virginia:
• In a Saturday night debate, McAuliffe attacked Cuccinelli over political gifts. A special prosecutor's report concluded that Cuccinelli did not violate state disclosure laws by neglecting to report political gifts. "If you read the report, which I have done, it says the attorney general should have been prosecuted, but Virginia laws are insufficient," McAuliffe said.
Actually, there is nothing in the report that supports McAuliffe's claim. To the contrary, the report concludes Cuccinelli did not violate any laws. We rated the statement Pants on Fire.
• Cuccinelli has attacked McAuliffe for not introducing actual policies. "I'm the only candidate for governor who's rolled out any policies so far," Cuccinelli said on June 11 as he announced a workforce development plan. Actually, McAuliffe has rolled out a number of detailed steps for ethics reforms in state government. We rated Cuccinelli's statement False.
• Cuccinelli also said McAuliffe opposes Virginia's right-to-work law. "He's not even in the same place as most of his Democrats in the General Assembly," Cuccinelli said in a June 21 radio interview. "I mean, over three-fourths of them have supported the right-to-work, while he opposes it." We found that McAuliffe said right-to-work is "not going to change," and Cuccinelli failed to provide evidence for his claim, so we rated it False.
• McAuliffe said the state GOP ticket's "top priority is a career-long mission to outlaw abortion in all cases and ban some common forms of birth control." McAuliffe could make a compelling argument that his opponents want to restrict abortion. But he went too far in saying it's their top priority and that they want to ban birth control. We rated his statement False.
• Cuccinelli made a positive case for Virginia's state government and its efficiency. "We have never gone a year in Virginia -- ever -- without passing a budget -- ever," he said in an April speech. Actually, they went without passing a budget fairly recently, in 2001. We rated his statement False.
You can read more claims from the Virginia governor's race on the PolitiFact Virginia homepage.