How 'transparent' is the Foreign Intelligence Surveillance Court?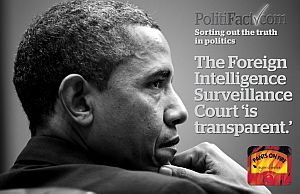 President Barack Obama has taken a lot of criticism from both friend and foe in the wake of recent disclosures about how the U.S. government monitors telephone and Internet traffic. He defended himself recently in an interview with Charlie Rose on June 17, 2013, making several claims in defense of government surveillance.
Rose asked him about the Foreign Intelligence Surveillance Court, a special court that hears government requests for warrants related to national security investigations, asking "Should this be transparent in some way?"
"It is transparent, that's why we set up the FISA court," Obama said.
But is it transparent? We delved into the details of the FISA court and found some good reasons for secrecy. We didn't find transparency. We rated Obama's statement Pants on Fire. Read our complete report.
It's Obama eighth Pants on Fire out of 479 statements we've rated since 2007. We've rated more statements on the Truth-O-Meter from Obama than any other person in American politics.