Trump-O-Meter
Add additional federal investment of $20 billion toward School Choice
"Immediately add an additional federal investment of $20 billion towards school choice."
Updates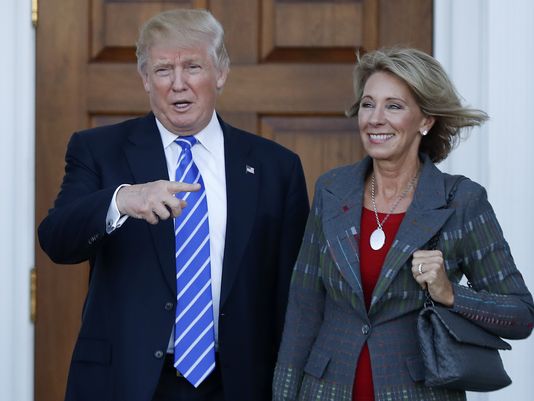 School choice advocates won't see $20 billion any time soon
Among President Donald Trump's education goals was a promise to "immediately" allocate $20 billion in federal money toward school choice initiatives.
He proposed that the money could be distributed to states with school choice laws and programs, thereby encouraging the other states to get on board. "School choice" is an umbrella term for a variety of programs and laws with one essential goal — to allow public funding to follow K-12 students to a public or private school other than neighborhood school assigned to them based on residential boundary lines. These include voucher programs, charter schools, magnet schools, and tax-credit programs.
After his inauguration, Trump has asked Congress to create a national school voucher program and to allot $1.4 billion toward school choice in the FY 2018 budget.
Congress has yet to do either, and doesn't seem interested in doing so in the future.
The House Appropriations Committee rolled out a spending plan in July that largely ignored the Trump administration's requests to increase charter school spending by $167 million, create a new $250 million private school voucher program and add $1 billion in Title I funding earmarked for school choice initiatives.
The House spending plan did include one small win for Trump — a $28 million increase in charter school spending. (This is not unprecedented. Charter school funding increased by more than $125 million during the Obama administration.)
On the surface it might look like charter schools will receive more money should the proposed budget pass; however, a broader look at the agency's budget shows potential deep cuts to other areas of the education spending plan.
For instance, both Trump and the House proposed eliminating a more than $2 billion teacher training and class-size reduction program that serves publicly funded schools, including charter schools.
Another notable example is the 21st Century Community Learning Centers program, a $1.2 billion after-school program for low-income students. The funding is allotted to schools, both public and private, nonprofits and community organizations that meet eligibility requirements. Trump asked Congress to eliminate this program; the House wants its funding to be reduced by $200 million.
In all, the House proposed $2.4 billion in cuts to education.
Trump requested a $9.2 billion reduction, which is 13.5 percent of the department's budget.
Our ruling
Trump had promised to "immediately" award $20 billion in federal funding toward school choice. His 2018 budget proposal asked for significantly less, and so far, Congress hasn't taken him up on the offer.
Furthermore, Trump's proposed cuts to other education programs would take away funding that would have otherwise gone to schools included in school choice, not just traditional public schools.
He could eventually increase funding for school choice in future legislation, but for now we rate this promise Stalled.
Sources:
Donald Trump presidential campaign website, "Education," screengrab from Jan. 1, 2017
White House Press Office, "Remarks by President Trump at a School Choice Event," May 3, 2017
House Appropriations Committee news release, "Appropriations Committee Releases the Fiscal Year 2018 Labor, Health and Human Services, Education Funding Bill," July 12, 2017
House Appropriations Committee, FY 2018 spending bill - full committee report, July 19, 2017
White House Office of Management and Budget, FY 2018 budget proposal, May 23, 2017
U.S. Department of Education news release, "Education Budget Prioritizes Students, Empowers Parents, Saves Taxpayer Dollars," May 23, 2017
U.S. Department of Education website, 21st Century Community Learning Centers eligibility requirements, accessed Aug. 31, 2017
U.S. Department of Education website, Title II, Part A - teacher and principal training, accessed Aug. 31, 2017