Stand up for the facts!
Our only agenda is to publish the truth so you can be an informed participant in democracy.
We need your help.
I would like to contribute
Dramatically scale back the U.S. Education Department
"Largely we can eliminate the Department of Education."
Trump-O-Meter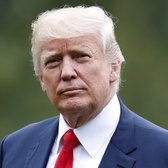 Trump still can't eliminate the department or lower its funding
Despite President Donald Trump's efforts to scale back the U.S. Education Department, Congress hasn't approved either a decrease in its budget or proposals to downsize the agency. The administration has, however, succeeded in cutting back some of the agency's oversight powers.
The 2017 federal budget, enacted during President Barack Obama's administration, gave the Education Department $68.2 billion in discretionary funding for the year. Discretionary funding is the amount of funding Congress decides to give the department each year, making it a better indicator of Congress' views than mandatory funding for long-term programs such as student loans and school lunches. Trump's first budget for the 2018 fiscal year proposed scaling back the department's budget by 13% compared with the year before.
But Congress didn't approve the cut, and the final 2018 budget raised discretionary funding to $70.8 billion.
This continued for the next two years, with Trump calling for a 12% cut in his 2019 budget proposal and a 10% cut in the proposed 2020 budget.
Neither reduction was approved by Congress, which allocated the Education Department $71.4 billion in discretionary funding in 2019 and $72.7 billion in 2020.
Still, Trump is trying to fulfill his campaign promise. His 2021 budget proposal includes a "8.4% reduction below the fiscal year 2020 appropriation" for the Education Department. Congress hasn't released their final budget yet.
One reason Congress won't approve the president's education budget requests may be that voters don't support big cuts in federal education spending. A 2019 Education Next poll found that large majorities of Republicans and Democrats believed that federal education spending should increase or stay the same, with only 15% of Republicans and 3% of Democrats supporting cuts.
The White House in 2018 introduced a broad restructuring plan that included merging the Education and Labor departments into one cabinet agency. This wasn't unprecedented. From 2011 to 2018, lawmakers in the House of Representatives introduced seven bills that proposed abolishing or defunding the Education Department.
Despite some GOP support, the plan mostly received bipartisan pushback and was restricted later by Congress' 2019 funding bill. Congress didn't approve the merger, and the Education Department is still operating as its own agency.
The Trump administration has effectively curtailed the agency's oversight powers by eliminating certain guidances and rules. This includes an Obama-era guidance that was meant to reduce racial disparities in school disciplinary measures, and regulations that kept states accountable for improving teacher training programs and student testing. There are many more examples of deregulation by the Trump administration in the Education Department.
The Trump administration has tried to reduce the Education Department's funding and power, but it hasn't "eliminated" the department. We rate this Promise Broken.
Trump budget proposal would cut department by 13% overall
As a presidential candidate, Donald Trump promised to dramatically scale back the Education Department. In his fiscal year 2018 budget proposal, he doesn't come close to eliminating the department, but he did urge deep cuts.
Overall, his proposed budget would fund the department at $59 billion -- a $9 billion, or 13 percent, reduction from the prior year.
The cuts would include:
• Eliminating Supporting Effective Instruction State Grants program, which generally supports professional development for teachers and efforts to reduce class size. (Savings: $2.4 billion)
• Eliminating the 21st Century Community Learning Centers program for before-school, after-school and summer programs. ($1.2 billion)
• Eliminating the Federal Supplemental Educational Opportunity Grant program, which offers need-based financial aid for higher education. ($732 million)
• Reducing funding for federal TRIO programs (eight separate efforts targeted toward low-income and first-generation college students as well as students with disabilities) and for the GEAR UP program (which offers grants to states and partnerships to improve high-poverty, middle- and high schools). ($193 million combined)
That said, the budget proposal would maintain current spending levels for historically black colleges and universities; Pell Grants, a financial-aid program for higher education; and IDEA programs for students with special-education needs.
In addition, the budget would increase funding in certain areas favored by conservative education reformers, including an additional $1.4 billion for public- and private-school choice.
Presidential budget proposals are always opening volleys in the debate between the administration and Congress over how much executive branch agencies should be funded, so we'll have to see whether these cuts are actually enacted before giving this promise a final rating. The proposal also doesn't "largely … eliminate" the department.
Still, Trump's budget shows that he continues to seek deep cuts in the Education Department, so we rate his promise In the Works.