Despite $1 billion surplus, group says Scott Walker raising state deficit while borrowing is at record high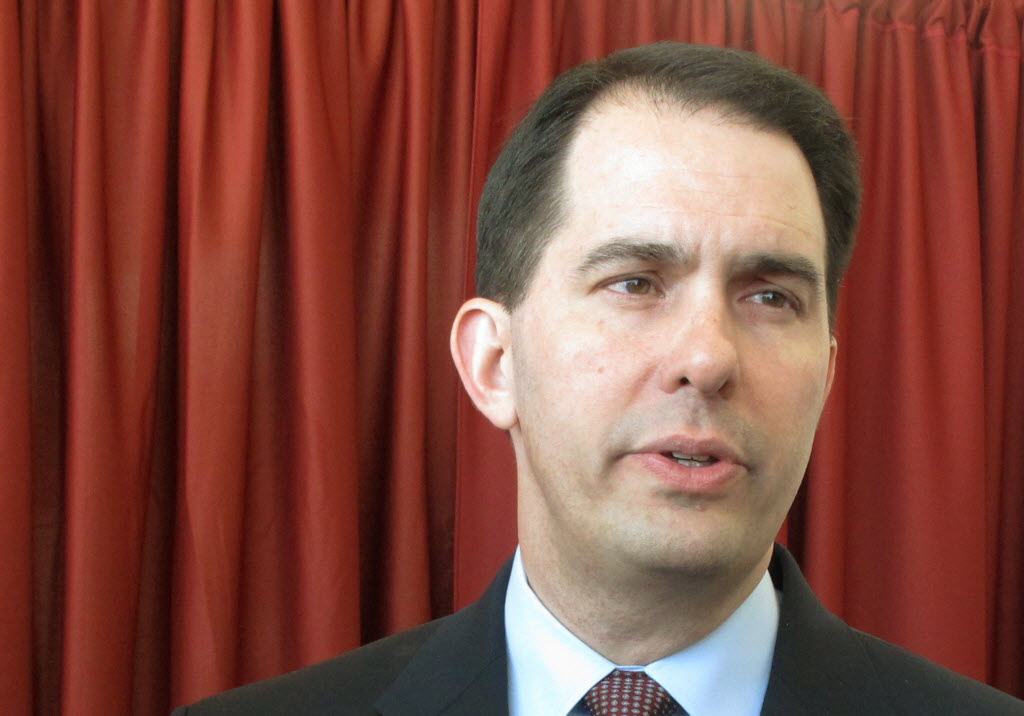 Many times Gov. Scott Walker has proclaimed that he has solved the state government's budget problems. But his political opponents are not willing to cede the fiscal-conservative ground to him.
Democratic gubernatorial candidate Mary Burke has gone after Walker on this score, and on Feb. 17, 2014, she was joined by We Are Wisconsin, a union-backed group.
In a mass email, the group criticized the Republican governor's plan to cut income and property taxes. The group also made a claim by posing a question:
"Irresponsible. What else can you say about increasing the state deficit at a time when borrowing is already at record levels?"
For several weeks before the group made its claim, the news out of Madison was that the state expects a budget surplus approaching $1 billion.
So, how is it that Walker is adding to a deficit? Is state borrowing at a record level?
And, as importantly, is there a connection between the two?
Surplus/deficit
Let's begin with the property and income tax cuts. After action by the state Assembly and Senate, they appeared, as of early March 2014, likely to become law.
Walker proposed the cuts after the nonpartisan Legislative Fiscal Bureau in mid-January 2014 projected that the state will see, mostly as a result of higher-than-expected tax collections, a $977 million surplus by the time the current two-year budget cycle ends in June 2015.
So, how is it that there is talk of a deficit?
When we asked We Are Wisconsin for evidence to back its claim, the group said it was using "deficit" as shorthand for "structural deficit."
But the two are different things.
The structural deficit isn't a measure of any deficit of funds in the current state budget. Rather, as calculated by the Legislative Fiscal Bureau, the structural deficit is a rough estimate of how tax and spending commitments will line up during the next budget period -- in this case, for 2015-'17.
So -- and this is an important point in this context -- we're not talking about red ink like there is at the federal level, where the U.S. government adopts a budget with a deficit and then meets the difference by borrowing money that piles up as the national debt.
In October 2013, after the state's 2013-'15 budget was adopted, the fiscal bureau projected the structural deficit would be $725 million in 2015-'17.
In January 2014, after Walker proposed the income and property tax cuts, thus reducing revenue, the fiscal bureau raised its structural deficit projection to $807 million.
It's worth noting that an $807 million structural deficit is relatively small. When Walker took office in January 2011, the 2011-'13 structural deficit exceeded $2.6 billion.
Both Todd Berry, president of the Wisconsin Taxpayers Alliance, and Jon Peacock, head of the Wisconsin Council on Children and Families' Wisconsin Budget Project, said that since the term structural deficit doesn't measure an actual deficit, a better term might be structural imbalance. That is, there is a projection that expenditures will exceed revenue down the road, which could create a deficit.
But when the state fiscal bureau makes the projection, it does not attempt to estimate how much tax collections might grow. So, it's possible that revenue growth, such as in the current budget cycle, will mean there is no actual deficit in the next budget cycle.
So, it's true that because Walker proposed property and income tax cuts, the structural deficit going into 2015-'17 is higher than it would have been if the 2013-'15 budget had simply remained in place. But that is not the same as saying the state has an actual deficit and that the deficit will increase.
The debt
Now let's look at the state debt and what connection it has to the structural deficit.
To build roads and do other large-scale projects, the state takes on debt. The rationale for it is well understood: Costs can be spread out over years, so that future users of a new highway, for example, help pay the tab for building it. Borrowing, instead of paying cash for a major project, can also alleviate the need for a tax increase.
However, debt can increase in other ways, too.
Governors have responded to a structural deficit by, for example, restructuring debt payments to free up more money in exchange for extending debt payments further into the future. Or by moving money that had been segregated for transportation projects to the general fund and, in turn, borrowing more money for transportation projects.
We Are Wisconsin cited a September 2013 fact-check we did that found that, in the first year of the current biennium -- 2013-'14 -- the state would allocate $738 million in general tax dollars toward debt payments.
That's 5.26 percent of general revenue and, according to the fiscal bureau, the highest such percentage on record.
The figures for 2014-'15 are lower -- $708 million and 4.88 percent.
As for the total amount of debt the state currently has -- most of which was accumulated before Walker -- that is also at a record level, exceeding $14 billion.
But, to repeat, the state's structural deficit and its debt aren't directly connected.
It's not as if an increase in the structural deficit -- which is a projection not actual red ink -- automatically increases the state's debt.
Our rating
We Are Wisconsin stated that, with his proposal to cut income and property taxes, Walker is "increasing the state deficit at a time when borrowing is already at record levels."
The statement contains an element of truth in that state borrowing is at an all-time high -- but, flush with a nearly $1 billion surplus, it's clear the state does not have a budget deficit.
Moreover, an increase in the "structural deficit" -- a projection of a possible imbalance of expenditures and revenues in the future -- has no direct relation to how much the state borrows.
We rate the statement Mostly False.
To comment on this item, go to the Milwaukee Journal Sentinel's web page.