Paul Ryan one of few GOP House members 'to have voted for every bailout,' RedState blogger says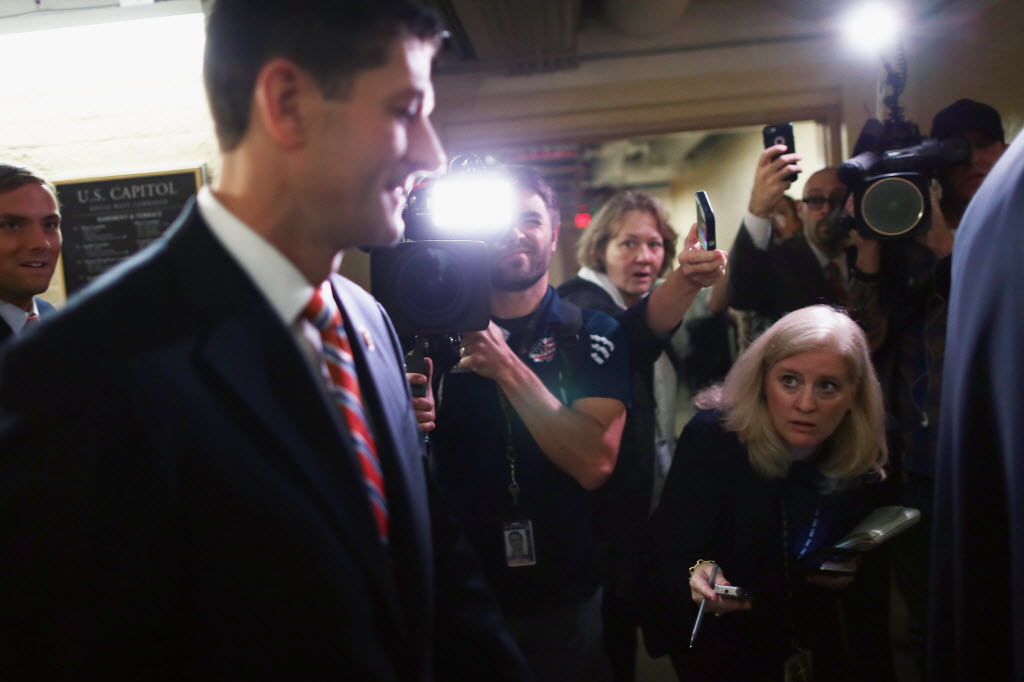 In the frenzy that followed the surprise decision by California Republican Kevin McCarthy to drop his bid for Speaker of the House, all eyes turned to Wisconsin Republican Paul Ryan.
And the knives came out.
The left-wing website Salon slammed Ryan as too conservative, saying he "is just as much a wild-eyed right-wing nut as the rest of them, even if he can occasionally look a bit calmer on the TV."
But even as it appeared that Ryan -- the Ways and Means chairman and 2012 GOP vice-presidential nominee -- was the consensus choice for speaker, he was attacked as not being conservative enough.
Ryan "is a dangerous pick for conservatives," RedState.com editor-in-chief Erick Erickson wrote in a Oct. 9, 2015 blog post.
"While in Congress, he voted for No Child Left Behind, the Prescription Drug Benefit, TARP, caps on CEO pay, the AIG bill, the GM bailout, the debt ceiling, and now the fiscal cliff.
"In fact, Ryan is one of less than a dozen Republican congressmen to have voted for every bailout to come before Congress."
Let's see if the bailout claim against Ryan -- who continues to be wooed, even though he has continued to say he's not going to run for speaker -- is on target.
Ryan's conservativeness
Ryan is widely considered a conservative; indeed, he would be the most conservative House speaker in generations, as measured by a congressional rating system widely used by political scientists.
Of course -- just like it is on the other end of the political spectrum -- there is right wing and then there is more right wing.
Since 1971, the American Conservative Union has rated members of Congress based on legislation the group says is important. On a scale of zero to 100, Ryan, who has been in the House since 1999, has a lifetime rating of 90. On the other hand, his annual rating hit a career-low of 80 in 2011 and again in 2014.
Meanwhile, the Conservative Review, headed by nationally syndicated radio talk show host Mark Levin, gives Ryan a "liberty score" of 58 percent on votes taken over the past six years -- a rating which it equates to a grade of F.
Defining bailout
It's not clear from Erickson's blog post what he regards as a bailout. He did not reply to our requests to provide information to back up his statement.
Bailout, of course, is not a precise term. But there were at least three votes taken by the House on bailouts -- one on the giant bailout known as TARP, one on a separate measure for the auto industry, and one for the federal enterprises known as Freddie Mac and Fannie Mae.
TARP and the Freddie Mac and Fannie May rescues are the bailouts followed by Bailout Tracker, a feature of ProPublica, a Pulitzer Prize-winning investigative news site.
1. TARP
In October 2008, the Democratically controlled Congress approved a $700 billion Troubled Asset Relief Program, or TARP, primarily to rescue banks in response to the subprime mortgage crisis. It was aimed at rescuing banks such as Goldman Sachs, Citigroup and Bank of America.
Later, a bailout of the auto industry also was part of TARP, primarily to Chrysler, General Motors and GM's financial subsidiary, GMAC.
(The total amount was reduced to $475 billion by the Dodd-Frank law in 2010. About $245 billion went to banks and about $80 billion to the auto industry.)
It's worth noting that the measure, known as the Emergency Economic Stabilization Act, was signed into law by a Republican president, George W. Bush. But it was also backed and continued by Bush's Democratic successor, Barack Obama.
TARP passed by a margin of 263-171 in the House. Ryan was among 91 Republicans who voted yes.
Ryan's vote earned him a demerit from the American Conservative Union. He said on the House floor at the time: "This bill offends my principles, but I'm going to vote for this bill in order to preserve my principles, in order to preserve this free enterprise system."
2. Auto bailout bill
In December 2008, the House approved a related auto bailout bill by a vote of 237-170.
Only a third as many Republican voted for the auto measure as voted for TARP. Ryan, whose district was home to a sprawling General Motors plant that closed the same month as the vote, was among 32 Republicans who voted yes. He said in a statement at the time that "because no additional taxpayer dollars were appropriated, I was able to support this legislation."
By our tally, Ryan was one of 20 Republicans who voted for both TARP and the separate auto bailout measure, which did not become law.
That's not less than a dozen, the figure Erickson used. But Ryan is among only five of the 20 who are still in the House.
3. Freddie Mac/Fannie Mae
Freddie Mac (officially, the Federal Home Loan Mortgage Corporation) and Fannie Mae (the Federal National Mortgage Association) are government-sponsored enterprises that help increase the money available for home loans. They were placed under the conservatorship of the Federal Housing Finance Agency in September 2008.
Some $187.5 billion in federal funds have been invested in the two companies, according to ProPublica. Those funds were authorized by a law known as the Housing and Economic Recovery Act, which passed the House more than a year earlier, in August 2007. But Ryan voted against it.
Before we close, we'll note there was also a bailout of AIG, the insurance company, in 2008. But that $182 billion rescue was done with loans from the Federal Reserve and the Treasury Department, not through an act of Congress. And Erickson's claim was limited to those acted on by Congress.
Our rating
Erickson said Ryan "is one of less than a dozen Republican congressmen to have voted for every bailout to come before Congress."
Ryan was one of 20 GOP House members who voted for TARP and for a related auto industry bailout measure that did not become law, although he is only one of only five of those members who are still in the House. On the other hand, Ryan voted against the bailout of Freddie Mac and Fannie Mae.
For a statement that contains an element of truth, our rating is Mostly False.