Get PolitiFact in your inbox.
Case study: How Facebook pages exploit Russia's war in Ukraine with false videos
If Your Time is short
Facebook pages like Fios Vinks and Fiosl Liesi claim to share coverage of the war in Ukraine but instead spread large amounts of misinformation using clickbait headlines and stolen video.

These pages copy content from other platforms, manufacture urgency and invent compelling claims to drive up views.

The pages appear to be connected, pushing viewers to affiliated Facebook groups managed by a single anonymous account. Experts suggest that money is the likely motive.
Twin Facebook pages advertise themselves as providing newsy and up-to-the-minute coverage of Russia's war in Ukraine. But on a given day, their followers might see videos claiming Norwegians raided Russian ships, Vladimir Putin was defeated on "all fronts," or that a single British ship blocked a Russian fleet.
None of those headlines are true. But that doesn't stop the pages Fios Vinks and Fiosl Liesi from earning clicks, views and a monetizable following through false reporting on the war.
The behavior of these obscure pages with their difficult-to-decipher names offers a case study of organized misinformation in one of its cheapest forms. Combined, these pages distribute dozens of videos a day — many plucked from YouTube and paired with sensational headlines — that aim to funnel viewers into larger Facebook groups that could be sold to buyers seeking large social media audiences. The pages appear to be part of a larger network and managed by a single, anonymous account. Their campaigns spread fast, outpacing fact-checks and creating confusion.
"It's a parasitic network that's trying to monetize the invasion of another country," said Emerson Brooking, a resident senior fellow at the Digital Forensic Research Lab of the Atlantic Council.
After fact-checking videos from both pages multiple times, PolitiFact wanted to learn more about the origins of the pages, their prolific posting patterns, and what their endgames might be.
PolitiFact reached out to both Facebook pages and did not receive a response.
Strategies of wartime misinformation
Fios Vinks and Fiosl Liesi were created two days apart in late March 2022, almost a month after the Russian invasion of Ukraine began. The accounts share several videos a day, each posting around 50 videos per week.
There is no original content. Instead, the pages lift videos from several YouTube channels — never linking to the original videos.
Copying content from other platforms "is a big way that coordinated disinformation campaigns are able to produce a lot of content without having to produce it themselves," said Jo Lukito, assistant professor at the University of Texas at Austin's School of Journalism and Media.
The format of their video posts is nearly always the same: a clickbait caption ("Putin is Crying!" or "BIG EXPLOSION"), a thumbnail with relevant photos (Putin, fiery backdrops, weaponry), and large, urgent text proclaiming "Breaking News."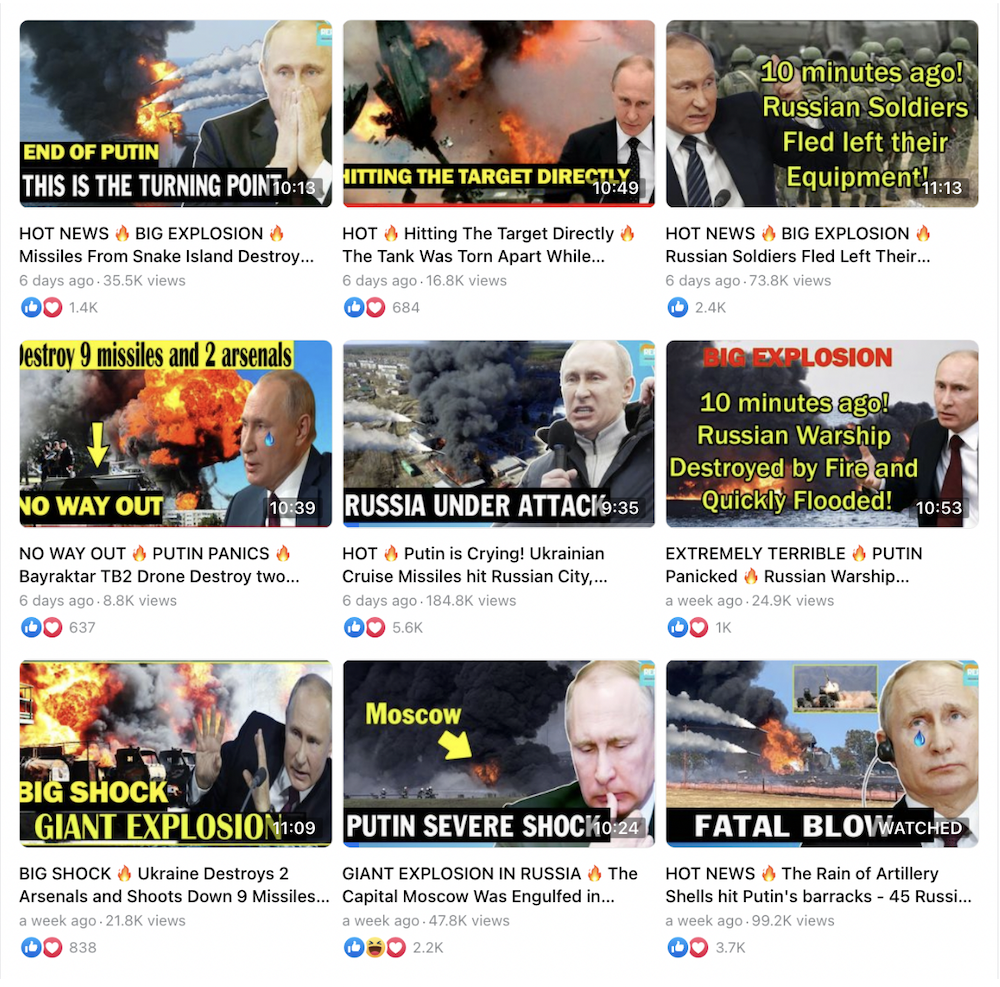 Screenshot of Fiosl Liesi Facebook page
Viewers are shown eight to 12 minutes of often unrelated footage through monotone, robotic narration. The clicks come anyway; Fios Vinks' highest-viewed video in one week garnered 227,000 views. Fiosl Liesi's June 23 post video titled "GIANT EXPLOSION IN RUSSIA! PUTIN Panicked!" has more than 1.2 million — even though there was no missile attack on a Russian gas station, as described in the video.
Sometimes, the headlines are loaded with specifics that give off a whiff of credibility. Without knowledge of artillery and eastern Ukraine, it would be hard to verify a recent headline that claimed the Ukraine army intercepted a "TOS-1A rocket launcher" and "destroyed Russia T-72B tank near Derhachi."
The videos also manufacture a sense of urgency. Videos on both pages claim to cover events that happened 10, 15 and "20 minutes ago!" Identical videos posted several days apart repeatedly claim the same event just happened.
Other videos miscaption historic events. A video of a 2018 mall fire was used to claim that Moscow was a "sea of fire" after a missile attack, which we rated Pants on Fire. Another took a 2020 incident when Russian bombers approached Alaskan airspace and claimed it happened "12 minutes ago!"
"That sort of imminency does make people click," said Brooking of the Atlantic Council. "There aren't that many situations in which you can repeatedly get away with it, but you certainly can in the context of war."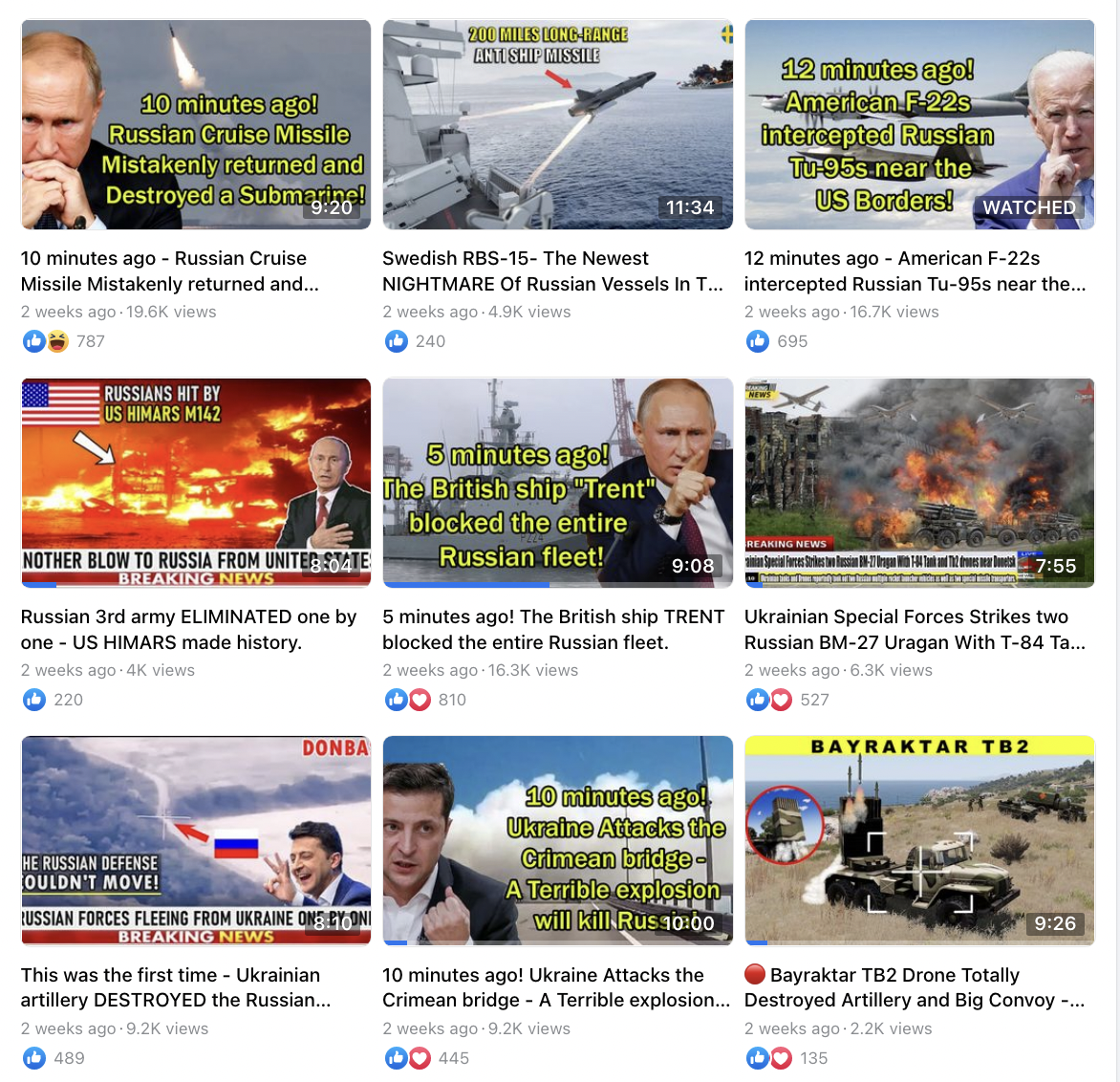 Screenshot of the Fios Vinks Facebook page
The value of building Facebook groups
The content on Fios Vinks and Fios Liesi is sympathetic to Ukraine, occasionally celebrating the heroics of Ukrainian soldiers or exaggerating Russia's failures. But the overall goal doesn't seem to be propaganda.
The pages could be making money, though not through the videos themselves. (We did not find in-stream ads in our search.)
The less obvious tactic is to get users to join Facebook groups. Under nearly every post in Fios Vinks and Fiosl Liesi, the pages invite viewers to like, share, subscribe and join one of two Facebook groups: "Ukraine Vs Russia" or "BREAKING NEWS UKRAINE VS RUSSIA."
Both groups began in August 2021, six months before the war, and previously had Vietnamese names. "Ukraine Vs. Russia" used to be called "Mua Bán Acc Liên Quân Mobile," according to the page's transparency information on Facebook — and people used it to buy and sell video game accounts. "BREAKING NEWS UKRAINE VS RUSSIA" once went by a name that translates to "Vietnam Beverage Mixing Association," where vendors sold items like old cash registers, tea carts, and custom coasters.
Despite their disparate beginnings, information for both groups shows they are owned by the same account — a user with nine followers who goes by the name "Vanessa Oliveira" — and ​​have shared administrators, and post similar, if not identical, content about the war. The groups have 75,100 and 62,400 members, respectively.
Our reporting uncovered several more Facebook pages that share similar videos, and use their comment sections to direct users to join the same pair of Facebook groups. Both Lukito and Brooking suspect these pages are all part of the same network.
Experts said it is not uncommon for pages seeking profit to build large groups based on one newsworthy topic, and in the future, pivot the content of the group to advertisements and spam, or sell the group itself to a buyer who is eager for the attention of its thousands of existing followers. Other social media platforms see this behavior, too.
"The group is a valuable financial asset," said Brooking.
Facebook does not remove content or pages from the platform just because it contains misinformation. The false claims must be considered harmful to violate Facebook's Community Standards.
But tactics of "audience harvesting," as Brooking describes it, could be in violation of Facebook's rules against "inauthentic behavior," which includes misleading users about the ownership, purpose, or origin of the content.

The pages are penalized — but not taken down — when videos they share are fact-checked as false by third-party fact-checkers, including PolitiFact. Penalties include limited monetization, removal from recommendations, and being demoted in News Feeds. (PolitiFact identified many of the videos in this story through its partnership with Facebook. Read more about our partnership here.) In extreme cases, Facebook will give users a warning that an account frequently produces misinformation.
But beacuse of the volume of videos being posted by pages like Fios Vinks and Fiosl Leisi, many false claims and videos go unchecked. And by disseminating the same posts across several pages and accounts, it makes networks like these more durable if one page gets fact-checked too many times.
In practice, the approach to moderating these accounts mimics whack-a-mole. Over the course of our reporting, Fios Vinks began directing followers to a new Facebook group: Breaking News Todays.
"Unfortunately, it's a perennial feature of war in the social media age," said Brooking. "I think the best we can do is expect it."
PolitiFact researcher Caryn Baird contributed to this report.
Interview with Emerson Brooking, Resident Senior Fellow at the Digital Forensic Research Lab of the Atlantic Council, July 11 and July 13, 2022
Interview with Jo Lukito, Assistant Professor at the University of Texas at Austin's School of Journalism and Media, July 12, 2022
Email interview with Quang Phu Van, professor of Vietnamese Language and Literature at Yale University, July 20, 2022
Fios Vinks page, (archived) accessed July 22, 2022
Fios Vinks Facebook video, "American F-35 fighters flew to the snake island," June 30, 2022
Fios Vinks Facebook video, "JUST NOW- The Ukrainian army dealt a mortal blow to Russia," June 29, 2022
Fios Vinks Facebook video, "30 British aircraft intercepted Russia's black sea fleet," July 1, 2022
Fios Vinks Facebook video, "BIG EXPLOSION - Ukraine Special Forces Encircle And Destroy Russian Troops From 3 Directions," (archived) July 7, 2022
Fios Vinks Facebook video, "The rain of artillery shells hit Putin's barracks," July 6, 2022
Fios Vinks Facebook video, "This is the record of Ukraine!" July 7, 2022
Fios Vinks Facebook video, "Ukrainian special forces launched TOTAL ATTACK against Russian army," July 7, 2022
Fios Vinks Facebook video, "The Russian General sinks a Warship of the Russian Black Sea Fleet," July 3, 2022
Fios Vinks Facebook video, "And finally this also happened! The War Has Changed Now" (archived), July 4, 2022
Fios Vinks Facebook video, "10 minutes ago! Ukraine Attacks the Crimean bridge - A Terrible explosion will kill Russia," July 7, 2022
Fios Vinks Facebook video, "20 Minutes ago! Norwegian ships raided the Russian frigate 'Admiral Gorshov'" (archived) July 7, 2022
Fios Vinks Facebook video, "15 Minutes ago! The French Military captured a Russian ship in the English Channel" July 6, 2022
Fios Vinks Facebook video, "Hour ago! The British ship Trent blocked the entire Russian fleet," (archived) July 6, 2022
Fios Vinks Facebook video, "5 minutes ago! The British ship TRENT blocked the entire Russian fleet," July 8, 2022
Fios Vinks Facebook live event, July 9, 2022
Fios Vinks Facebook video, "Bayraktar Tb2 Drone Destroyed Tactical Missile Launcher," July 9, 2022
Fios Vinks Facebook video, "American F-22s intercepted Russian Tu-95s near the US Borders," (archived), July 9, 2022
Fiosl Liesi page, (archived) accessed July 22, 2022
Fiosl Liesi Facebook video, "GIANT EXPLOSION IN RUSSIA," July 6, 2022
Fiosl Liesi Facebook video,"HOT PUTIN PANICS Norwegian Ships Raided the Russian Frigate Admiral Gorshov!" July 7, 2022
Fiosl Liesi Facebook video, "Putin is Crying! Ukrainian Cruise Missiles hit Russian City," (archived) July 6, 2022
Fiosl Liesi Facebook video, "BIG EXPLOSION Ukraine destroys 8 Russian Arsenals in one day!," July 11, 2022
Fiosl Liesi Facebook video, "AGHAST! Russian Territory is Bombarded by HIMARS!" July 8, 2022
Fiosl Liesi Facebook video, "GIANT EXPLOSION IN RUSSIA! PUTIN Panicked!" (archived) June 23, 2022
Fiosl Liesi Facebook video, "PUTIN Calls For Help! Ukraine army intercept TOS-1A rocket launcher," June 19, 2022
Fiosl Liesi Facebook video, "EXTREMELY TERRIBLE PUTIN Bitter at Total Defeat in Donbas," (archived) July 11, 2022
Fiosl Liesi Facebook videos, "EXTREMELY TERRIBLE PUTIN Troops Were Forced to Withdraw Humiliatingly After Defeat on all Fronts in Ukraine," (archived) July 7, 2022
Facebook group, "BREAKING NEWS UKRAINE VS RUSSIA," accessed July 12, 2022
Facebook group, "Ukraine Vs Russia," (archived) accessed July 22, 2022
Facebook profile, accessed July 12, 2022
Facebook Page Yikso Kitz, (archived) accessed July 22, 2022
Facebook Page Miosk Hikoas, (archived) accessed July 22, 2022
Facebook Page Ukraine & Russia, (archived) accessed July 22, 2022
Facebook Group, Breaking News Todays, (archived) accessed July 19, 2022
PolitiFact, "No, Moscow was not targeted in a missile attack," June 30, 2022
PolitiFact, "Moscow wasn't 'engulfed in flames'," July 8, 2022
PolitiFact, "No, a Ukrainian attack didn't destroy a Moscow skyscraper," July 7, 2022
PolitiFact, "Claims that Russia bombed Ukraine's Snake Island after troop withdrawal have not been independently verified," July 12, 2022
YouTube Channel, US Daily Brief, (archived) accessed July 13, 2022
YouTube Channel, Daily News, (archived) accessed July 13, 2022
YouTube Channel, REP UPDATE, (archived) accessed July 13, 2022
YouTube Channel, InMinutes, (archived) accessed July 13, 2022
YouTube Channel, US NEWS, (archived) accessed July 13, 2022
YouTube Channel, Latest Daily News, (archived) accessed July 13, 2022
YouTube Channel, US GEGE, (archived) accessed July 13, 2022
NPR, "Here's how propaganda is clouding Russians' understanding of the war in Ukraine," March 15, 2022
Scientific American, "Russia's Information War Is Being Waged on Social Media Platforms," March 8, 2022
Meta, "Meta's Ongoing Efforts Regarding Russia's Invasion of Ukraine," February 26, 2022
Meta, "Misinformation," accessed July 13, 2022
Meta, "Content Monetization Policies," accessed July 13, 2022
ABC News, "Russian bombers intercepted 8 miles from US airspace," June 10, 2020
Meta, "Facebook's Enforcement of Fact-Checker Ratings," accessed July 20, 2022
Meta, "Penalties for sharing fact-checked content," accessed July 20, 2022
Meta, "Counting strikes," accessed July 20, 2022
Meta, "Restricting accounts," accessed July 20, 2022
Meta, "Facebook Community Standards," accessed July 20, 2022
Meta, "Inauthentic Behavior," Accessed July 21, 2022
Browse the Truth-O-Meter
More by Grace Abels