Stand up for the facts!
Our only agenda is to publish the truth so you can be an informed participant in democracy.
We need your help.
I would like to contribute
If Your Time is short
Kari Lake claimed thousands of Maricopa County voters were disenfranchised because of ballot counting equipment issues Nov. 8.

On Election Day, some vote counting machines couldn't read some ballots because of a printing error. The equipment problems happened at about 70 of the county's 223 vote centers.

Still, election officials said that voters who wanted to cast a ballot in person could. Experts from voting rights groups also rebutted claims that Maricopa County voters were disenfranchised.
Republican Kari Lake shared a video on Twitter saying she remained "in the fight" to become Arizona's next governor and claiming that voters had been disenfranchised in Maricopa County. Three days earlier, media organizations projected that Democrat Katie Hobbs, Arizona's secretary of state, had won the closely watched gubernatorial contest.
"On Election Day, nearly half of all polling locations had problems with tabulation machines and printers," Lake said in the Nov. 17 video. "Malfunctioning tabulation machines forced voters to wait in line for hours to exercise their sacred right to vote."
Echoing former President Donald Trump's falsehoods about election fraud, Lake said Maricopa County election officials "failed" voters and that "tens of thousands of Maricopa County voters were disenfranchised."
On Election Day, some of Maricopa County's ballot tabulation machines could not read the ballots because of a printing error. But Lake's claim that those issues caused widespread voter disenfranchisement is inaccurate.
The equipment malfunction was real — and inconvenienced some voters. Those voters were still given options to vote, however.
Sarah Brannon, managing attorney with the American Civil Liberties Union's voting rights division, said she did not know of any evidence of voters being "completely disenfranchised" and "unable to cast a ballot at all."
The tabulator issue was an "unfortunate failure," Brannon said, but she credited election officials for working to resolve the issue and offering alternative voting methods.
Election officials said that voters who wanted to cast a ballot in person could do so.
Some voting centers had issues with ballot counting machines
In Maricopa County, voters typically feed their completed ballots into tabulator machines to count ballots; optical scanners record each vote. It is normally the last step for in-person voters.
On Election Day, however, some tabulators at some county vote centers stopped taking some or all ballots. The issue affected about 70 of the county's 223 vote centers that opened that day.
At about 2 p.m. local time, Maricopa County Board of Supervisors Chairman Bill Gates said the problem, caused by a printing error, had been fixed at 17 vote centers and repair work was underway at other centers.
"Even when we did have this active issue, still, there was no one who came today with a valid ID who was turned away from the polls," Gates said Nov. 8. He said people were given ballots to fill out, and if the tabulators refused to read the ballot, people were presented with alternative ways to vote:
People could try feeding their ballot in a different tabulator or stay and wait for a tabulator to work properly (sometimes waiting in long lines);

They could spoil the ballot they'd been given at one location and go to a different location that wasn't experiencing tabulator problems;

They could put their completed ballots in a secure slot marked "No. 3" and officials would tabulate them later.
About 7% of all in-person ballots in Maricopa County — or about 17,000 ballots — were impacted by the technical issues and placed in box No. 3, Gates said Nov. 9.
As of Nov. 17, county officials were examining whether 146 provisional ballots could be counted. Votebeat Arizona reported that those ballots were from voters who checked in with poll workers at a vote center and left without being checked out. However, no statewide race was decided by fewer than 500 votes, according to Arizona's uncertified election results as of Nov. 21.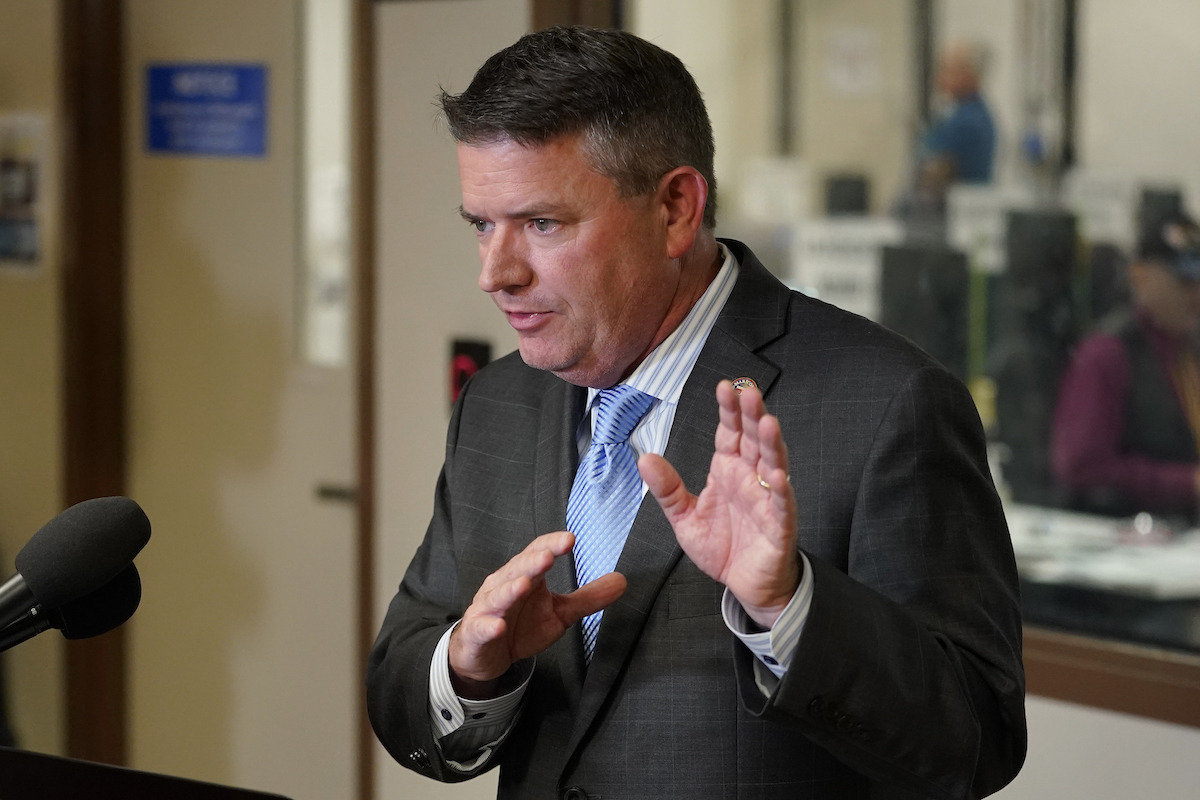 Maricopa County Supervisor Bill Gates speaks inside the Recorders Office, Nov. 9, 2022, in Phoenix. (AP)
People were given options on how to vote
Voters in Maricopa County were not disenfranchised, according to voting rights experts, election officials and a local judge.
"People were still able to vote, it was just a matter of maybe not voting in the way they wanted to," Gates said Nov. 8. "We do not believe that anyone has been disenfranchised, because no one has been turned away."
Ross Trumble, Lake's spokesperson, said voters' video testimonials that Lake shared on her Twitter and Instagram pages supported her claim that voters were disenfranchised Nov. 8. But a New York Times analysis found that about 75% of voters offering those accounts said they had been inconvenienced, but ultimately able to cast a ballot. Most others were vague about whether they'd been able to cast ballots that were counted.
"Every voter who went to one of the voting locations affected was still able to cast their ballot," said Sophia Solis, an Arizona secretary of state's office spokesperson. Ballots that could not be tabulated at vote centers were instead tabulated at the Maricopa County Tabulation and Election Center, a central count site, which is "how most counties process Election Day ballots," she said.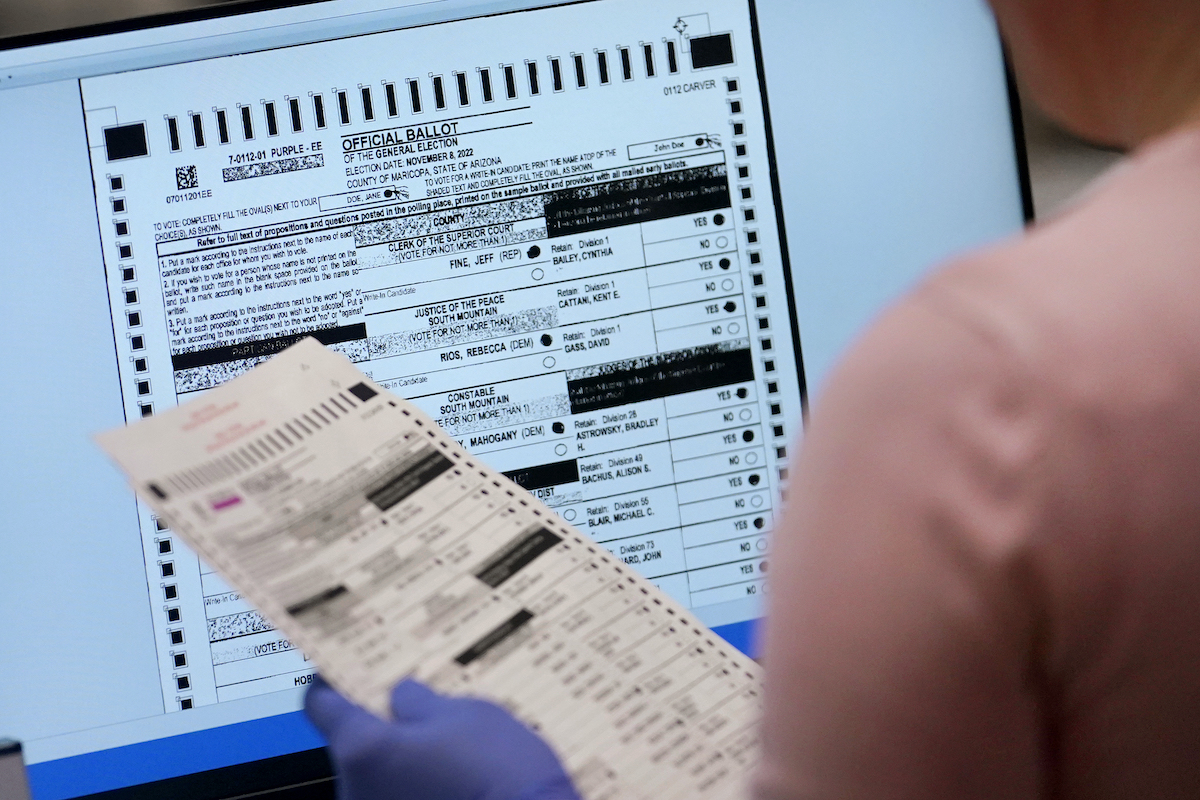 An election worker verifies a ballot on a screen inside the Maricopa County Recorders Office, Nov. 10, 2022, in Phoenix. (AP)
Alex Gulotta, the Arizona state director of the voting rights advocacy group All Voting Is Local, said he had not seen evidence that voters were disenfranchised, although the tabulator problems sometimes caused lines that "exceeded best practice standards."
Ideally, people should not wait more than 30 minutes to vote, and some people had to wait longer than that in some locations, Gulotta said. Still, all voters in line when polls closed were allowed to vote, he said.
News reports said that some voters waited in line for a few hours. But long lines alone aren't a sign of voter disenfranchisement, said Charles Stewart, a political science professor at MIT.
There is some evidence long waits can be disenfranchising for minority communities, Stewart said. "However, if the effect isn't systematic, but due to random bad luck, it's hard to argue that's disfranchisement."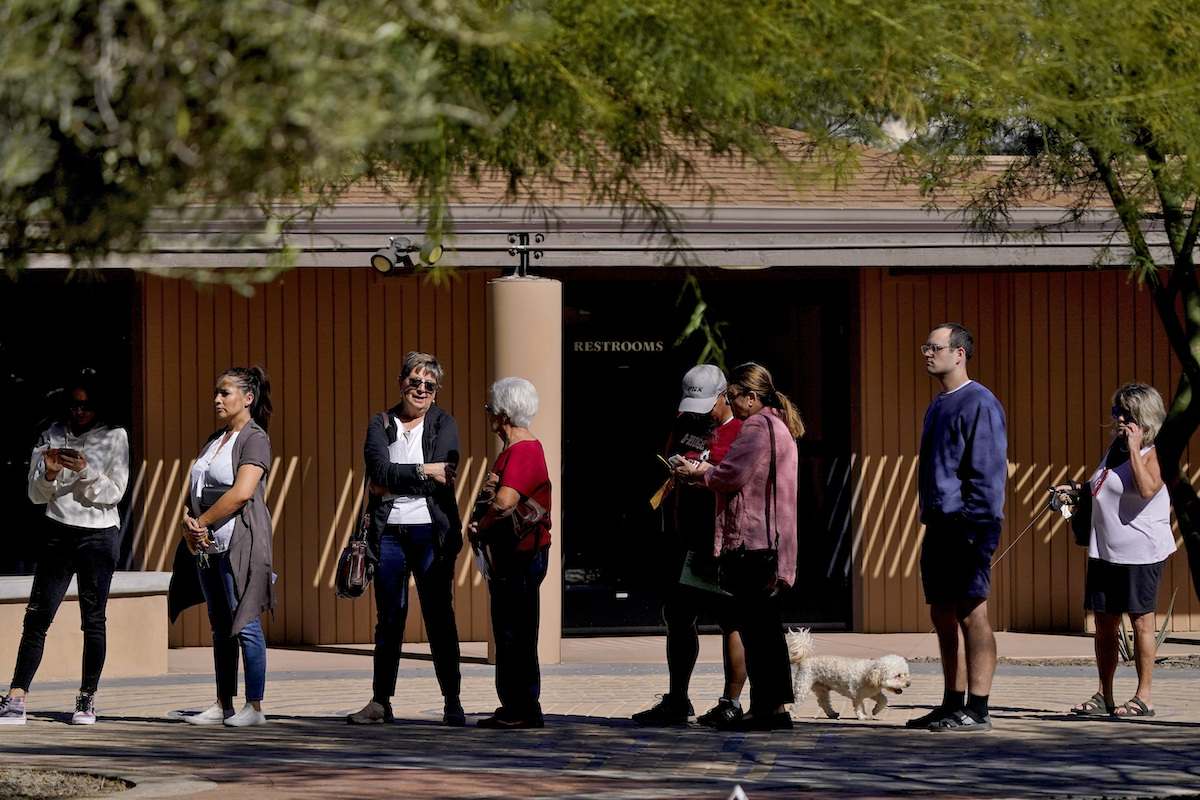 Voters wait in line outside a polling station, Nov. 8, 2022, in Tempe, Ariz. (AP)
Technical problems at voting centers Maricopa County did not disproportionately affect Republican voters, according to a Washington Post analysis that contradicts claims from Lake and Trump.
The Republican National Committee sued to keep Maricopa County vote centers open an additional three hours on Election Day. It argued that the voting equipment issues and incorrect instructions from poll workers prevented people from voting.
A court rejected the request, saying there was no evidence that voters were precluded from voting. The plaintiffs voluntarily dismissed the lawsuit Nov. 15.
PolitiFact staff writer Amy Sherman and contributing writer Sara Swann contributed to this report.
RELATED: No, Maricopa vote tabulators didn't lead to ballots with 'no chain of custody'
RELATED: Arizona's widespread use of mail-in voting and close margins created longer wait for results
Kari Lake's tweet Nov. 17, 2022
Interview with Sarah Brannon, managing attorney with the ACLU's Voting Rights Project, Nov. 18, 2022
Email interview with Sophia Solis, an Arizona secretary of state's office spokesperson, Nov. 17, 2022
Email interview with Alex Gulotta, All Voting Is Local's Arizona state director, Nov. 17, 2022
Email interview with Charles Stewart, professor of political science at MIT, Nov. 17, 2022
Emailed statement from Pam Smith, president of Verified Voting, Nov. 18, 2022
Emailed statement from Ross Trumble, a spokesperson for Kari Lake, Nov. 18, 2022
PolitiFact, No, Maricopa vote tabulators didn't lead to ballots with 'no chain of custody,' Nov. 8, 2022
ABC15 Arizona on YouTube, Maricopa County election officials speak about voting issues, Nov. 8, 2022
Arizona Republic, Judge rejects emergency GOP lawsuit to extend voting hours in Maricopa County, Nov. 8, 2022
The New York Times, Kari Lake says she is 'exploring every avenue' to fight her loss, despite no sign of election-tilting problems, Nov. 17, 2022
The Associated Press, Hobbs wins Arizona governor's race, flipping state for Dems, Nov. 14, 2022
Arizona's Family 3TV/CBS 5, 245,000 people vote in person in Maricopa County despite tabulation problems, long lines officials say, Nov. 8, 2022
AZ Mirror, Judge rejects last-minute GOP plea to keep Maricopa County polls open longer, Nov. 8, 2022
The Washington Post, Problems with voting machines in Arizona's Maricopa County trigger unfounded fraud claims, Nov. 8, 2022
The Associated Press, Voting snag in Arizona fuels election conspiracy theories, Nov. 9, 2022
The Associated Press, Arizona officials correct false claims about ballot issues, wait times, Nov. 8, 2022
The Washington Post, Arizona precincts with voting problems were not overwhelmingly Republican, Nov. 13, 2022
Cronkite News, Judge rejects GOP request to extend voting hours after tabulation issues in Maricopa County, Nov. 8, 2022
PolitiFact, Arizona's widespread use of mail-in voting and close margins created longer wait for results, Nov. 15, 2022
Maricopa County tweet, Nov. 8, 2022
Democracy Docket, Notice of voluntary dismissal without prejudice No. CV2022-014827, Nov. 15, 2022
Democracy Docket, Emergency motion for temporary restraining order or preliminary injunction No. CV2022-014827, Nov. 8, 2022
Votebeat Arizona, 146 Arizona voters' ballots remain in limbo after Election Day printer problems, Nov. 17, 2022
The New York Times, Kari Lake Claims Her Voters Were Disenfranchised. Her Voters Tell a Different Story, Nov. 19, 2022
State of Arizona Secretary of State, 2022 General election, accessed Nov. 21, 2022
Tweet from Bill Gates, Maricopa County Board of Supervisors, Nov. 8, 2022
Maricopa County Elections Department on Facebook, video message from Chairman Bill Gates and Recorder Stephen Richer, Nov. 8, 2022
Clerk of Court Maricopa County, Court decision on emergency motion for temporary restraining order or preliminary injunction No. CV2022-014827, Nov. 8, 2022
Statement from Stephen Richer, Maricopa County Recorder, Nov. 8, 2022
Browse the Truth-O-Meter
More by Madison Czopek