Stand up for the facts!
Our only agenda is to publish the truth so you can be an informed participant in democracy.
We need your help.
I would like to contribute
Dominion Voting Systems' defamation lawsuit against Fox News: What to know before the trial
A Delaware jury may soon decide whether Fox News knowingly published defamatory statements about Dominion Voting Systems — and whether the election equipment company should receive more than $1 billion in damages as a result.
Without explaining why, a judge said April 16 that the trial's start would be delayed a day until April 18. Citing unnamed sources, The Washington Post reported the delay was meant to accommodate last-minute settlement talks.

Ahead of the scheduled proceedings, we've compiled a guide to help you make sense of this lawsuit. 
What's at issue, who's involved and what terms do you need to know to decipher the legal jargon?
What is Dominion suing over? 
In its lawsuit, Dominion Voting Systems argues that, to boost the network's ratings, Fox News defamed Dominion by broadcasting numerous false claims that the company's voting technology had rigged the 2020 presidential election. 
"Fox endorsed, repeated, and broadcast a series of verifiably false yet devastating lies about Dominion," read its complaint. It alleged that Fox said Dominion rigged the election using its voting equipment and told its viewers that:
Dominion's software and algorithms manipulated vote counts;

Dominion is owned by a company founded in Venezuela to rig elections for the dictator Hugo Chávez;

Dominion paid kickbacks to government officials who used its machines for the 2020 election.
Fox has argued that its broadcasts were protected by the First Amendment's protections for the media, saying that it was trying to cover the news, which included claims by former President Donald Trump and his allies that a national election was rigged. 
Terms to understand: Defamation, actual malice, defamation per se 
Defamation is the act of making untrue statements that damages a person or entity's character, fame or reputation, according to legal resources. 
"To win the case and hold Fox liable for damages, Dominion has to show, by clear and convincing evidence, that Fox published a statement about it that was both false and harmful to Dominion's reputation, and that it did this with what the law calls 'actual malice,'" RonNell Andersen Jones, a University of Utah S.J. Quinney College of Law professor and First Amendment scholar, told PolitiFact.
A statement was made with actual malice if it was made with the knowledge that it was false or with "reckless disregard for the truth," Jones said. 
Both Fox and Dominion asked Delaware Superior Court Judge Eric Davis to rule in their favor rather than sending the case to trial. But Davis ruled March 31 that neither party had presented an adequate argument for him to determine whether Fox acted with actual malice. That "must be determined by a jury," he wrote. Fox is incorporated in Delaware, giving its court system jurisdiction of the case.
Davis ruled that the statements about Dominion were false, however. The evidence demonstrates that it "is CRYSTAL clear that none of the statements relating to Dominion about the 2020 election are true," he wrote. 
Davis also ruled that Fox's false statements about Dominion were defamation per se, which he wrote, is true, legally, if the statement "charges the plaintiff with a serious crime" or "tends to injure the plaintiff in her or his trade, business or profession." As a result, Dominion does not need to prove that it was financially harmed by Fox News' falsehoods to qualify for damages; the harm is presumed. 
The 12-person jury will evaluate whether Fox acted with actual malice.
"Dominion has to show a state of mind — that Fox told these falsehoods either literally knowing that they were lies or having a very high degree of awareness that they probably were lies," Jones said. "It's an incredibly tough thing to show, and most (defamation) cases do not proceed this far."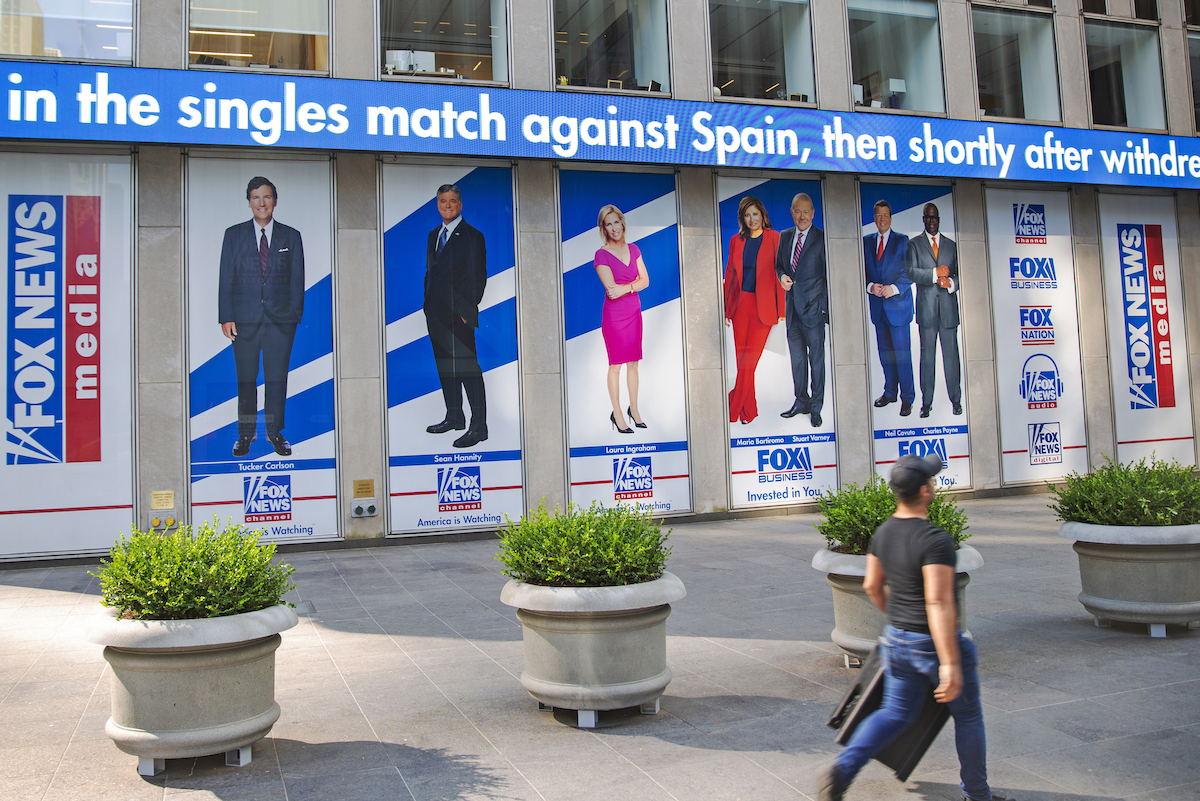 The Fox News studios at News Corporation headquarters is seen in New York on July 31, 2021. (AP)
Who are the key players? 
Denver-based Dominion Voting Systems supplies voting technology used in 28 states and Puerto Rico.
The lawsuit centers on Fox News Network broadcasts. The 24-hour cable network's corporate leadership, hosts and on-air personalities have been among the people named by Dominion and Fox as potential trial witnesses who could be called to testify, including:
Fox News personalities Tucker Carlson, Sean Hannity, Brett Baier, Maria Bartiromo, Jeanine Pirro and former host Lou Dobbs;

Fox News CEO Suzanne Scott;

Fox Corp. Chair Rupert Murdoch;

Fox Corp. Executive Chair and CEO Lachlan Murdoch;

And former House Speaker Paul Ryan, who is now a Fox Corp. board member.
Former Fox News producer Abby Grossberg has also received attention during these legal proceedings. She was deposed in Dominion's case and has claimed that Fox lawyers pressured her into giving misleading testimony to protect the network and its personalities. She has suedl Fox, accusing its legal team of wrongful conduct. Fox News has denied her allegations.
Internal communications among Fox staffers were obtained in the discovery process and suggest that Fox News personalities had privately expressed concerns and doubts about claims about the Dominion election fraud claims. 
What's at stake?
Dominion is suing for $1.6 billion in damages. The company alleges that Fox News' amplification of false statements about Dominion resulted in threats to employees that make it difficult to retain staff and caused Dominion to lose business from counties where public trust in voting technology was eroded. 
In a statement, Fox News said Dominion's lawsuit was financially and politically motivated and would come at the cost of First Amendment protections. "Fox News remains steadfast in protecting the rights of a free press, given a verdict for Dominion and its private equity owners would have grave consequences for the entire journalism profession," the statement said.
Jones of S.J. Quinney College of Law said the case raises major issues about media and "the role of disinformation in the lives of American information consumers." It's also important because arguments on both sides are based in democratic values.
"Fox will argue that democracy demands a wide scope of protection for press freedom, even for statements that are false," Jones said. "Dominion will argue that a conscious corporate decision to lie, about something as important as election integrity, is itself a grave risk to democracy."
In a last-minute motion April 16, Fox attorneys said Dominion had reduced its damages demand by a half-billion dollars. A Dominion spokesperson refuted that in a statement to PolitiFact, saying the $1.6 billion damages claim remains.
What happens next? 
Barring a last-minute settlement, the trial is set to begin April 18. It is expected to last five to six weeks. 
The trial will not be televised, and the judge has banned any recording or rebroadcasting of the court-provided audio feed. 
RELATED: Dominion-Fox lawsuit: Looking back at false claims about voting machine company
Email interview with RonNell Andersen Jones, Lee E. Teitelbaum chair and professor of law at the University of Utah S.J. Quinney College of Law, April 14, 2023
Interview with Gerry Lanosga, an associate professor at the Indiana University Media School, April 17, 2023
Emailed statement from Fox News spokesperson, April 17, 2023
Emailed statement from Dominion Voting Systems spokesperson, April 17, 2023
The Associated Press, Judge: Dominion defamation case against Fox will go to trial, March 31, 2023
The Guardian, Judge lets Dominion's defamation case against Fox News go to trial, March 31, 2023
PBS NewsHour, Fox News goes on trial in Dominion's $1.6B defamation suit, April 13, 2023
CNN, GOP distrust in voting machines persists as Dominion and Fox News head to legal showdown, April 11, 2023 
ABC News, Jury selection underway in Dominion's $1.6 billion defamation case against Fox News, April 13, 2023
Reuters, Trial date set in defamation suit against Fox News over U.S. election claims, April 13, 2023
NPR, Compare the election-fraud claims Fox News aired with what its stars knew, Feb. 18, 2023
CBS News, Dominion's case against Fox News goes to trial: What to know about the $1.6 billion defamation lawsuit, April 11, 2023
CBS News, Dominion Voting Systems sues Fox News for $1.6 billion in defamation lawsuit, March 26, 2021
NBC News, In a loss for Fox News, judge allows Dominion's defamation case to go to trial, March 31, 2023
Deadline, Fox And Dominion Attorneys Wrap Up Arguments In Defamation Hearing, But No Ruling Yet From Judge – Update, March 22, 2023
CNN, Judge rules Dominion can't bring up January 6 at Fox News defamation trial, scolds Fox attorneys over Rupert Murdoch's role, April 12, 2023
NPR, The math behind Dominion Voting System's $1.6 billion lawsuit against Fox News, April 14, 2023
Lexology, 10 Things You Should Know About the Dominion v. Fox Defamation Case, Feb. 15, 2023
The Law Dictionary, Defamation definition & legal meaning, accessed April 14, 2023
Law.com Dictionary, Defamation, accessed April 14, 2023
Time, What to Know About the Fox-Dominion Defamation Trial, April 11, 2023
CNN, Fox News producer files explosive lawsuits against the network, alleging she was coerced into providing misleading Dominion testimony, March 21, 2023
CNN, Ex-producer escalates lawsuit, claiming Fox News lawyers deleted messages from her phone, April 14, 2023
Vanity Fair, The Dominion v. Fox News Trial Will Not Be Televised: "It's a Gift to Fox News," April 14, 2023
Fox Corp., Board of directors, accessed April 14, 2023
Delaware Superior Court Access to Court Documents and Docket, accessed April 14, 2023
NPR, Compare the election-fraud claims Fox News aired with what its stars knew, Feb. 18, 2023
The Washington Post, Dominion v. Fox trial delayed for settlement talks, people familiar with the matter say, April 17, 2023
The Associated Press, Judge delays trial over Fox News and 2020 election lies, April 17, 2023
NPR, Judge prepares for start of Dominion v. Fox trial amid settlement talks, April 17, 2023
Browse the Truth-O-Meter
More by Madison Czopek