Get PolitiFact in your inbox.
Ask PolitiFact: Can Georgia Republicans oust Fulton County DA Fani Willis?
If Your Time is short
Georgia Gov. Brian Kemp signed a law in May that creates the Prosecuting Attorneys Qualifications Commission to investigate complaints about district attorneys.

Republicans are expected to file a complaint against Fulton County District Attorney Fani Willis, who is prosecuting former President Donald Trump for allegedly conspiring to overturn the 2020 presidential election results.

A group of prosecutors are challenging the law in court and say it violates their free speech and prosecutorial discretion. Kemp said he sees no basis for action against Willis but that the decision will be left with the commission.
Former President Donald Trump's Georgia allies are eyeing a new path to potentially thwart prosecution against him on allegations that he conspired to overturn the 2020 presidential election.
Fulton County District Attorney Fani Willis, who brought the case against Trump, could be the first prosecutor investigated by the Prosecuting Attorneys Qualifications Commission, a new entity. 
Georgia state lawmakers this spring passed a law creating the commission, a body of eight people appointed by top elected Republicans that has the power to investigate complaints about local district attorneys and remove them. Republican Gov. Brian Kemp signed the commission into law in May.
One Republican state lawmaker has already said he plans to file a complaint against Willis after the commission starts taking complaints in October. But it's impossible to predict what will come of that complaint, or how any of that could affect the case against Trump. Kemp on Aug. 31 said he saw no grounds for such action against Willis. And four prosecutors are challenging the law in court, saying it violates separation of powers by enabling political interference in prosecutorial discretion.
Legal experts say the law's vague language about the conditions needed to remove a district attorney enables any number of interpretations. 
Caren Morrison, a Georgia State University law professor, pointed to a line that says grounds for removal include "conduct prejudicial to the administration of justice which brings the office into disrepute." 
"That could mean anything," said Morrison, a former federal prosecutor. "I could easily see them saying prosecuting a former president of the United States brings office into disrepute. That literally could mean anything."
The law, passed along party lines with Republican support, follows a trend of efforts by Republican politicians nationwide to crack down on prosecutors who ran on a platform of criminal justice reform. Although Willis may not have been the impetus for the law, she may serve as the first test case.
What powers does the commission have?
S.B. 92 states that the commission has "the power to discipline, remove, and cause involuntary retirement of appointed or elected district attorneys." The law also applies to solicitors general who prosecute misdemeanors.
The bill establishes grounds for the removal including:
Mental or physical incapacity that interferes with the duties.

Willful misconduct in office.

Willful and persistent failure to carry out statutory duties.

Conviction of a crime involving moral turpitude.

Conduct prejudicial to the administration of justice which brings the office into disrepute.

Knowingly authorizing or permitting an assistant DA or solicitor general to commit any of the aforementioned acts. 
The commission can investigate prosecutors' actions, including their charging decisions and plea offers. 
The commission's members will split into an investigative panel and hearing panel. The law says the commission will consist of current or former prosecutors, other attorneys and one former judge and are appointed by the governor, lieutenant governor and legislative leaders. Nothing in the law addresses the commission's partisan makeup, but those who have appointment power now are Republicans. 
What prompted the bill in Georgia?
Kemp signaled in 2022 that he would support legislation aimed at "far left prosecutors." When he signed the law in May, he said it would curb the actions of prosecutors who are "making our communities less safe." The Republican-backed law to create the Prosecuting Attorneys Qualifications Commission, S.B. 92, passed 97-77, with Democrats overwhelmingly against.
Republican lawmakers proposed the bill as Willis was investigating Trump, but the Atlanta Journal-Constitution reported that the bill's Republican authors said they were motivated by actions of other prosecutors: Deborah Gonzalez and Dick Donovan.
Gonzalez, a Democrat, took office in 2021 as the district attorney in the circuit that includes Athens-Clarke and Oconee counties. Gonzalez announced she would not prosecute people for some low-level drug offenses and would decline to seek the death penalty. After she faced lawsuits about victims' rights, she withdrew the policy. Gonzalez told the Atlanta-Journal Constitution, along with six other district attorneys, that she would not prosecute violations of the law that bans abortions as soon as six weeks.
"We have limited resources," Gonzalez said. "We have an incredible backlog of cases, a shortage of staff and a shortage of resources." 
Donovan, a Republican district attorney in Paulding County, was indicted in February 2021 on four felony charges including bribery and making false statements when he denied having said he wanted to have sex with an employee. The governor suspended him after he was indicted, but he didn't resign until January 2022, after pleading guilty to a misdemeanor charge of unprofessional conduct.
How likely is it that the law or another path will be used against Willis?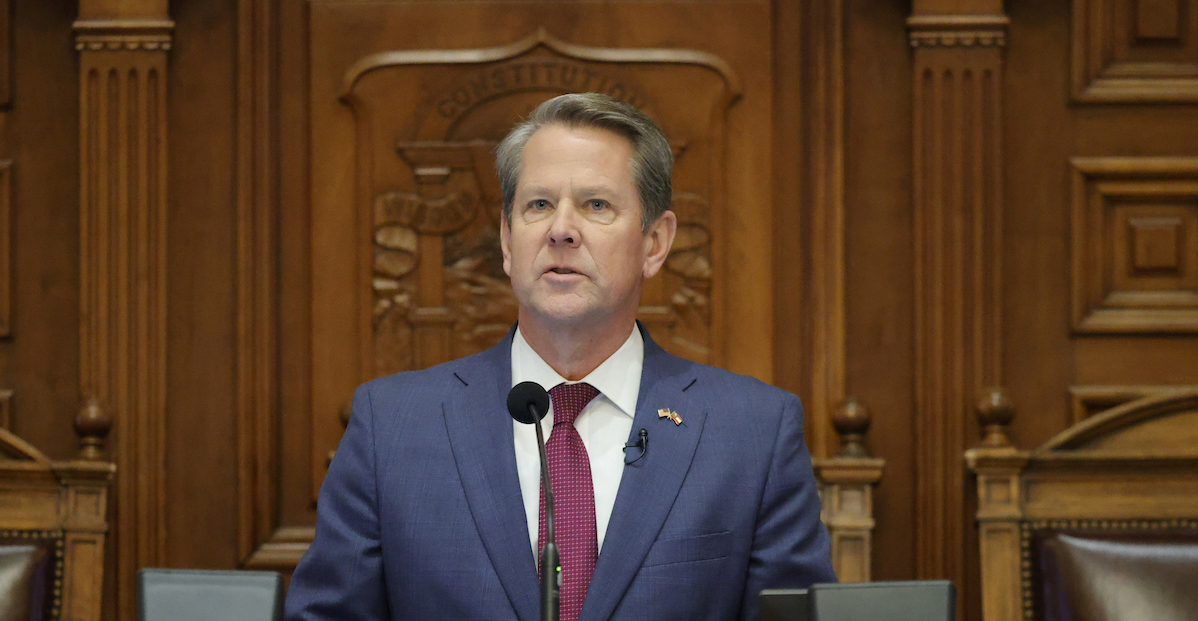 Georgia Gov. Brian Kemp delivers the State of the State address Jan. 25, 2023, at the state Capitol in Atlanta. (AP)
Republicans have floated various paths to oust or thwart Willis, but most are longshots. 
State Senate Majority Leader Steve Gooch recently told the Atlanta-Journal Constitution that lawmakers could hold hearings into whether Willis is using "her position in a political manner." He criticized another proposal by Republican state Sen. Colton Moore to impeach Willis as unrealistic, saying Republicans lack the numbers for such action. (Trump, meanwhile, praised Moore's efforts.)
During an Aug. 31 press conference, Kemp dismissed the idea of a special session targeted at Willis. Although Kemp raised concerns about Willis bringing "highly charged indictments and trials in the middle of an election" saying it sows distrust among those who see district attorneys' actions guided by politics.
"I have not seen any evidence that DA Willis' actions or lack thereof warrant action by the prosecuting attorneys oversight commission," Kemp said. He said ultimately, however, that will be a decision for the commission. 
"As long as I am governor, we are going to follow the law and the Constitution regardless of who it helps or harms politically," Kemp said.
Kemp, a Republican reelected to a second term in 2022, has disputed Trump's falsehoods about election fraud in the 2020 election.
State Sen. Clint Dixon, a Republican, said he plans to file a complaint with the new commission. He called the prosecution "politically motivated" and described Willis as "rogue."
"I just want somebody to look into it," Dixon said.
If Willis is removed from office, state law says that the governor would appoint a replacement. The appointed district attorney would have the discretion about how to handle continuing cases, including the case against Trump for his efforts to overturn the 2020 election. Willis, a Democrat, is up for reelection in 2024.
Will the bill survive a legal challenge?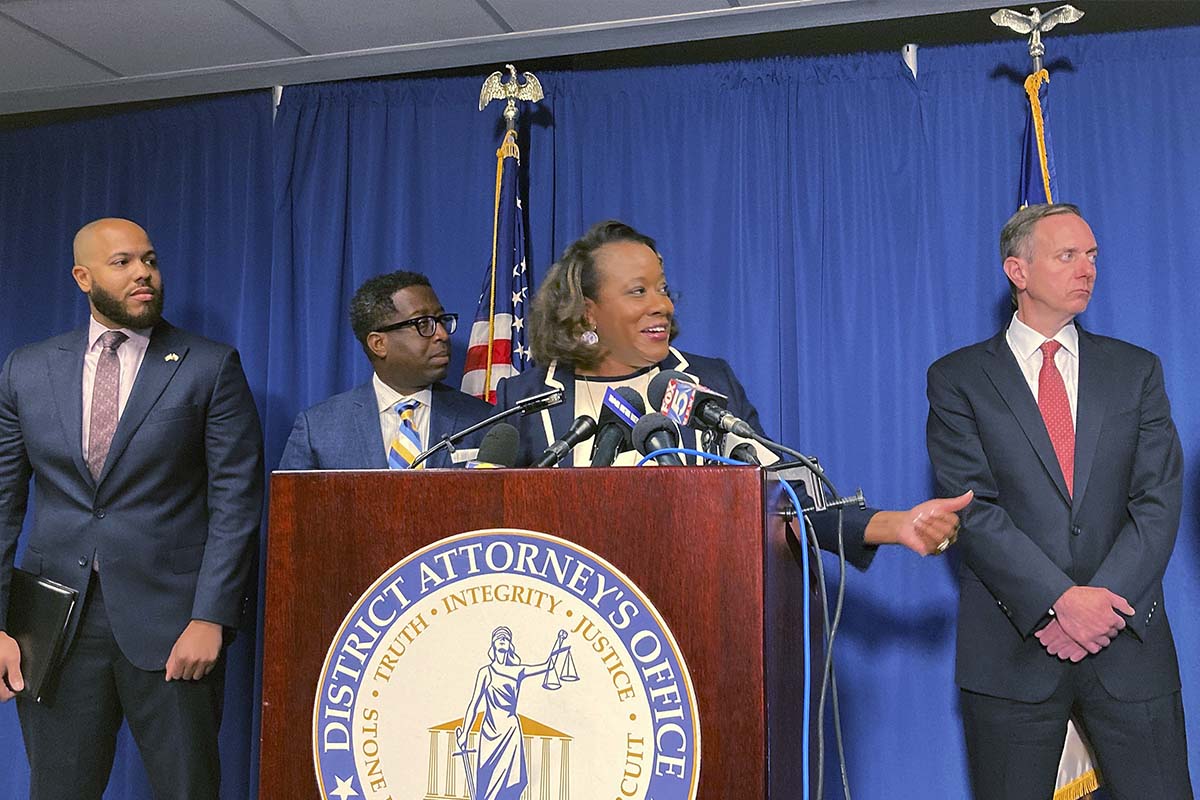 DeKalb County District Attorney Sherry Boston speaks Aug. 2, 2023, in Decatur, Ga., about a lawsuit that seeks to strike down a Georgia law restricting prosecutors. (AP)
In August, four Georgia prosecutors filed a lawsuit asking the Fulton County Superior Court to declare the law unenforceable. Three of the district attorneys are Democrats and one is a Republican. They are represented by the Public Rights Project — a national nonprofit that works with local governments to protect civil rights. 
The lawsuit alleges that S.B. 92 violates the Georgia Constitution by limiting the free speech rights of district attorneys and violating separation of powers by allowing the legislature to interfere with prosecutorial discretion. The plaintiffs say the law violates their rights to prioritize cases and thwarts the will of the voters.
"My community elected me to represent them and their values," one of the plaintiffs, Jonathan Adams, the district attorney in Butts, Lamar, and Monroe counties, told PolitiFact. "I may disagree with some DAs' decisions in other communities, but I believe it's their right to make those decisions. As a member of the judicial branch, I believe we have a right and need to make hard decisions regarding what is appropriate to prosecute."
For example, Adams said, "We may not prosecute adultery, fornication, or sodomy, but they are still crimes. We may not be able to get misdemeanor amounts of marijuana tested, but it is still a crime to possess. These are simple examples, but we also face tougher and more complex issues."
The lawsuit also argues that prosecutorial oversight already exists. Prosecutors are subject to jurisdiction of the State Bar of Georgia, the ethics and discipline oversight organization for lawyers, and the Georgia Supreme Court, which enforces the rules of professional conduct. Prosecutors can also face impeachment or recall by voters.
Georgia's law is unique 
States have long had mechanisms to remove local prosecutors, usually through recall elections, impeachment, and judicial proceedings. Some state laws have vague rules about grounds for removal.
But Georgia is the only state to have adopted a commission, said Carissa Byrne Hessick, director of the Prosecutors and Politics Project at University of North Carolina School of Law.
New York passed a law to create a commission, but an early version was struck down by a judge in 2020 amid separation of powers concerns. The state passed a retooled law in 2021, but it's not the same as the Georgia commission because it makes recommendations to state judicial committees. The Times-Union of Albany, New York, reported in February that the commission remained in limbo. We were unable to find any information about whether the commission ever launched.
Since 2021, there have been multiple high-profile efforts to remove Democratic prosecutors who ran on platforms of criminal justice reform. A few examples:
Florida Gov. Ron DeSantis suspended Andrew Warren after he signed statements saying he would not prosecute state laws banning abortion of gender-affirming care. DeSantis later suspended Orange-Osceola State Attorney Monique Worrell, portraying her as too soft on crime.

In Pennsylvania, the House of Representatives in November impeached Philadelphia District Attorney Larry Krasner. But the Commonwealth Court in January largely sided with Krasner. State Republicans asked the state supreme court to revive the case in July. 

Los Angeles District Attorney George Gascón faced an unsuccessful recall effort.

San Francisco District Attorney Chesa Boudin, who nearly eliminated cash bail and increased pretrial diversion, was recalled.
"Local prosecutors nationwide have found themselves locked in a power struggle with state officials and voters over where to draw the line between prosecutorial discretion and misconduct," Meighan R. Parsh, a University of North Carolina School of Law juris doctor candidate, wrote in a paper for the North Carolina Law Review. 
When prosecutors are removed by governors, legislatures or the judiciary, voters who elected the officials are left out of the process, Parsh wrote.
State legislatures nationwide have increasingly considered bills to preempt the power of local prosecutors. A January paper by the Public Rights Project and the Local Solutions Support Center found that in the past three state legislative sessions, at least 28 preemption bills have been filed in 16 states and a handful have passed. 
 In June, Texas Gov. Greg Abbott signed H.B. 17, which states that prosecutors who refuse to prosecute certain crimes are subject to a judge's removal. Republicans said they wanted to stop "rogue" prosecutors after some said they would not enforce state abortion laws.
RELATED: Did Fulton County DA Fani Willis campaign to 'get Trump'? No, she didn't say that
RELATED: Who is Fani Willis, the prosecutor in Trump's Fulton County, Georgia, election interference case?
RELATED: Trump's attacks on Manhattan DA Alvin Bragg's backing by George Soros: What to know
Gov. Brian Kemp, Gov. Kemp signs legislation creating Prosecuting Attorneys Qualifications Commission, May 3, 2023
Georgia General Assembly, SB 92, 2023
Legiscan, SB 92, 2023
Lt Gov. Burt Jones, Lt. Gov. Jones announces appointments to Prosecuting Attorneys Qualifications Commission, Aug. 4, 2023
Gov. Brian Kemp, Tweet, Jan. 13, 2022
Gov. Brian Kemp, Tweet, Dec. 22, 2022
Gov. Brian Kemp, Press briefing, Sept. 1, 2023
Georgia code 45-5-3.2, 2023
Sen. Colton Moore, Tweet, Aug. 17, 2023
Former President Donald Trump, Truth Social, Aug. 30, 2023
DeKalb District Attorney, Georgia prosecutors file lawsuit against the state to challenge Gov. Kemp's oversight commission, Aug. 2, 2023
AP,  While Trump, Republicans target DA Fani Willis, Kemp opts out, Aug. 30, 2023
Atlanta Journal-Constitution, Panel can punish, oust district attorneys under new Georgia law, May 8, 2023
Atlanta Journal-Constitution, Four Georgia DAs seek to block Republican-backed oversight panel, Aug. 2, 2023
The Atlanta Journal-Constitution, Abortion battle shifts to local officials, July 3, 2022
Atlanta Journal-Constitution, Bills would add new oversight for Georgia DAs, Feb. 4, 2023
Atlanta Journal-Constitution, State senator sees new commission as option in targeting Willis, Aug. 27, 2023
Atlanta Journal-Constitution, Georgia Senate leader seeks ways to sanction 'tainted' Willis over Trump charges, Aug. 30, 2023
AP, Georgia prosecutors are suing to strike down a new state law that undermines their authority, Aug. 2, 2023
Law360, ​​Ga. Senators Back Bill For Greater DA Oversight, March 3, 2023
11Alive, State lawmaker calls for new commission to investigate Fulton County election indictments, Aug. 22, 2023
AP, Georgia enacts law letting panel punish, oust prosecutors, May 5, 2023
NBC, Second attempt to recall Los Angeles prosecutor George Gascón fails to make ballot, Aug. 15, 2022
Athens Banner-Herald, District Attorney Deborah Gonzalez withdraws written policies; cites disputes in lawsuits, June 28, 2023
USA Today, ​​Georgia Gov. Brian Kemp called to publicly oppose sanctions against DA in Trump case, Aug. 6, 2023
Times Union, Watchdog for prosecutorial misconduct in limbo after two years, Feb. 10, 2023
WSB, Gov. Kemp says special session to remove DA Willis from election investigation will not happen, Sept. 1, 2023
Gov. Ron DeSantis, Press release about suspending Andrew Warren, Aug. 4, 2022
Gov. Ron DeSantis, Press release about suspending Monique Worrell, Aug. 9, 2023
AP, Court splits on legality of move to impeach Philly DA Larry Krasner, Jan. 13, 2023
Harvard Law Review, San Francisco District Attorney Chesa Boudin Recalled, April 9, 2023
Amendments to the Georgia Constitution, Article X Section 1, Accessed Aug. 30, 2023
The Hill, Georgia's GOP House speaker slams push to defund Fani Willis amid hurricane, Aug. 30, 2023
Local Solutions Support Center, 'Preempting progress: States take aim at local prosecutors' Jan. 17, 2023
UNC Legal Studies research, Dueling discretion: the imperfect mechanisms for removing elected prosecutors, June 6, 2023
Email interview, Jessica Corbitt-Dominguez, Fulton County Government spokesperson, Sept. 1, 2023
Email interview, Garrison Douglas, Gov. Brian Kemp spokesperson, Aug. 29, 2023
Email interview, Claire Chaffins, DeKalb County district attorney spokesperson, Aug. 29, 2023
Email interview, Jonathan L. Adams, district attorney, Towaliga Judicial Circuit (Butts, Lamar, and Monroe Counties), Aug. 28, 2023
Telephone interview, Caren Morrison, Georgia State University law professor, Aug. 29, 2023
Email interview, Carissa Byrne Hessick, director of the Prosecutors and Politics Project at University of North Carolina School of Law, Aug. 29, 2023
Email interview, Charles S. Bullock, political science professor, University of Georgia, Aug. 30, 2023
Browse the Truth-O-Meter
More by Amy Sherman