Stand up for the facts!
Our only agenda is to publish the truth so you can be an informed participant in democracy.
We need your help.
I would like to contribute
What counts as a "mass shooting"? The definition varies
After each mass shooting in the United States, we hear a lot of debate about gun policies and just how often these shootings happen. 
On Feb. 13, a gunman fatally shot three Michigan State University students and critically injured five others in what some have defined as a "mass shooting."  
After the shooting, some news outlets and elected officials said that there had been more mass shootings than days so far in 2023. 
Feb. 13 was the 44th day of 2023.
But a definitive answer to how many mass shootings there have been is difficult, because organizations tracking such shootings use different methodologies and definitions.
By one count, there have been 68 mass shootings so far in 2023 (including the one at Michigan State University). By other counts, there have been six — or even fewer. These widely divergent numbers can create confusion in the wake of another tragedy.
Saying that there have been more mass shootings than days so far in 2023 "is truly scaring the people" because that relies on just one definition of a mass shooting — four or more people shot, including injuries — and that definition is too wide, said James Alan Fox, a Northeastern University criminologist.
"They imagine an MSU kind of incident every day," Fox said, and "that's not the case."
Some gun policy researchers and experts say the Michigan State University shooting should be considered a mass shooting based on the number of victims. That some were injured and not killed doesn't diminish the incident and the community impact, some experts say. 
Several unanswered questions remain about the shooting, including the motive. The shooter, Anthony Dwayne McRae, 43, was not affiliated with the university and fatally shot himself, according to police.
The shooting occurred hours before the anniversary of the 2018 mass shooting at Marjory Stoneman Douglas High School in Parkland, Florida. 
How are mass shootings defined?
Attendants of the 'March For Our Lives' demonstration hold signs on March 24, 2018, in Washington D.C. (AP)
There is no widely agreed upon definition for mass shootings. Different groups measure mass shootings based on the number of people shot, injured or killed. Some groups exclude gang violence or domestic violence from their counts and include only indiscriminate violence, where a shooter fires a gun at random in public. 
Here is how some groups define mass shootings or mass killings:
Because of the different definitions, there are often discrepancies when people cite the number of mass shootings that have occurred in any given time period. Whatever number is used, It's important to understand what is included and excluded from the data. 
These differences in definitions also exist for school shootings. 
Experts distinguish between certain types of mass shootings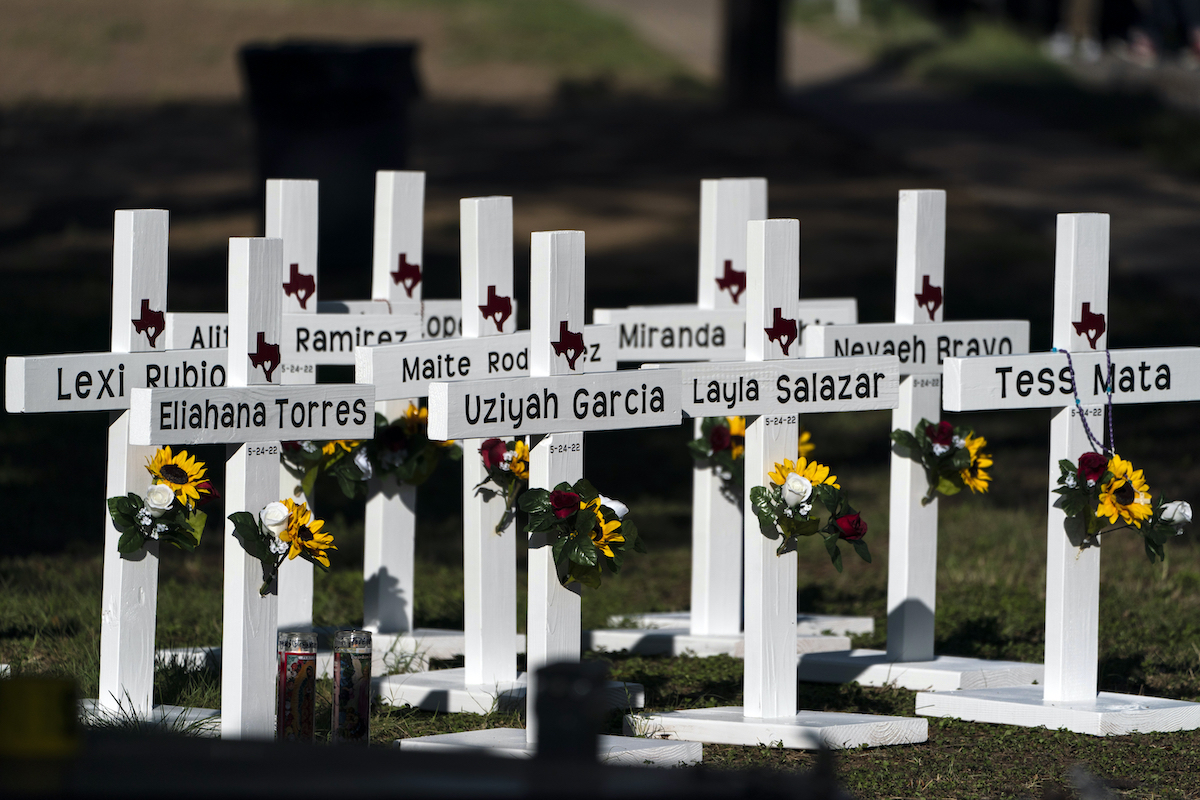 Crosses with the names of the school shooting victims are placed on May 26, 2022, outside Robb Elementary School in Uvalde, Texas. (AP)
Gun violence experts have debated the best definition to use.
Fox told PolitiFact that The Associated Press/USA Today/Northeastern University Mass Killing Database defines large casualty events as ones in which more than four victims are killed. The database includes fatal incidents in which the weapon was not a gun, such as the 2022 University of Idaho stabbings. 
Fox said the threshold of four fatal victims goes back to the 1980s, when the FBI used it to define multiple homicides. 
Jaclyn Schildkraut, a gun violence researcher at the Rockefeller Institute of Government, told PolitiFact she can't see any reason why the Michigan State University shooting should not be considered a mass shooting.
"Just because four people didn't die does not mean that the perpetrator did not intend for them to," said Schildkraut, who is the Regional Gun Violence Research Consortium's executive director. 
Schildkraut said there are many reasons some people who are shot don't die, including the type of weapon used, what part of their body was hit and how fast they received medical assistance. 
Defining mass shootings solely on a numerical threshold fails to account for nuances that would affect policy and legislative efforts, Schildkraut said. For instance, most mass public shootings involve planning and premeditation, leaving crucial time for the threat to potentially be prevented. This differs from spontaneous forms of gun violence that may be harder to prevent using threat assessment policies. 
"So, while the number may not be as consequential to the definition, the contextual factors certainly are," Schildkraut said. 
Also, databases that define mass shootings only by fatalities do not capture the full extent of harm inflicted on people who survive gun violence, said Kelly Drane, research director at Giffords Law Center to Prevent Gun Violence, a national nonprofit public interest law center.
For example, earlier this year, 12 people were injured in a mass shooting at a Baton Rouge, Louisiana, nightclub — that caused trauma for those who were shot, witnesses and the community, Drane said.
Overall, multiple definitions for mass shootings sow confusion about the prevalence of these events and can hamper policy efforts to address gun violence, Drane said.
"When policymakers and the public are sorting through contradicting information about the number and frequency of mass shootings," Drane said, "that can sow doubt in truthful information and distract from larger discussions of gun policy solutions."
RELATED: Gavin Newsom is mostly right, the US gun homicide rate is 26 times higher than 'peers'
RELATED: Gun safety 'wrapped in a mental health bill': A look at health provisions in the new law
RELATED: What is the 'boyfriend loophole,' and how does the new gun law close it?
RELATED: All of our fact-checks about guns
Michigan state University, Tweets, Feb. 13-14, 2023
Michigan State Police Twitter post, Feb. 13, 2023
The State News, Three dead, five injured in mass shooting at Michigan State University; no threat imminent, Feb. 13, 2023 
The Detroit News, 3 killed, 5 wounded at Michigan State campus shooting; suspect dead, updated Feb. 14, 2023 
Associated Press, Police seek motive of gunman who killed 3 at Michigan State, Feb. 14, 2023 
Michigan Advance, 'F—k your thoughts and prayers': Lawmakers vow action after 3 killed in mass shooting at MSU, Feb. 14, 2023
Email interview, Jaclyn Schildkraut executive director, Regional Gun Violence Research Consortium at the Rockefeller Institute of Government, Feb. 14, 2023
Email interview, James Alan Fox, professor of Criminology, Law & Public Policy
At Northeastern University, Feb. 14, 2023
Email interview, Kelly Drane, research director at the Giffords Law Center to Prevent Gun Violence, Feb. 14, 2023
Email exchange, Everytown for Gun Safety, Feb. 14, 2023
PolitiFact, What we know about mass shootings, Feb. 14, 2018
PolitiFact, Wasserman Schultz claims 294 mass shootings in 2015 alone, Oct. 8, 2015
PolitiFact, How many mass shootings have occurred since Uvalde tragedy?, June 10, 2022
Gun Violence Archive, Mass Shooting Methodology and Reasoning, accessed Feb. 14, 2023
Everytown for Gun Safety, Mass Shootings in America, accessed Feb. 14, 2023
Congressional Research Service, Mass Murder with Firearms: Incidents and Victims, 1999-2013, July 30, 2015
USA Today, Mass killing database: Revealing trends, details and anguish of every US event since 2006, Feb. 13, 2023
U.S. Department of Justice, Analysis of Recent Mass Shootings, 2013
FBI, Active Shooter Incidents in the United States in 2021, May 2022
Congress, 'Investigative Assistance for Violent Crimes Act of 2012, Jan. 14, 2013
Mother Jones, A Guide to Mass Shootings in America, Feb. 13, 2023
Giffords, Mass Shootings, accessed Feb. 14, 2023
AP, Arrests made in Louisiana mass shooting that wounded 12, Feb. 12, 2023
Michigan State Rep Ranjeev Puri, Tweet, Feb. 14, 2023
U.S. Rep. Morgan McGarvey, Tweet, Feb. 14, 2023
Browse the Truth-O-Meter
More by Maria Ramirez Uribe