Get PolitiFact in your inbox.
The field of candidates for the Republican nomination for president is getting more crowded. Florida Gov. Ron DeSantis and former Vice President Mike Pence are the latest big names to announce a challenge to former President Donald Trump, who is running for a third time.
Trump — the frontrunner in early polls — has been indicted twice since announcing his run on federal and state charges, and was found liable by a jury in a civil lawsuit for sexually abusing and defaming writer E. Jean Carroll.
On the Democratic side, President Joe Biden announced his re-election bid in a video on April 25. So far, only two long shot contenders — Robert F. Kennedy Jr. and Marianne Williamson — have jumped in to challenge him in the primary.
Here are the people who have officially declared themselves to be candidates or announced an exploratory committee, and a look at how some of their claims have fared on our Truth-O-Meter.
If you hear a statement by a presidential candidate or potential contender we should fact-check, email us at [email protected]. 
Where do the GOP candidates stand on a federal abortion ban?
Republicans
Former President Donald Trump stands with former first lady Melania Trump on Nov. 15, 2022, after announcing his third run for president during an event at Mar-a-Lago in Palm Beach, Fla. (AP)
Donald Trump
The former president, defeated by Biden in 2020, became the first candidate to publicly join the 2024 fray, announcing on Nov. 15, 2022, his third run for the White House.
Since leaving office, Trump has been a subject of two special counsel investigations, one involving the events on Jan. 6, 2021, and another about classified documents found at his home in Mar-A-Lago in Florida. Trump was indicted June 9 by special counsel Jack Smith in the documents case on 37 counts, including the "willful retention of national defense information."
On March 30, a Manhattan grand jury indicted Trump on 34 felony criminal charges of falsifying business records involving a $130,000 hush money payment in 2016 to adult film actor Stormy Daniels.
In addition, prosecutors are investigating Trump's role in possible election interference in Georgia. Trump's indictments  won't prevent him from running for president. Likewise, running for president won't shield him from legal troubles.
Our recent fact-checks of Trump:
Trump says DOJ is trying to criminalize asking questions. That's not what indictment says.
Donald Trump vastly underestimates job gains under Joe Biden
Trump is correct that Florida has highest home insurance rate in the United States
Donald Trump's attacks exaggerate Ron DeSantis' COVID-19 response
Read all of our fact-checks about Trump
Florida Gov. Ron DeSantis
Fresh off a national book tour and celebrating a slew of recently passed conservative legislation in his state, DeSantis filed papers with the Federal Election Commission on May 24 to run for president, hours ahead of a planned formal announcement in a Twitter Spaces conversation with Elon Musk.
DeSantis, who has publicly feuded with the owners of his state's most popular tourist attraction (Walt Disney World) and his party's most-popular figure (Donald Trump), recently signed bills banning most abortions after six weeks, allowing residents to carry concealed weapons without permits, and several bills he said target "woke" ideology, such as restrictions on transgender care for minors and restrictions on drag shows and diversity programs.
Our recent fact-checks of DeSantis:
Ron DeSantis' False claim that some states allow 'post-birth' abortions. None do. 
Ron DeSantis' statement on federal government growth is exaggerated 
Trump was 'fine with affirmative action' in 2015 interview, but has worked against it since
Gov. Ron DeSantis' claim about benefits for immigrants in California is missing context 
Ron DeSantis said that not 'a single book' was banned in Florida. Districts have removed dozens.
Read all our fact-checks about DeSantis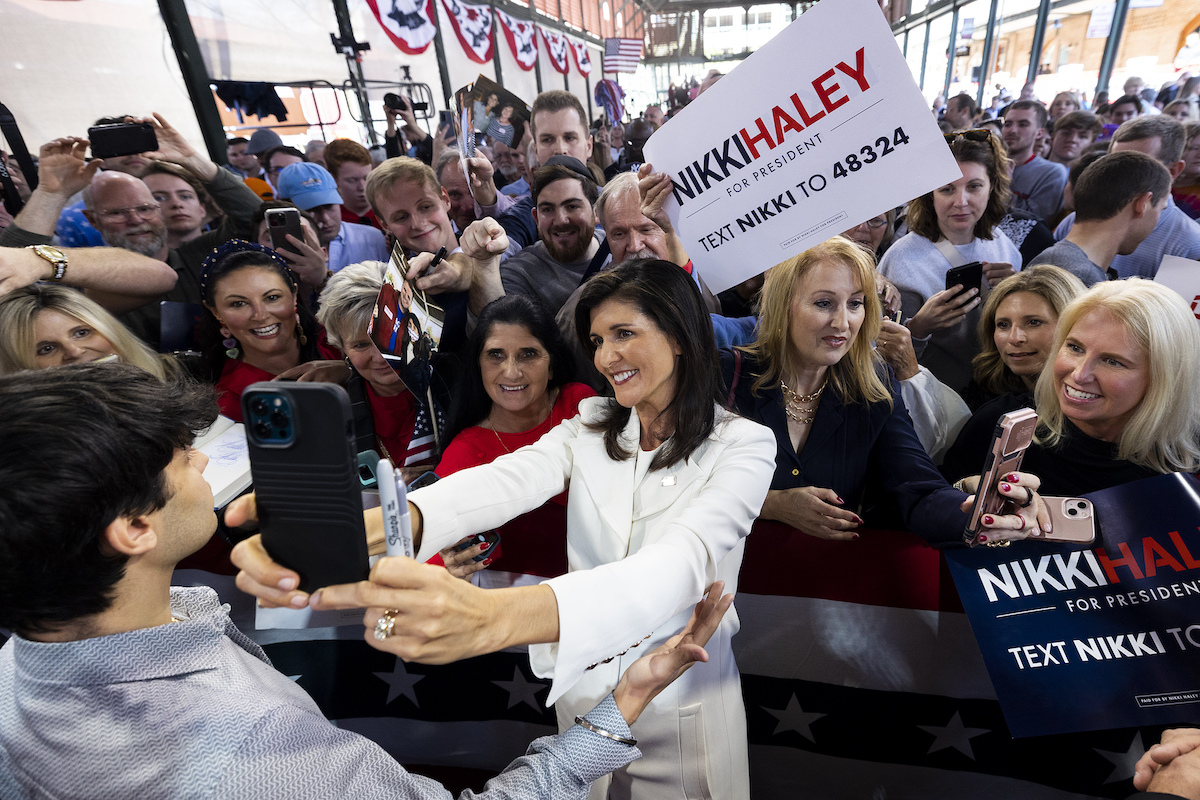 Republican presidential candidate Nikki Haley greets supporters after her speech  Feb. 15, 2023, in Charleston, S.C. (AP)
Nikki Haley
The former South Carolina governor, who served as United Nations ambassador in the Trump administration, announced her candidacy in a video posted Feb. 14, 2023, on Twitter. She called for a "new generation" of leadership in the video, flip-flopping on her pledge not to run against her former boss.
Our recent fact-checks of Haley:
Nikki Haley falsely links transgender athletes with teen girls' suicidal ideation
New mortgage rules don't punish those with good credit to reward people with bad credit 
Is Nikki Haley right that $500 billion in COVID-19 funding could be rescinded? It's not that simple
Read all of our fact-checks about Haley
Mike Pence
Pence, who served as Trump's vice president, officially entered the race to challenge his former boss for the GOP nomination. Pence filed paperwork June 5 with the Federal Election Commission, two days before he planned to formally announce his candidacy at a rally in Iowa.
It seems highly unlikely that Pence would rejoin Trump on his ticket should Trump win the nomination again. When Pence rejected Trump's plan to help overturn Joe Biden's victory Jan. 6, 2021, he was forced into hiding as a mob of rioters, some chanting, "Hang Mike Pence," breached the Capitol.
Since then, Pence has criticized Trump, saying there are "better choices" for voters. But he's also defended him, calling Trump's indictment in the Stormy Daniels hush money case an "outrage." When Trump was asked at a CNN town hall whether he owed Pence an apology, the former president replied, "No, because he did something wrong."
Our recent fact-checks of Pence:
Are US abortion laws really more like China and North Korea than Europe? No
Mike Pence repeats false claim that Barack Obama started migrant family separations
Mike Pence said 'liberals' emptied mental health hospitals in 1960s. They didn't act alone.
Is interest on the federal debt costing more than national defense? 
Read all our fact-checks of Pence
Vivek Ramaswamy
The businessman and author of the books "Woke, Inc." and "Nation of Victims" announced his candidacy in a video on Feb. 21, 2023. Ramaswamy said in his video that the U.S. is in the midst of an identity crisis with "new secular religions like COVID-ism, climate-ism and gender ideology."
Our recent fact-checks of Ramaswamy:
Vivek Ramaswamy is partially right about patriotism decline among young Americans 
Vivek Ramaswamy largely right on Ron DeSantis, Disney carve-out
Read all our fact-checks about Ramaswamy
Asa Hutchinson
Asa Hutchinson, a Republican who led Arkansas for two terms as governor, announced on ABC's "This Week" on April 2 that he is running for president. He formally launched his campaign in a speech in Arkansas April 26.
Hutchinson said in his speech that "from Congress to the DEA to Homeland Security, I have served our country in times of crisis" and that his "mettle has been tested."
Before serving as governor, Hutchinson was a member of Congress and also served as head of the Drug Enforcement Administration and as undersecretary for border and transportation at the Department of Homeland Security under former President George W. Bush.
We have not published any fact checks of Hutchinson, but will list them here when we do.
Sen. Tim Scott
The South Carolina Republican senator formally announced a run for president in a May 22 speech in North Charleston. He was introduced and endorsed by Sen. John Thune, R-S.D., the No. 2 Republican in the U.S. Senate.
Scott is one of three Black legislators currently serving in the U.S. Senate. He served one term in the U.S. House before being appointed to fill Sen. Jim DeMint's seat in 2013. He's been re-elected to the seat twice. 
Our recent fact checks of Scott:
Tim Scott is wrong about more illegal immigration under Biden than under Trump and Obama combined 
Tim Scott's misleading statements on median income, inflation 
Sen. Tim Scott repeats inaccurate claims about DOJ labeling parents 'domestic terrorists'
Sen. Tim Scott said Black homeownership has been static since 1968 housing law. He's right.  

Tim Scott mangles false GOP talking point on IRS hounding average taxpayers
Read all of our fact-checks about Scott.
Chris Christie
Christie, who served as New Jersey's governor from 2010 to 2018, filed paperwork June 6 with the Federal Election Commission to join the race, hours ahead of a formal announcement in New Hampshire.
Christie ran for the Republican nomination in 2016, but dropped out of the race after poor showings in the Iowa caucuses and the New Hampshire primary. Christie endorsed Trump that year and was part of his transition team, but has since been critical of the former president. In May, after Trump's CNN town hall, Christie called Trump a "coward" and a "puppet of Putin" for not supporting Ukraine in its war with Russia.
Our recent fact-checks of Christie:
Trump did not sign any major immigration laws, but he did issue orders that changed policy
Chris Christie exaggerates about Joe Biden capital-gains tax proposal
Read all our fact-checks of Christie
Larry Elder
The conservative radio host who ran to replace California Gov. Gavin Newsom in a 2021 recall effort announced in an April 20 appearance on "Tucker Carlson Tonight" that he was running for president. In a tweet that night, he said "America is in decline, but this decline is not inevitable. … That's why I'm running for president."
Elder received the most votes out of 46 candidates hoping to replace Newsom, but the majority of voters opted to keep the Democratic governor in office.
Our recent fact-checks of Elder:
Science does recommend COVID-19 vaccine for young people, contrary to Larry Elder's claim
No, California program for voters with disabilities not a 'security concern' as Larry Elder suggested
Read all of our fact-checks about Elder
North Dakota Gov. Doug Burgum
Burgum is serving his second term as governor of the state, where he recently signed into law a large tax-cut package. He announced his candidacy in a June 6 opinion article in the Wall Street Journal.
Burgum is a former computer software company executive. He was first elected governor in 2016. He has also founded real estate development and venture capital companies, his government profile said.
We have not published any fact checks of Burgum, but will list them here when we do.
Will Hurd
Hurd, a former Texas congressman who served three terms in the U.S. House, announced his run for president in a June 22 interview on "CBS Mornings."
"I believe the Republican party can be the party that talks about the future, not the past," said Hurd. He said too many other candidates in the race are afraid of Trump, and they must articulate a different vision.
Hurd is a former CIA officer and has been critical of Trump in the past. He criticized Trump's handling of classified documents, calling it "unacceptable," and told CBS that he would not pardon Trump if he's convicted.
Read all our fact-checks of Hurd
Steve Laffey
The former mayor of Cranston, Rhode Island announced in a video on Feb. 1 that he is running for president. Laffey lost a U.S. Senate primary bid in that state in 2006. 
We have not published any fact-checks of Laffey, but will list them here if we do.
Who dropped out
Francis Suarez
Miami's Republican mayor, the third Florida candidate in the crowded Republican field, said Aug. 29 that he was suspending his campaign. He was in the race for two and a half months and failed to qualify for the first debate.
Democrats
President Joe Biden delivered the State of the Union address to a joint session of Congress on Feb. 7, 2023, at the U.S. Capitol. (AP)
President Joe Biden
Biden officially announced that he will seek a second term in an April 25 video. Biden centered his argument around protecting personal freedoms and criticized "MAGA extremists" over images of the Jan. 6, 2021, attack on the U.S. Capitol, Rep. Marjorie Taylor Greene, R-Ga., and Trump and DeSantis.
"Every generation of Americans has faced a moment when they have to defend democracy," said Biden, who said he wants to "finish the job" he started.
In the months before his announcement, Biden focused his talking points on the health of the economy, his efforts to make Medicare more affordable, and Republican efforts to limit abortion access after the Supreme Court overturned Roe v. Wade. Read our roundup of recent fact-checks. 
Our recent fact-checks of Biden:
President Joe Biden said inflation-adjusted wages are up. That's Half True.
Joe Biden offers misleading description of his role in four-nation "Quad" group
Biden casts GOP budget as specific on law enforcement cuts, but it's unknown
Biden said you can't own a machine gun. You can in most states, but there are restrictions.   
Read all of our fact checks about Biden
Check out our Biden Promise Tracker scorecard
Marianne Williamson
The author and self-help guru who ran for president in 2020 announced her candidacy in an interview with Medill News Service on Feb. 23, 2023. Among her 2020 proposals was creating a Department of Peace. She formally announced her run March 4 in Washington, D.C.
Our previous fact-checks of Williamson:
Fact-checking Marianne Williamson on school funding in the United States
Was Jimmy Carter the last president to call Israeli settlements illegal?
Read all of our fact checks about Williamson
Robert F. Kennedy Jr.
The environmental lawyer, anti-vaccine activist and nephew of former President John F. Kennedy filed papers April 5 with the Federal Election Commission to run for president as a Democrat. He formally announced his run in an April 19 speech in Boston.
Kennedy founded the anti-vaccine organization Children's Health Defense and wrote a 2021 book called "The Real Anthony Fauci," in which he was critical of the former director of the National Institute of Allergy and Infectious Diseases for his handling of the COVID-19 pandemic.
Our recent fact checks of Kennedy:
COVID-19 wasn't targeted to spare Jewish and Chinese people, as Robert F. Kennedy Jr. claimed
No evidence atrazine in the water supply is causing more kids to identify as transgender 
No, the COVID-19 vaccine is not the deadliest vaccine ever made 
Read all of our fact-checks about Kennedy
Browse the Truth-O-Meter
More by PolitiFact Staff